kerala

|
Aruna Nixon

|
17-10-2019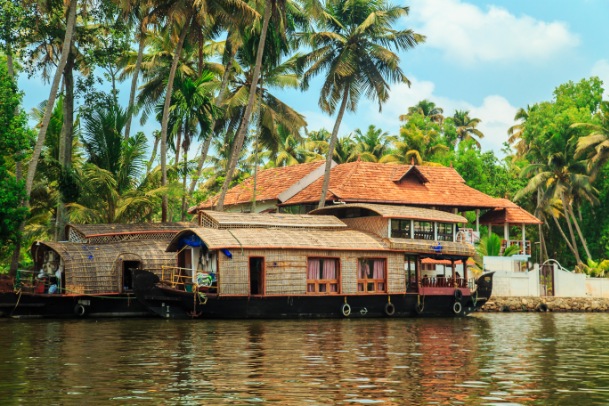 God's own country is the perfect haven for every traveler to unwind. Apart from savoring the opulent destinations in Kerala, there are a hundred things to do in Kerala. With its versatile topography which ranges from misty hill stations to sun-kissed beaches, Kerala becomes a hub of activities. Kerala offers a plethora of engaging adventures and experiences to indulge in. Check out our top picks of 'things to do when Kerala bound'. Make sure you add these activities to your Kerala tour Packages to make your Kerala trip a memorable one!
Sign up for a houseboat cruise
:
Your visit to Kerala is never complete without a houseboat cruise through the World-renowned backwaters of Kerala.  You can relax to the sound of houseboat gliding against the pristine back-waters of Kerala. Sumptuous food served in the houseboat is an additional perk if you are choosing this deal.  
Where to find houseboats in Kerala: 
Alleppey Houseboats – Backwaters
Kollam Houseboats – Ashtamudi Lake
Kumarakom Houseboats – Vembanad Lake
Houseboat Tariff: 
Deluxe and luxury Houseboats are available and the rates might vary according to the operators.
| | | |
| --- | --- | --- |
| No. of rooms | Deluxe | Luxury |
| 1 Bedroom | Rs. 6500/- | Rs. 10500/- |
| 2 Bedroom | Rs. 9000/- | Rs. 15,000/- |
| Extra-person charge:  | Rs. 500/- | Rs. 1000/- |
Best time to do House-boating: 
November to February - Wintertime 
April to June - Summertime
Boating in Periyar Lake - Tiger Reserve
Boating through the placid lake of Periyar is indeed one of the best things to do in Kerala. Head to one of the finest wildlife sanctuaries in India - Periyar Tiger Reserve and opt for the boating. The gentle ride through the lake paints a tranquil picture of this captivating destination. Catch the closest glimpses of aquatic and terrestrial animals along with a large array of rarest birds.
Time to do boating in Periyar: 8:30 am -3:30 pm
Ticket Rate: 
| | |
| --- | --- |
| For Indians | Rs. 45/- |
| For foreigners | Rs. 500/- |
Exhilarating trip to Edakkal CaveAre you a history buff? Or a Nature Lover? Or Both? You are in for a treat then! This magnificent cave boasts the remnants from one of the most ancient civilizations ever existed. Graced with Neolithic scribblings and stone age carving, Edakkal Caves best reflects the glorious past of our ancestors. Make sure you do not miss this experience at any cost if you are traveling to Kerala.
Opening time: 9 am to 4 pm
Ticket Rate: Rs. 15/- per person, (additional charges for the camera)
Visit the Eravikulam National Park
Eravikulam National Park, situated in Idukki district is one of the best-maintained wildlife sanctuaries in Kerala. Apart from watching the endangered species of animals including Nilgiri Tahr, Lion Tailed langur etc, you can enjoy the valley view from the highest peak in South India - Anamudi which is part of the park premise. The park is a  safe haven to around 48 species of mammals, 133 species of birds, 101species of butterflies and 
21 species of amphibians. 
Ticket Price: Rs. 65/- per person
Opening and Closing Time: 8:00 AM – 4:30 PM
Best Time to visit: Anytime other than February to March, during which the park will be closed to facilitate the calving season of Nilgiri Tahr.
5.Bamboo rafting in Kuruva Island
Sign yourself up for an amazing bamboo rafting through the picturesque rivers and streams of Wayanad. Hop from one isle to the other isle of the exquisite cluster which Kuruva island is. The verdant jungle and flowing streams of Kuruva are sure to cast a spell on you. 
Activity Time:   09:00 am - 03:00 pm
Ticket Price: Rs. 80/- per person
6.Explore Fort Kochi
If you are that person who likes the quaint charms of old towns and the artifacts from another era, this town is completely going to woo you. And boy, you are lucky if you are heading to Fort Kochi during the time of Biennale- the biggest celebration of contemporary art in Asia. You can also stroll around this port city, and stop to savor the monuments built by Arabs, Dutch, British, Chinese and the Portuguese. Chinese fishing nets, antique and curio shops, art galleries, and the fast-growing cafe culture of Kochi adds to the charm of this postcard-perfect town.
Kochi Muziris Biennale time: December to March on every consecutive year.
7.Parambikulam Tiger Reserve: 
This biodiversity hotspot is home to around 34 biodiversity hotspots. The entire wildlife sanctuary located in the Nelliampathy-Anamalai region of Western Ghats spans in an area of 643.66 sq km. To engage the tourists, the park has activities like jungle safari, trekking and jungle camps.
Opening and Closing Time: 7 am - 6 pm
Ticket Price: Rs.200/- per head
8.Chinese fishing nets
Chinese fishing nets are the iconic symbol of Kochi. Introduced in the 15th century by the Chinese explorer Zheng He, these fishing nets are made of bamboo poles, tied with coir ropes and wrapped with net to facilitate fishing. Is our Kerala Tour even complete without the mandatory click of Chinese fishing nets?
Where to find: Northern side of Fort Kochi beach,  Alleppey
9.Paragliding in Vagamon
We all dream of flying and try our best to take control of flying in our lucid dreams; Imagine flying above the beautiful valleys of green grasslands and pine forests. Come to Vagamon to realize this dream and sail through the cobalt sky. Live the Pink Floyd song - 'learning to fly'!
Ticket rate: Rs. 3450/- per head
10.Scooba Diving in Kovalam
The tourists who have indulged in this exhilarating activity has concluded that the underwater is the most peaceful place to be! What better place than the beautiful Kovalam
Ticket rate: Rs. 1500/- per head
11.Watersports activities in Cherai: Banana boat ride, scuba diving, speed boating, Jetski
Cherai has become a hub of water sports and activities ranging from Snorkelling to Jet Skiing. The adrenaline junkies should definitely head to this spot to spruce up your Kerala Tour with the azure sea and white sand goodness of this beach.
Activity Time: 9 am to 6 pm.
Ticket  Price
| | |
| --- | --- |
| Activity. | Price. |
| Banana Ride. | INR 300/- |
| Catamaran ride  | INR 750/- |
| Fly Fish | INR  600/- |
| JetSki | INR 750/- |
| Speed Boar Ride | INR  450/- |
12. Experiencing backwaters - Ashtamudi, Kumarakom, Alleppey, Kochi
Wondering what is it about the backwaters of Kerala? Are you Looking for a kerala honeymoon packages with houseboat cruise .Head to any Kumarakom and Alleppey for a Houseboat Stay or Ashtamudi and Kumarakom for lakeside resort stay to get hold of the magic of Kerala's backwaters. The palm-fringed network of brackish canals and lagoons is sure to put you in high spirits. Watch the famous Snake Boat race, with an unrivaled spirit in August. The Champions Boat League is conducting exhilarating boat races in all backwaters in Kerala between August and October.
Best time to do the backwater tour: June and July if you wish to experience the heavenly float with a slight drizzle. 
Kerala enjoys mild weather from August to March which makes it suitable for a backwater tour.
13.Muzhupilangad Driving Beach
Tourists from near and far flock to Muzhupilangad Driving beach for the unparalleled beach driving experience in Kerala.  This is the longest Drive-In Beach in Asia and has also been featured among the top 6 beaches in the World by the BBC.
Best time to visit: October to May
14.Trekking in Nelliyampathy
Nelliyampathy Hills in Palakkad district is a slice of paradise for Nature lovers of every shade. The trekking experience through the tea and coffee plantations of Nelliyampathy is regarded as unparalleled by most of the travelers.  The cliffs and mist add to the adventure bit of trek trial.
Best time to go for trekking: September - February
15. Poovar Island Visit - boating through the mangrove forests of Poovar island in Trivandrum district has been attracting large flocks of travelers. Amazing boat rides to enjoy the golden sand beaches, estuaries, mangroves and fishing villages are available in plenty.
Best time to visit: October to February
16.Trekking to Agastya Mala
A trek up the Agastyamala, is everything adrenaline junkies need during the Kerala tour to spice up the trip. You can experience the rapid change in topography and abundance of medicinal plants while trekking through this hill, which is located in the Western Ghats. 
Best time to visit: September to February
17. Spice Plantation walk
Sign up for a spice trial through the aromatic plantations of Kerala and gift yourself an amazing experience. The plantations of Tea, Cardomom, Clove, Cinnamon, Tamarind, ginger, and pepper are abundant in Thekkady, Munnar, and Wayanad.
Best time for spice walk: June to February to see the pop of colors
Kerala is graced with numerous elephant junctions that ensure the ethical treatment of Elephants. You can ride on top of these amazingly friendly giants and enjoy the views of grasslands and valleys of Munnar and Thekkady.
Where to find: 
    Elephant Junction, Thekkady.
Muthanga Wildlife Sanctuary, Wayanad
19.Tree Houses in Munnar & Wayanad
Nothing can beat the delight of staying in a treehouse up above the grasslands and panoramic vistas of green jungles. These treehouses are made up of bamboo, coir, hay and long live trees as the pillars. The perfect isolation from the World is guaranteed!
TreeHouse Stay Price: Starts from INR 3,500/-
20. Get a glimpse of Kerala Village Life 
Head to Alleppey and explore the small scale industries of the village like Coir Making, Handloom, Fishing and Pottery Making and thank us later. The paddy fields, banana and tapioca plantations of this quaint old town is also going to be a treat to your eyes.
Best Time to visit: September to February
21.Traditional Ayurveda treatments
Kerala is the ultimate Ayurvedic destination in India. The virtues of this ancient treatment which dates back to 6000 BCE is popular among the tourists. The rejuvenating and healing effects of the Ayurvedic spas and massages should not be missed if you are traveling to Kerala.
22.Taste the Kerala Cuisine 
The sumptuous Kerala cuisine is famous across the continents and we are not even exaggerating. Traditional Kerala Sadya served in banana leaf with around 28 side dishes is a must-try if you are visiting Kerala. Some other popular dishes of Kerala include sea-food cuisine and the famous breakfast dishes like puttu, idiyappam, kappa, etc.
23.The cable car ride in Varkala Jatayu
Jatayu Earth Centre located in the Kollam district is popular for housing the world's largest bird sculpture which is 200 feet long. Named after the mythical bird 'Jadayu', this statue stands as a tribute to women's safety and honor. The cable car ride facilitated in this spot is popular for the exhilarating views of four hills it offers from heights.
Ticket Price: INR 400/-
Opening and Closing time: 10 am to 6:30 pm
24. Watch Kathakali
Do not miss the chance to watch Kathakali, which is an ancient art of storytelling with vibrant costumes and vividly painted facemasks which make it to every postcards and magazine about Kerala. This beautiful art form is rendered with the background score of instruments like Maddalam, Chenda and Idakka played live.
Where to catch the performance : 
Kathakali Centre, Fort Cochin,
Navarasa Kathakali, Thekkady 
25. Catch the performance of Martial Art form - Kalaripayattu
This oldest defense art which dates back to the 6th century BCE is popular for the skillful coordination of the mind and body it advocates. Do not miss the Kalaripayattu performance of Kerala, which is also known as the 'The Mother Of All Martial Arts', if you are traveling down to Kerala.
Where to catch the performance: 
Kadathanadan Kalari, Thekkady
C.V.N. Kalari, Thiruvananthapuram, and Kozhikode,
Kerala Kathakali Centre, Kochi
You are in for a hundred treats if have decided to travel to Kerala. Make sure you fill in your itinerary with the right choices of destinations and 'things to do' in Kerala. For an exceptional holiday experience, you can trust Seasonz India Holidays - the best tour operators in India. The biggest perk of choosing a tour operator for Kerala trips is that you can feel safe and comfortable all through your adventures! Nothing can go wrong if you are booking a Kerala Tour package from Seasonz India Holidays. Visit www.seasonzindia.com for customizing your packages.