Fun |
Kerala

|
Aruna Nixon

|
03-02-2020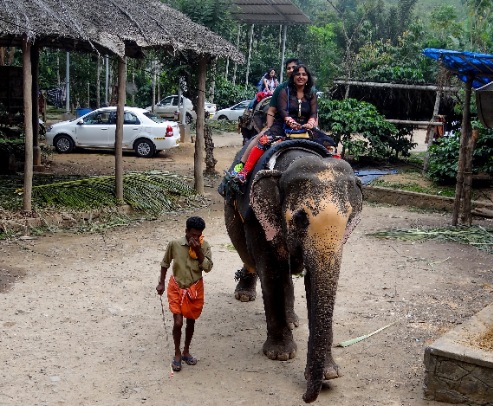 ​Kerala is a magical destination with never-ending activities. God's own country is pure entertainment with plenty of sight-seeing options and a lot of mesmerizing things to do in this wonderland. Elephant ride in Kerala is a must-try activity for an enthralling wildlife experience and scenic beauty. Elephant ride is widely practiced around most of the tourist destinations in Kerala.
             Check out the best elephant rides in Kerala,
  Elephant ride in Munnar
             Carmelagiri Elephant Park is a private park in Munnar It's located on the Top station highway, offering a mesmerizing sight for the visitors who ride on Elephants. Climb upon the huge animal and enjoy the real holiday mood in every single step. The park organizes short duration elephant rides through the uneven and hilly paths of top station. Guides help you throughout the ride. The guide shows you how the elephant communicates and obeys commands. Carmelagiri Elephant Park offers one of the best elephant rides in Kerala, gets a chance to mingle with the elephants, bathe with majestic animals, feed them and opt for some fantastic photographs.
            Walkthrough the majestic woods and lovely serene nature. Elephant ride ticket price is around 400 INR for 15 minutes ride.
 Elephant ride in Thekkady
           Elephant junction is a park in Thekkady located around 2km from Kumily. It's a huge forest space covering 16 hectares of forest. The elephant park offers a spectacular ride in the natural settings where you can watch them in close view, bathe with them, feed them, and create a unique bond. The park has different ride packages starting from 30 minutes to full day program. The 30 minutes ride starts at 400INR and the price goes up according to the duration. Apart from elephant ride, the park offers variety of activities like fishing, jeep safari, and other similar activities.
  Elephant ride in Pathanamthita
            Annakoodu or elephant training center in Konni is literally home for elephants. The aanakoodu is specially designed with massive enclosures for elephants. Visitors are allowed to watch the elephants and have a short ride on them. Understand the behavior of elephants and enjoy the surrounding scenic beauty. Get a chance to visualize the training session of baby elephants rescued from various adverse conditions. The training center has few baby elephants, where visitors get amused with the playful behavior of baby elephants. Aanakoodu is open from 9am to 6pm. Walk through the eco-friendly space and refresh your journey!!