Fun |
Kochi

|
Aruna Nixon

|
03-02-2020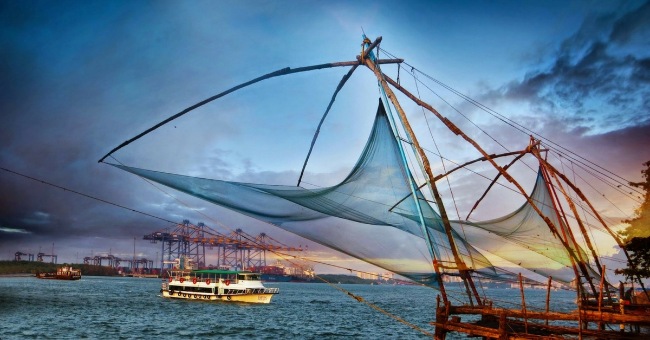 Kochi is situated on the South-west coast and bustling commercial port that dates back to at least 600 years. Kochi is the financial hub and industrial capital of Kerala. The city is marked with the influence of Arabs, Portuguese, Dutch, Chinese and finally, the British. The city has a group of Islands interconnected by ferries. 
               Fort Kochi is a charming Sea-side town, perfect for a weekend getaway. The city is known for its old-world charm and the place still holds on to cultural changes gone through over the centuries. Tourists flock here to visualize the influence of Dutch and Portuguese colonialism. 
Fort Kochi Beach
          Fort Kochi beach is one of the best places to visit in Kochi, situated along the Malabar Coast; the beach offers a serene view of the Arabian Sea. Reach during the evenings to witness a magnificent sunset. It's a great atmosphere to relax and unwind some fun activities. Enjoy a quiet walk along the sands of beach and check out the historical spots, indulge in fishing, dolphin sighting or beach photography. Get the unique taste of sea food and other street foods. 
Chinese fishing net
         The fishing nets create a unique identity to Kerala Tourism. The fishing nets remain as a huge attraction among foreigners. It's called Cheenavala in Malayalam, where each net goes up to a height of 10 meters and 20 meters width. It's operated with a cantilever and counterweight stones. 
St. Francis Church
         St.Francis church was constructed during the reign of Portuguese. It was the first space for worship in Fort Kochi. Later changed into different hands, names and architecture, After all these years of modernization, the church holds on its old rustic charm!! The church has lawns built in the memory of Great War martyrs of Kochi. 
Kerala Kathakali center
           Kerala Kathakali center in Fort Kochi is one of the best options to see Kathakali dance in Kerala. It's located near the Santa Cruz Cathedral Basilica. The performance starts evening at 6pm and goes on till 9pm. Get a chance to visualize this art form either in temple festivals or programs for shorter-tourist groups take place all-round the year. Enjoy Kathakali performance on your trip to Fort Kochi. 
Food and accommodation
             Fort Kochi hotels are renowned for maintaining its old-world charm with all luxury facilities. There are plenty of Fort Kochi restaurants that offer some best hangout spot for art lovers and celebrities.
              Ernakulam to fort Kochi bus service is prominent. Most of them prefer ferry service that is available on a regular basis. Ferry service starts at 5am and ends at 9.50pm. It has a minimum fare of around INR 4 to 5 per individual. 
Winter is the best time to visit Fort Kochi for a moderate temperature range and indulge in the spectacular New Year celebrations.