5 Mesmerizing Waterfalls in Idukki
kerala

|
sooraj

|
21-06-2020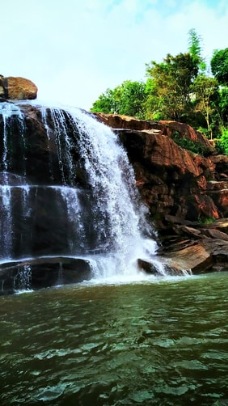 If you have ever visited Kerala then it is really difficult to say that you haven't been to the breathtaking Idukki district, a heavily vegetated and mountainous area well located in the central part of Kerala. There are a number of beautiful locations and waterfalls to explore in Idukki, and all of them are worth visiting without a doubt or hesitation. Extended to the north, you'll find the Anamudi mountain towering over the stunning Eravikulam National Park, home to the very rare and yet mesmerizing blue Neelakurinji flower, which is said to bloom once every twelve years.
Tourists can also visit Munnar hill station, which is enveloped by lovely tea plantations and tea museums, and right to the farther south is the magnificent Idukki Dam, known for its picturesque beauty. The wonderful Periyar National Park, which is well situated here, known to be home to elephants and tigers. Being such a wonderful tourist spot, Idukki is known to offer a number of tourist attractions and unique landmarks.
There are a number of mesmerizing waterfalls that are worth visiting during any given day of the year. Here is a list of five breathtaking waterfalls in Idukki that one must visit and observe by the beauty of this nature's escapade.
Thommankuthu Waterfall
This is a great place to experience the most stunning and beautiful waterfall located about 17 kilometers from Thodupuzha in the Idukki district. This very famous seven-step waterfall is the main attraction for many locals and tourists who are mostly seen here. It is considered to be one of the best picnic spots, and a variety of activities can be attempted and practiced here, such as bathing in the waterfall, and hiking which makes it a hotbed for adventure lovers. Make sure you don't miss a visit to this lovely spot if you are in or around Idukki.
Anchuruli Tunnel Waterfalls
The Anchuruli tunnel is simply an extension of the magnificent Idukki dam. Located just 3 kilometers from the village of Kanchiyar, this exquisite spot has so many amazing features, beautiful and picturesque views to offer to its visitors, and this place is indeed a wonderful picnic spot.
The Anchuruli waterfalls are well known and recognized in the region and known to be one of the best among the Western Ghats. For adventure lovers, this location is nothing less than a paradise where they can enjoy rock climbing, trekking, and listen to the sounds of birds. While planning a trip to Idukki, don't forget to mark this spot in your travel itinerary as a peaceful yet highly adventurous surrounding and the environment is certainly not to be missed. The enjoyment doubles when you discover this place with your loved ones
Valara Waterfalls
This blissful spot is located about 42 km from Munnar. In the middle of the thick jungle and the cold waters pouring down all over the place, one can see the captivating Valara waterfalls which is one of the major attractions in the soul of Valara.
This incredible spot is a well-known home to a wide range of birds and animals, and the economically renowned Thottiyar Hydro Electric Project is very near to this waterfall. Couples are commonly seen discovering the waterfall and its surrounding areas, while tourists with friends and family are enjoying their fun activities in this mesmerizing Valara Waterfalls.
Cheeyappara Waterfall
Cheeyappara waterfall is well situated in between Neriamangalam and Adimali in the Idukki district. This mesmerizing waterfall is a seven-step cascade and is truly a genuine pleasure to your eyes because of its incredible beauty and unconditional charm. As one of its unique characteristics, the waterfall does not dry up during the summer, making it the perfect place to visit all year round.
Besides watching the beautiful waterfalls, these 2 acres of thick green forest have a number of amazing sites for trekking and mountain climbing. It's a nice place to visit with your friends and family, and for sure you won't be disappointed as it sI worth your time and money.
Keezharkuthu Waterfalls
Keezharkuthu waterfalls are also known as Rainbow waterfalls, and the sights and views witnessed here are absolutely glorious, and this place is known to be one of the prominent tourist attractions in the region. Keezharkuthu waterfalls waterfall cascades down a rock from a height of about 1500 meters, which is good enough for any waterfall in India. It is well-positioned in the middle of a thick forest and there are countless medicinal plants that are said to have ayurvedic medicinal importance.
However, this place is well regarded to be an excellent setting for trekking, camping, and mountaineering. There are travelers seen discovering the place throughout the year, and almost every traveler or local who has been here had nothing but admiration for this gorgeous waterfall.
Idukki is a beautiful place to visit with family and friends which is situated in the heart of Kerala.  Kerala is one of those states that, which has earned its credibility and acceptance due to its excellent ambiance and pleasant atmosphere. One can deeply admire the aesthetic beauty and praise the heavenly natural gift. These waterfalls are very peculiar and there are a number of adventurous activities that can be tried and carried out in the surrounding areas. So while you are planning a vacation in Munnar, remember to take a road trip to explore these mesmerizing waterfalls.