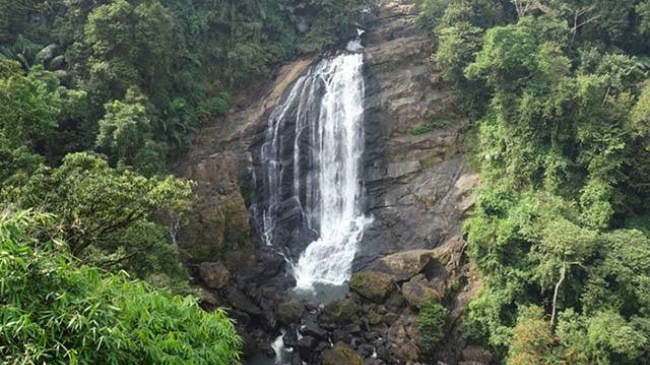 Vallara Waterfalls
              Vallara waterfall is a mesmerizing sight of cascading waters flowing through the deep excavated rock structures. Vallara waterfalls Kerala is one of the beautiful waterfalls in Idukki district. It's located on the Munnar – Kochi highway, falling from a height of 1000 meters above the ground level making it a huge view for roadside travelers and tourists. 
              Valara waterfall is an enchanting tourist spot situated between the places Adimale and Neriamangalam. This alluring spot is covered by lush-green forest providing a deep blend with nature. The waterfall is home to several stunning animals, plants, and birds, the flawless gushing of white foamy water and fabulous surrounding views makes it worth a visit. 
              Valara waterfalls in Munnar is a great attraction among nature lovers, bird watchers, trekking lovers, and romantic hideout. The rocky hillock is a great place for adrenaline-pumping trekking activities, rock climbing and other adventures.
              Valara waterfall is a unique and scenic destination for honeymoon couples. Look at the cascading waterfalls and spend some lonely time with your partner. Get indulged in thrilling activities like trekking, bird watching, rock climbing and other such adventurous. Behold the magnificent sight of Vallara waterfall and its surrounding attractions. Honeymooners go for some splendid photo shoot in the striking background and enjoy the real chill climate of Munnar. 
               Food at Valara waterfalls Kerala is a delicious attraction, as the reputation of falls grew up; the area got rushed up with plenty of local food vendors. They offer huge varieties of food items that include fruits, chocolates, coffee, tea, Kerala special snacks and Kerala's special coconut water. Apart from this, an unusual blend of pineapple or other seasonal fruits spiced up with Indian masalas. Relish on these unique eateries and refresh your appetite. 
              Vallara waterfalls entry fee is free for visitors, make sure to have a set of clothes, if you wish to dive into the waters. Beware of your belongings, monkeys are found all over in this area. The waterfall is located around 42 Kms from the Munnar city. It's easy to access via private car or cab services. There are bus services from Munnar bus station, Valara waterfall is just 1km away from Cheeyapara waterfalls. Cochin International Airport is the nearest airport, around 108 Kms and Aluva is the nearest railway station, around 108 Kms. 
               Vallara waterfall is best visited during the monsoon season. Vallara waterfalls Kerala experience peak tourist season during the months of June to September. Never miss enjoying the sight of this fascinating waterfall!!