Munnar

|
Aruna Nixon

|
01-01-2020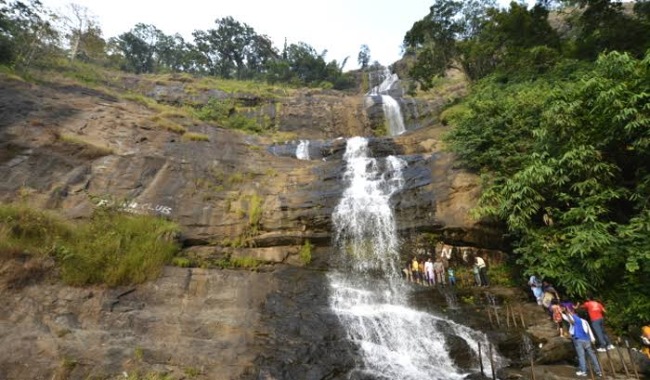 Cheeyappara Waterfalls
            Cheeyappara waterfalls – cute little vacation spot to spend with your family and friends. It's exactly located on the Kochi-Madurai highway and stays as the beautiful on-the-way attraction for tourists. A serene waterfall falls between the two places Kochi and Munnar. Cheeyappara waterfalls flow through the seven tires of stone with a natural force. Visitors are allowed to visualize this cascading waterfall and take a simple dip to enjoy the really cool waters. 
            The Cheeyappara waterfalls details are easily available on the internet. Go through simple research before reaching the most beautiful water source. It's around 1000 feet above the sea level and popular spot for trekking or walking trails. The Cheeyappara waterfall is actually part of waterfalls that descend from the Deriyar River. It originates in the Western Ghats and inherits a magnificent look unlike other waterfalls in the state. 
             Apart from the stunning waters, have a look at the mesmerizing surroundings blessed with immense natural splendor. A long stretch of evergreen forest that approximately covers around two hectares of land!! This makes it an adventurous and lively trekking spot. Get a unique chance to witness some exotic plants and animals enclosed in the casket of dense forest areas. 
             Food at Cheeyappara waterfalls is a delicious attraction, as the reputation of falls grew up; the area got rushed up with plenty of local food vendors. They offer huge varieties of food items that include fruits, chocolates, coffee, tea, Kerala special snacks and Kerala's special coconut water. Apart from this, an unusual blend of pineapple or other seasonal fruits spiced up with Indian masalas. Relish on these unique eateries and refresh your appetite. 
              Cheeyappara waterfalls entry fee is free for visitors, make sure to have a set of clothes, if you wish to dive into the waters. Beware of your belongings, monkeys are found all over in this area. The waterfall is located on the Aluva-Munnar road and so, it's easily accessible via private car or cab services. Aluva is the nearest railway station that is around 108Kms from Munnar. Cheeyappara waterfalls now have a splendid climate and assure quiet entertainment for visitors. 
             As usual, monsoons are the best time to travel around waterfalls in the South of India. Enjoy the gushing flow of white foamy water during the months of June to August. It's the right time to enjoy the majestic beauty of Cheeyappara waterfalls. The falls don't dry up during the summer from March to May and so, it's a must-visit place without the concern of varying seasons.