Fun |
Periyar

|
Aruna Nixon

|
03-02-2020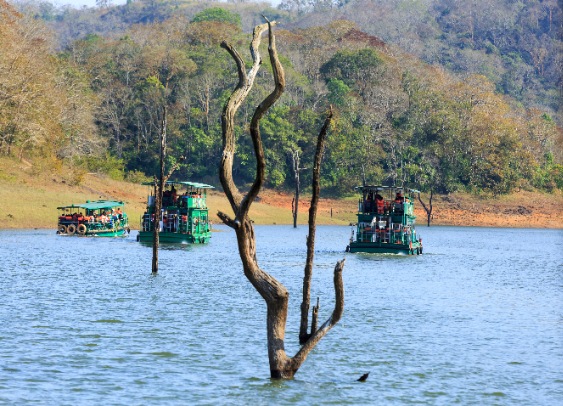 Periyar wildlife sanctuary Kerala is popular for its greenery, gorgeousness and stillness. The park is dwelling with abundant significant species with a mixture of nature, beauty and adventure. Periyar wildlife sanctuary in Thekkady is one of the best-protected reserve areas in India. This bio-diverse region is a calm and serene place for normal sighting of tigers. The park spread across 257 square meters, it has great water source as the rivers Pamba and Periyar flows through it.
 Periyar Boating
             KTDC offers two hour boating trips at the artificial lake near Periyar wildlife sanctuary. The rides are well-organized by the Kerala tourism department corporation.
              Boat safari is one of the best options to explore the sights of national park and the best way to spot unique wildlife in the region. Visitors can choose from Boat safari, Elephant safari or Jeep safari, all the three options are pretty good and easy to explore Periyar wildlife sanctuary in thekkady.
              Boat cruise or boat safari is a mesmerizing journey through the water bodies of national park. Visitors' spot some healthy and beautiful deer's as they travel ahead visualizing the beauty of thick forest.
              Visitors involve in beautiful sight-seeing, they can see herds of elephants grazing near the lake edges, Deers, Sambar, wild boars, Gaur and other majestic animals flock around the place at regular intervals.
              Summer months are the best time to spot a lot of wildlife activity in the area. It's the perfect time to spot some birds like Darters, Kingfishers and Egrets flocking around the withered trees and rise out of the lake.
  Periyar Boating tips
             There are special timings for boat ride and each ride is a minimum of one and a half hours. Periyar boating timings start early in the morning at 7.30am, 9.30am,, 11.15am, 1.45pm and the last trip at 3.30pm.  
             Afternoon ride is the best option to spot more wildlife. Periyar boating ticket price starts at INR 75 for children and INR 225 per adult. Utilize advance booking facilities or stand in queue to collect your tickets. Advance booking has an extra charge of INR 500.
             At times, heavy rain may result in a temporary shutdown of services. So, avoid monsoon season while travelling to Periyar wildlife sanctuary.
            March to April is the best time to indulge in Periyar boating. Majority of the wildlife reach lakeshore during the summer months. So, plan your trip accordingly. Periyar Lake boating is a must-do activity for all the nature lovers and wildlife enthusiasts.