Places to visit in Phuket for a fairytale Honeymoon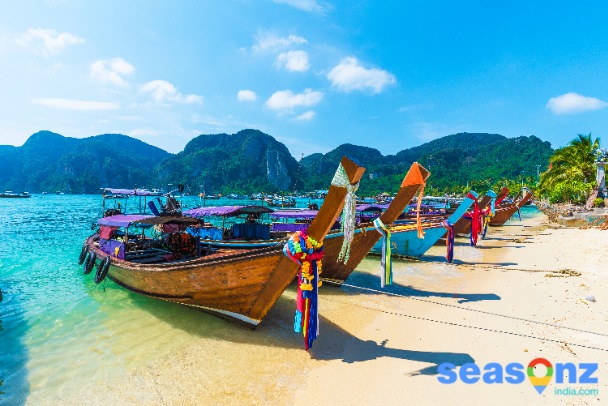 Phuket is hailed as one of the most sought after honeymoon destinations by the people across the World. Dotted with mesmerizing beaches, stunning nightlife, wildlife galore and theme parks, this island city has everything to entice the couple on a Phuket Honeymoon Package. The initial days of every marital bliss demand a tropical paradise devoid of the chaotic city noises and traffic. Make it a point to visit Phuket if all you crave is incredible beaches, unique flor and fauna, and stunning nightlife as the backdrop to your honeymoon!
       Yet, Phuket Honeymoon should be much more than couples savoring its postcard-perfect sandy beaches; Off the beaten path can always reward you with incredible marital bliss and happy memories! Here is an ultimate guide on places to visit in Phuket with your partner! 
If you are looking for a cliffy beach that looks straight out of a movie, head to the Phi Phi Islands. The crystal clear waters, the limestone cliffs, and the unusual H shape of Phi Phi island enchants the tourists like anything!  This island which has 6 sub islands is rich with abundant marine life and coral collection. Large limestone cliffs and azure hues of waves make this island the must-try destination in Phuket Honeymoon package. Pop into this island, embrace the cool sea breezes and stunning coastal view without a miss if you are Phuket bound.
Famous for its limestone formations and azure blue hues, these island attracts flocks of tourists all year round. Having featured in the Bond movie- The Man with the Golden Gun, this island has been recognized as the top attraction of every Phuket Honeymoon Packages. Embrace the cool sea breeze and stunning coastal view of Phi Phi if you are Phuket bound. 
3.  Nai Harn
Nai Harn, the exquisite beach village is as calm and quaint as it sounds. Wedged between the green hillocks and turquoise blue sea, Nai Harn beach offers mind-blowing sights in 360 degrees. Stroll around with your partner and soak up all the sunshine you want!! If you wish to perk up the spirits of your Phuket Honeymoon package, indulge in snorkeling, diving, and similar beach activities.
4. Kata Noi Beach
Enviably located along the West coast of Phuket island, this alluring beach is devoid of usual tourist heard for the couple to have some alone time. It has captivating views and exhilarating beach activities to offer you and your loved one. The white sands and sunset bars of Kata Noi Beach extends a dreamy getaway experience to the couple. Get embraced by the tropical breeze as you both relish the endless stretch of white sands and crystal clear skies of kata Noi!
5. Freedom beach
Get the best of both land and sea world by signing up for Freedom beach visit! Peppered with granite rocks, coral reefs, and sand bays, Freedom beach also has a foresty side to it. This isolated beach is accessible only by the sea, which makes it even more special for the couple. Connect with Nature and enjoy stellar sunsets with your partner! This quiet beach also offers great surf breaks and beach activities. Get your share of marine life glimpse in the best way possible in Phuket here!
6.Karon Beach
Sunbathing, massage stalls, exhilarating drinks, beach sports, and many perky things await you on this beach!! Parks, volleyball clubs, snacking and shopping points are also splendidly accessible here! Karon beach also has an exquisite temple with monks walking around. The beach is also famous for the activities it offers like parasailing, paddleboarding, kayaking, snorkeling, etc.
7. Surin Beach
This fine sand beach is famous for the expansive coast it has. Fondly referred to as 'Millionaire's Row' for the luxury resorts and pampering it offers! You can lace around this beach after the brunch and make most of your an idyllic getaway! The place is also famous for the rooftop diners and sun terraces available in its restaurants and resorts.
8. Gibbon Rehabilitation Project
With an intention to save the gibbons from extinction and being tortured, this conservation unit as repopulated many cute gibbons in the center. The rescued inmates here put great efforts to keep the visitors feel loved and excited! You can spot them frolicking around in their favorite habitats. If you wish to involve more to the program, you can take part in volunteering. 
9 . Monkey Hill
The Toh Sae Hill, which is aptly nicknamed as the Monkey Hill, is a place for every animal lover. You can spot numerous cute macaques binging on their favorite fruits. You can connect with nature and seek the blessings from the alluring shrine downhill. 
10.  Kata Beach
Kata beach is the perfect crescent beach you were dreaming of. ThisThe giant waves and azure blue sea of Kata beach gives a captivating sightseeing option to the visitors. You can stroll around through the sugar-white sands, engage in beach sports savor sumptuous Thai delicacies from this spot. Kata beach is also famous for massage parlors, shopping stalls, and food joints. You can enjoy the sight of both green hills and azure blue sea when kata beach-bound. 
11. Bang Tao Beach
Bang Tao Beach is one of the most sought after beaches in every Phuket Honeymoon packages. Away from all the chaos of the city life, lies this calm beach resonating the sound of the waves and swaying palms alone. This beach is truly a paradise for everyone who seeks an idyllic day during your honeymoon trip. What better place than this isolated beach with picture-perfect locales to celebrate your relationship!
12. Kamala Beach
The Kamala beach, with the perfect backdrop of a quaint fishing village and lush forests, has a special charm to it. Located on the West Coast of Phuket, Kamala beach is graced with excellent beachfront restaurants. What can beat the combination of your favorite meals and a sight as alluring as a rocky beach with gentle waves!
13. Phuket Bird Park
Sprawled in 12 acres of land, this Phuket Bird Park is home to many local, exotic and migratory birds. Birds like drawing bird, Parrot Marcos, Hornbills, Parrot, Ostrich, etc. are the main attractions of this spot. You can find around 1000 birds belonging to around a hundred species here. The bird show is the prime attraction along with the birds in aviaries.
14. Phuket Fishing Park
Sawai Lake is home to splendid fishes who are too giant to handle. If you are craving a relaxing getaway, head to this spot and invest some time in fishing. You can find fish weighing from 1 kg to 40 kgs in this lake. Red-bellied Pacu, Giant Mekong, Giant Siamese Carp, Red Tail Catfish, Giant Mekong Catfish, etc. are the most common fishes you can find here!
15. Sea view Elephant Camp

Meet the friendly giants of Phuket in this elephant camp. Connect with Nature are you spot around twelve elephants living in harmony in this beautiful conservation camp. You can also indulge in plenty of interactive programs with these elephants!