Fun |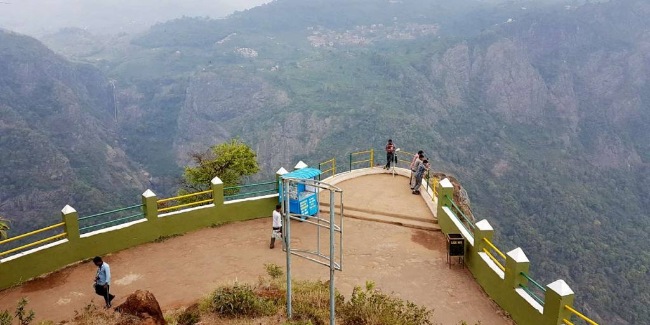 Dolphin nose is a spectacular viewpoint to gaze at the beautiful mountain slides. Dolphin nose is located around 12km from Coonoor, about 1500 meters above sea level. It's an enormous rock, where the rock tip resembles a dolphin's nose. Gazing at dolphin's nose is one of the best activities to try out at Ooty. 
                Dolphin Nose is a popular tourist spot set amidst of the rolling hills of Nilgiris. The gigantic rock formation is really unprecedented; the destinations have enormous canyons on both sides and get a clear view of Catherine falls. Catherine fall is yet another tourist destination, which is located at a short while from the Dolphin's Nose. 
                Dolphin Nose is a unique tourist destination, where you can spot the beautiful tea plantations and hairpin turns. This striking spot assures a panoramic view of the surrounding hills fully covered with alluring tea plantations. A complete picture of gushing Catherine waterfalls, mesmerizing hills, beautiful view of quaint villages, and splendid sceneries on both sides, makes it a romantic hotspot among tourists. People, who look for a calm and serene honeymoon spot, choose Dolphin Nose gazing as their prior activity. Also, get the sight of either sunrise or sunset from this location; it's seriously a refreshing experience. 
Best time to visit Dolphin Nose
Dolphin Nose is located next to the Tiger hills, Catherine Falls, Lamb's rock, and other popular tourist places in Coonoor. 
                Coonoor is an ever-green destination and ideal time to visit Coonoor is around September to June. During the months of October to February, the temperature remains pleasant and perfect for sight-seeing. The winter season in Dolphin nose is pretty amazing where temperatures go below 5 degree Celsius. The nights of November to February are the coldest. 
               March to June is the summer season, but the weather gets almost pleasant and apt for sight-seeing. The average temperature doesn't go above 23 degree Celsius. July to September, obviously results in heavy rainfall and there are chances to disrupt your sight-seeing activities. There are people who prefer to visiting during the rainy season, to experience the enticing beauty. 
Dolphin Nose Ooty location
Dolphin Nose is situated around 32 km from Ooty and Coonoor is at a distance of 21km from Ooty. 
               While travelling by air, Coimbatore is the nearest airport approximately 88km from Ooty. The airport is well-connected with plenty of Indian cities. Get regular flights from all the top cities. After reaching airport, avail a taxi or bus to reach Coonoor and then, Dolphin Nose. 
               While travelling by Bus, get both government and luxury buses from cities like Banglore, Mysore, and Chennai. Special bus service from Calicut to Ooty starts off at 5pm and 7pm. It takes around 6 hours to reach the destination. This overnight travel is pretty comfortable and assures a great journey. 
              If you prefer Kotagiri route, then Adubettu Bus stop is the nearest stop to reach Dolphin Nose view point. Also, take a short walk away from Adubettu Bus Stand to visit the entertaining Catherine Falls. 
              While travelling through train, get a cab from the Coonor railway station, follow the Bedford circle and continue on the west to reach Dolphin Nose. There are plenty of taxis available for rent and it's a scenic drive of just 20mins along the tea estates.