Best 20 Places to visit on October in India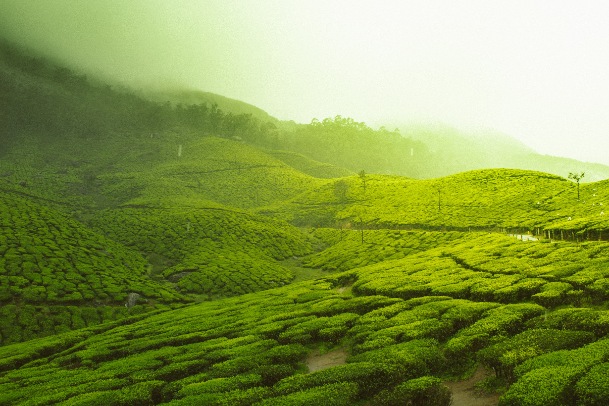 With the monsoon pour down completely over, India in October is incredibly pleasant to travel around. The South of India will be basking in the sunshine again as the mist would creep down from the hills of North India. A wholesome deal of Holiday experience awaits every traveler in India during this month. Leave everything behind and explore the stunning places to visit in October in India, the land of vibrant landmarks.
 With adventures beckoning from all directions, India is a hub for engaging activities to spruce up your holiday spirits. The irresistible charm of Indian destinations like Kerala, Jammu, and Kashmir makes people linger longer than they expected to.
Here we have compiled a list of 20 places to visit in October in India. This list includes exotic beaches, mystic hillocks, and lush jungles. We have also included a good bunch of adventures available in every destination. Find your match and grab the travel deals in this slice of heaven that India is. 
GOA: 
Let's say, Goa is a small destination with a big heart! This irresistible beach spot is
bursting at its seams with vitality and the right kind of attitude.
Shrouded in mystery and basked in the sunshine, Goa's beauty is unparalleled from all dimensions. The old churches, Portuguese ruins, buzzing nightlife, stunning Music festivals, palm-fringed beaches, happening street clubs, and restaurants with a sumptuous dinner, etc. make Goa, quintessentially Goa.  
Best time to visit Goa: October to February
Places to visit in Goa:
Old city Goa Velha, Palolem beach, Panaji, seaside town Calangute, Candolim, the coastal village Anjuna, Baga beach, Vagator beach with clifftop delights, Agonda beach, etc.
KERALA:
Trip to Kerala in October would be a perfect detox for the mind, body, and soul. Kerala, which is fondly addressed as 'God's own country' is graced bounties of Nature and breathtaking vistas. Nestled amidst the Western Ghats and the coastline of Arabian sea, this state has a versatile topography which varies drastically. It is dotted with beautiful hill stations like Munnar, Vagamon, Thekkady, and Ponmudy. Kerala also has handfuls of white and black sand beaches like Cherai, Marari, Varkala, and FortKochi for beachgoers. History buffs can enjoy the port city Kochi, Capital city Trivandrum and precious caves of Wayanad from the Neolithic age. Like the perfect cherry on top, you can opt for a houseboat cruise and overnight stay in it as it glides through the placid backwaters of Alleppey.
Best time to visit Kerala: August to February 
Places to visit in Kerala:
Munnar, Thekkady, Alleppey Houseboats, Wayanad, Cherai-Marari-Varkala and Fort Kochi beach, Poovar, etc.
MEGHALAYA:
Often referred to as the Abode of Clouds, Meghalaya stands true to its name with bundles of clouds floating in its valleys. Being the top pick for unwinding in the lap of Nature, Meghalaya attracts flocks of tourists in October. October makes way for visiting the wettest places on the Earth- Mawsynram, Cherrapunjee with fresh leftover blooms of monsoon. The petite towns, ancient caves and scenic waterfalls of this place will leave you spellbound all throughout your trip. Reward yourself with the experience of a lifetime by savoring the lakes, caves, hills, forests, valleys, and above all a hundred rainbows, you can encounter during your trip to Meghalaya. 
Best time to visit Meghalaya: October to February
Places to visit in Meghalaya: 
Nohkalikai Falls, Umiam Lake, Ward's Lake, Shillong Viewpoint, Mawsmai Cave Road, Balphakram, Garo Hills, Nokrek National Park, etc. 
4. GOLDEN TRIANGLE:
This is the most popular tourist circuit in India. Apart from the spiritual calling, there are many factors that drive tourists to the amazing spots of  New Delhi, Agra, and Rajasthan. Majestic monuments of Mughals and Kings of India are the main attractions of this circuit. From the incredible Taj Mahal, this route offers a wide range of places to visit, including Red Fort, Qutb Minar, Jama Masjid, Fatehpur Sikri, Mehtab Bagh, India Gate, Amer Fort, Jaigarh Fort, and Nahargarh Fort, to the City, Hawa  Mahal, etc. 
Best time to visit:
October to February
Places covered in the Golden Triangle Tour: 
Red Fort Delhi.

Qutub Minar, Delhi.

Jama Masjid, Delhi.

Taj Mahal.

Mehtab Bagh Agra.

Fatehpur Sikri.
5. Manali
Right after the monsoon, you can avail of the accommodation at a cheap price if you are making it to Manali 
in October. This resort town, which is often referred to as 'valley of Gods' is wedged in the Himalayan mountain range has everything to delight the adventure seekers and nature lovers alike. Catch the whiff of mountain air, go for trials right in the lap of Nature, savor the valley views and engage in lots of adventures when Manali bound. Pack your bags and set out to Manali, bag in crisp apples, plums and pears from the gardens and savor the snow-covered valleys.
Best time to visit: September to May
Places to visit in Manali:
Solang Valley

Rohtang Pass

Beas Kund Lake

Hadimba Temple

Vashisht Baths

National Park

Tibetan Monasteries
6. Mysore
With its temperature dipping to 10°C, Mysore attracts a large flock of tourists during October. Catch hold of the colorful riot of Dussehra happening in Mysore if you are heading at the beginning of October. Get transported to the long-gone Mughal era by admiring the grandeur of Vijayanagara Empire palaces and landscapes which boasts the Wadiyar dynasty. Mysore also has magnificent temples and glorious churches with amazing architectural splendidness. The botanical garden, zoo, and lakes of Mysore are the other attractions of this spot. Tantalize your taste buds by savoring the authentic sweets available in Mysore stores.
Best time to visit Mysore



:
September to February
Brindavan Gardens

Chamundi Hills

Karanji Lake

Lalitha Mahal



Mysore Zoo
7. Hampi
 Do not miss this amazing place for the World, if you are a history buff. Hailed as the 'city of ruins', Hampi boasts the magnificent past of the Vijayanagara Empire. You can stroll around the glorious ruins of this UNESCO World Heritage Site located in Karnataka district of India. 
         Hampi is magical and is a treat to eyes with past ruins that remain frozen in time. Along with that, the surreal landscapes with lakes and emerald paddy fields of Hampi will totally bowl you over. Indulge in the magic of this mythical place, if you are an ardent admirer of architecture and artifacts.
Best time to visit Hampi: October to February.
Places to visit in Hampi:
Virupaksha Temple

Vittala Temple

Achyutaraya Temple

Archaeological Museum

Tungabhadra Dam

Ganigatti Jain temple

Badavi Linga
8.Mussorie
You must be familiar with the mystic Mussoorie in the Ruskin Bond books. Hailed as the 'queen of hills' Mussoorie has made it to many movies as well. Milky waterfalls, cliffs, jungles and sumptuous cuisine of Mussoorie attract flocks of tourists to Mussoorie. This resort town situated in the Dehradun District of Uttarakhand enjoys the snowfall during winter. However, October is the most pleasant month to visit Mussoorie.
Best time to visit Mussoorie: October to May.
Places to visit in Mussoorie: 
Lal Tibba

Happy Valley

LakeMist

Jhari Pani

Buddha Temple

Bhatta Falls

Heritage center
9. Hyderabad
City of Pearls -Hyderabad is the Capital of Andhra Pradesh. Wedged between the Deccan Plateau and the Western Ghats, this city has numerous architectural marvels with a significant past. This cosmopolitan city caters big time to the film industry with film cities and discotheques. Stroll around through the happening streets and majestic museums of Hyderabad and have the famous Hyderabadi Biryani from the very 'home of Biryani'. Head to Hyderabad to savor the royalty leftovers from the Nizams reign along with the cosmopolitan delights of Hyderabad.
Explore the 40 Places to visit in hyderabad
10. Kolkata
Kolkata, the cultural capital of India is fondly referred to as the 'City of Joy'. Kolkata is more than its bright yellow taxis, trams, rosogollas, and mishti doi. This quaint city  is graced with exceptional architecture marvels, happening streets, vintage choco rails, and many more. Discover how Culcutta inspired the greatest visionaries like Rabindranath Tagore, Satyajit Ray, Rabindranath Tagore, Subhas Chandra Bose, etc to create art and revolutionize India. Stroll through the streets and bounce into the tea shops with a book in your hand. Dissolve into the comfy chaos of Calcutta. 
Best time to visit Kolkata: October to May.
Places to visit in kolkata
Howrah Bridge

Tong on church

Victoria Memorial

Fort William 

Museum, Planetarium, Palace Mansion

Birla Mandir

Science city

Rabindra Sarovar
11. Darjeeling
Saunter around this hilly paradise with rolling mountains and bag in some good sunshine in the month of October. This destination is blessed with picturesque locales with old town charms. The snow capped rugged mountains and the clear skies of Darjeeling will leave you starstruck. Make sure you watch the serene first rays of sun hitting the majestic Kanjanjunga peak when you are Darjeeling bound. Sign yourself for a ride in the Toy Train(Darjeeling Himalayan Railway) and bring out the child in you!
Best time to visit: October to May.
Places to visit in: 
Ghoom Monastery

Peace Pagoda

Zoological Park

Happy valley

Tenzing Rock
12. Varkala
Situated in the Capital city, Varkala is one of the top picks of the backpackers. Fondly referred to as 'Southern Varanasi' for its ethereal beauty, Varkala attracts a good number of travelers every year. The growing cafe culture, Natural springs, sugary white beaches, and buzzing nightlife are the major attractions of the place. Head to Varkala in October if you are looking for a laid back vacation right in the laps of a beach town. Sip on your coffee and groove into your playlist as you savor the cliff delights of Varkala.
Best time to visit: September to May 
Places to visit in: 
Varkala Cliff

Varkala Beach

Anchuthengu Fort

Golden island

Edava Beach

Varkala LightHouse
13. Munnar
The old summer resort of the British, Munnar is also known as the 'Kashmir of South India' for the mystic beauty it possesses. Wedged in the Western Ghats Mountain range, Munnar is blessed with peaks, grasslands, estates, sanctuaries and valleys which are worth swooning over. Munnar topography offers trekking, hiking, rock climbing, jeep safari, etc to adventure junkies out there. You can also spot endangered species of animals and plants in this little paradise. Sip in the best tea, freshly processed from the tea factories of Munnar and bag in some spices to take home while you shop in Munnar. 
Best time to visit Munnar: All year round
Vallarta and Cheeyappara WaterFalls

Eco Point

Eravikulam National Park

Mattupetty Dam

Kundala Lake

Rose garden

Blossom Park

Tea factory
14. Alleppey
Hailed as 'the
Venice of the East
', Alleppey is graced with exquisite backwaters, beaches, and a quaint old lighthouse. When they say Alleppey is the rice bowl of Kerala, you can imagine the wholesome stretches of paddy fields Alleppey possesses. Make sure that you are signing up for a
Kerala houseboat packages
and an overnight stay in it. Nothing can beat the experience of dozing to the sounds of gentle backwater waves and waking up to the magnificent sunrise of right in the middle of placid waters of Alleppey. Go for village trials in Alleppey to get the closest glimpse of this serene village life which is purely dependent on handloom, coir, agriculture and fishing industry. 
Best time to visit Alleppey: October to May.
Places to visit in  Alleppey : 

Alleppey Beach

Vembanad Lake

Pathiramanal

LightHouse

Punnamada Lake
15. Wayanad
October makes way for perfect retreats in Wayanad. This spot is nestled in the Western Ghats has several stunning vistas. All history buffs out there can head to the Edakkal Caves of Wayanad, which has stone scribblings from the Neolithic age. The indigenous tribes living in this beautiful location has many charming habitats. Savour this tropical paradise with a hundred breathtaking sights of flora and fauna to behold. 
Best time to visit Wayanad: September to May 
Places to visit in: 
Edakkal Caves

Banasura Sagar Dam

Karapuzha Dam

Kuruva island

Wayanad Wildlife Sanctuary

Soochipara Waterfalls

Thirunelli temple
16. Shimla
Shimla is an absolute paradise to visit in October if you are heading to India. The dense forests, snow-capped hillocks, grasslands, old-world towns and rich flora and fauna of Shimla attracts flocks of Nature lovers from near and far. The pine tree canopy of this spot has made it to lots of Indian movies. Gift yourself an amazing travel experience through the snow-clad mountains of  Shimla. 
Best time to visit in Shimla: September to May.
Places to visit in Shimla: 
The Ridge of Shimla, 
Kufri, 

Green Valley, 

Jakhoo Hill, 

Chail, 

Kiala Forest, 

Mall Road, 

Shimla State Museum, 

Christ Church, 

Kali Bari
17. Ladakh
Ladakh belongs to the Trans Himalaya region and is ideal for any tourist who needs a week of absolute isolation and relaxation. This hilly haven is populated by Buddhists and is a good place for spiritual awakenings. Leh - the main town of Ladakh is extremely a thing of beauty. Take a break from the urban buzz and busy schedules. Pack your bags now and set out for the journey of a lifetime. 
Best time to visit Ladakh: October to May.
Places to visit in Ladakh: 
Leh Palace

Pangong Lake

Magnetic Hill

Tso Moriri

Zanskar valley

Phugtal Monastery

Shanti Stupa
18. Jaisalmer
Hailed as the 'Golden City', Jaisalmer is located in the Rajasthan state of India. Dessert delights of this princely state need no introduction. Graced with amazing forts and palaces, Jaisalmer is perfect for winter retreats. This glorious destination is totally worth exploring and getting lost in its mystic mazes. Bathed in rich history and culture, Jaisalmer is definitely a top pick for the October month. You can stay in 'Havelis' of this spot like a king and be treated with all the royalty. Go for a camel safari through the endless sand dunes of this ravishing desert destination
Best time to visit: October to May.

Places to visit 
Jaisalmer Fort

Gadisar Lake

Patwon ki Haveli

Salim Singh ki Haveli

Nathmal ki Haveli

Cultural Centre

Thar Heritage Museum

Vyas Chhatri
19. Coorg
Dissolve into the quaint charms of Coorg and heal completely this October. The gushing waterfalls, coffee plantations, tea estates, tall tree canopy, Tibetan shrines and large flocks of birds attract Nature lovers of all shades to this paradise.
Head to this haven if you are looking for a laid back vacation, this October.
Best time to visit: October to May.
Places to visit : 
Abbey Falls Madikeri

Raja's Seat

Brahmagiri

Iruppu Waterfalls

Nisargadhama

Madikeri Fort
20. Chikmagalur
Cascading waterfalls, coffee plantations, mist covered valleys, tall trees and whatnot! Chikmanglore, the 'coffee land of Karnataka' is the perfect tropical paradise for every Nature lovers out there. This forest destination nestled in the foothills of Western Ghats is a perfect haven for herds of elephants, tigers, migratory birds, leopards and other animals. Bhadra Wildlife Sanctuary is the biggest attraction of this spot. Watch the purest form of coffee brewing, taste as you savour the lush green forest of Chikmagalur. Head to this paradise now!
Best time to visit: October to May.
Places to visit in: 
Mullayanagiri

Ammara EcoSystem

Kudurekuha Jamly

Baba Budan giri

Bhadra Wildlife Sanctuary

Hebbe Falls

Kalhatti Falls