10 Must Visit Places in Munnar
kerala

|
Aruna Nixon

|
07-10-2019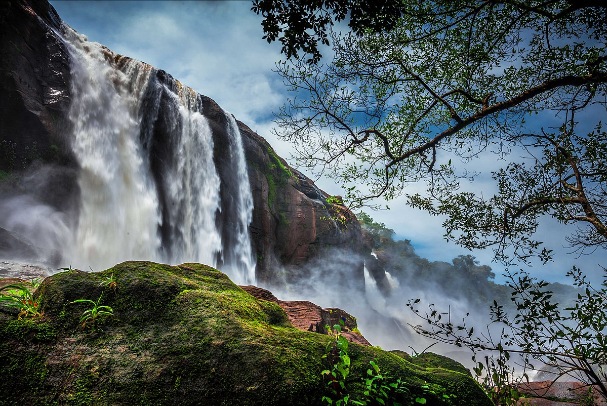 Munnar is nothing less than a paradise for nature lovers. Enviably located in the mountain ranges of the Western Ghats,  Munnar is situated around 1,600 meters above mean sea-level. You can witness an amazing confluence of three rivers - Mudrapuzha, Nallathanni, and Kundala in Munnar and that's how Munnar got its name. (Munnar- means three rivers in Malayalam)
Munnar is regarded as the most beautiful hill station in God's own country. For the misty delights it offers, Munnar is known as the "Kashmir of South India" and is the most preferred Honeymoon spot in Kerala. The picturesque landscapes, amazing weather, beautiful waterfalls, and treks and adventures offered here are the reason why people choose Munnar Tour Packages over everything else.  Along with the spellbinding beauty of these hillocks, people can also savor the closest glimpse of wildlife, when Munnar bound. This reason makes Munnar tour packages for family popular like anything, as it has something for every age group. If you want to go on a solo trip to escape from the hustle and bustle of the city, Munnar one-day tour packages are also available.
Yes, Munnar has something for everyone and it keeps calling its visitors back. Choose a Munnar budget tour package and visit this heaven at a low fare. To make your destination hunt simpler, here are our top picks of the most stunning locations in Munnar you should not miss. We have also added the location details and ticket rates to make the Munnar Tour a breeze for you! Make sure you add these spots  to your kerala honeymoon packages or kerala tour packages 
Eravikulam National Park: Eravikulam National Park is the first National Park in Kerala. Graced with rich flora and fauna, this park is home to around 69 animals and 132 species of birds. The endangered species like lion-tailed macaques, gaur, Indian muntjac and sambar deer, Golden jackal, jungle cat, wild dog, dhole, leopard and tiger, Nilgiri langur, stripe-necked mongoose, Indian porcupine, Nilgiri marten, small-clawed otter, ruddy mongoose, and dusky palm squirrel are all leaving in harmony here. Make sure you meet them all when you are on a  tour package to Munnar.
Best time to visit: The park is open year-round except for the mating season of animals, which is from mid-February to march usually. Park is open and allows visitors on all other days.
Instructions for Tourists: The park is suggested to be trialed by foot as motor vehicles are not allowed to close-radius of the park.  
Entry Fees: 125 for citizens, 420  for foreigners.
Entry Timings: 7.30 am to 4.00 pm
Mattupetty Dam: This picnic spot has been attracting flocks of people annually with its ethereal beauty. The glistering green water of the lake, the tea-gardens which fringe it, the aquatic and terrestrial animals which live around the Dam are the factors which spellbind the tourists. 
Tourists can either dwell in the unparalleled beauty of this place, trek through the Shola forest patches surrounding the lake or engage in the boating activities. Rowboats, Motorboats, etc. are available here to ride. 
Best time to visit: August to May is the best time to visit Mattupetty Dam
Instructions for Tourists: Opening time and Closing time are strictly followed.
Entry Fees: Rs. 10 / person, extra changes for boating.
Entry Timings: 9:30 to 5 pm
Attukkad Waterfall: This magnificent waterfall which cascades down in many layers is one of the most favorite picks of the tourists. This beauty is located 7 km away from Munnar Town. Nestled in the wild jungle, the sudden sight of the gushing water is a feast to our eyes in every sense. The wooden bridge which takes us to the visual bounty adds to the quaint charm of this spot. 
Best time to visit: Anytime is good, except monsoons to avoid slippery walks.
Instructions for Tourists: Tourists are requested to refrain from walking through the rocks or going near to the waterfall.
Entry Fees: No fee required.
Entry Timings: 6.30 am to 6.30 pm for a good view.
Echo Point: The Echo point offers a great view of the misty valleys and green grassland carpets of Munnar. Children, senior citizens, couples, everyone who makes it to this place do try throwing their voice into the void to hear it back as eco! Therefore, this place is equally loved by tourists from every age-group and region. You can also swoon into the views of tea estates and forest patches around. 
Best time to visit: September to March.
Instructions for Tourists: One of the coldest points in Munnar - advised to carry woolen scarfs or wear the thermal clothes.
Entry Fees: Rs.30/person
Entry Timings: 6 am to 7.30 pm
Kundala Lake: This beautiful lake situated 20 km away from Munnar is a must-visit place in every way. It spans beauty in 360 degrees and attracts so many tourists to its heart. The Golden hours are preferred by the tourists to spend here. The captivating sight of lake water glistening with the sunlight is highly enjoyed by the tourists.
Best time to visit: Anytime other than June to August.
Instructions for Tourists: Do not forget to carry a camera with you if you wish to capture the gleaming lake.
Entry Fees: Free of cost
Entry Timings: Open round the clock
Kolukkumalai: Kolukkumalai has many tea plantations and they are the highest tea plantations in the World.  The sunrises from this hill are very spectacular and many tourists make it a point to witness them as they design their tour package to Munnar. The tea from these estates is said to be very refreshing and extremely tasteful. This plantation makes uses of vintage and orthodox methods to process tea which also makes them most sought after Tea manufacturers in Kerala.
Best time to visit: September to March
Instructions for Tourists: Do not miss the sunrise in this hill, plan your schedule accordingly.
Entry Fees: Rs. 70/person
Entry Timings: 7 am to 6 pm
Pothamedu ViewPoint: As the name suggests, Pothamedu gives the best view of the tea-estates, cardamom, and plantations. The mist-covered valley and the low-lying clouds also add charm to the viewsPothamedu offers. Located 5 km away from Munnar, this location can be easily accessible and should be definitely explored if you have chosen a Munnar tour package for 2 days.
Best time to visit: September to May
Instructions for Tourists: Carry woolen scarfs or clothes
Entry Fees: Free of Cost
Entry Timings: sunrise to sunset
Top Station: Top Station, which is the highest point in Munnar, is located 40 km away from Munnar Town and is one of the most popular spots in any Munnar Tour packages.  From this point, you can have a spectacular view of the Western Ghats and the small hillocks along with their fog valleys and roads. The clouds which seem to come in near contact is a great view to swoon all day. The adventure junkies can engage in trekking activities as well. 
Best time to visit: Any month except June, July, and August(Monsoons)
Instructions for Tourists: Carry Woolen clothes along with you.
Entry Fees: Free of Cost
Entry Timings: Open all day long.
Anamudi Peak: This is the highest peak in South India and also the highest in the entire mountainous range of Western Ghats. Being one of the most famous spots for trekking and hiking expeditions, Anamudi Peak is a must-visit spot in any Munnar Tour Packages.
Best time to go: September to May.
Instructions for Tourists: Carry Woolen clothes and camera. Carry trekking shoes and first aid kit if you wish to trek.
Entry Fees: No fees required
Entry Timings: Open round the clock
Tea Museum: The historic KDHP tea museum contributes big time to the flourishing tea industry of Idukki. You can take a stroll through the exquisite spread of tea-plantations and breath in the crisp mountain air. Make sure you don't miss to add this spot to your Munnar Tour package
Best time to visit: September to March
Instructions for Tourists: Take your camera if you wish to click pictures of the beautiful plantation
Entry Fees: No fees required ( There is an entry charge for the camera)
Entry Timings: 9 am to 4 pm