8 reasons why you should choose Kerala Tour packages (over other travel plans)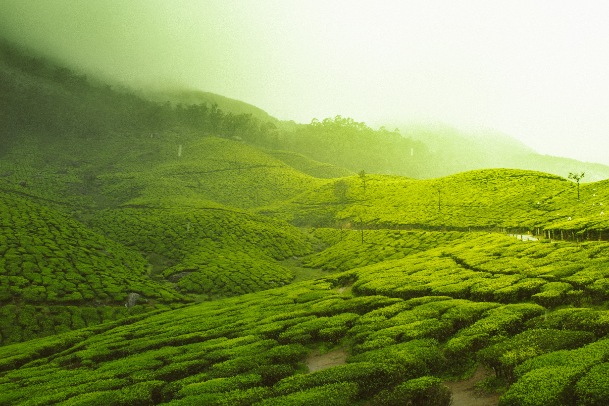 You must be wondering how Kerala stands true to its touristy tagline - God's own country! The steamy jungles, golden beaches, placid backwaters, cascading waterfalls and mystic hill stations of Kerala will tell you why. Kerala has become the hottest backpacking zone in India and travelers from near and far has been choosing Kerala Holiday packages over everything else. Kerala is much more than its scenic destinations. The National park, Tea estates, Spice and Tea plantations of Kerala will entice travelers from all age groups. The authentic Ayurvedic spa, aromatic massages and esthetic treatments of Kerala are another attraction of every Kerala Tour packages.  There is no wonder why National Geographic Traveler declared Kerala as one of the thirteen paradises on the earth - and we will tell you why. Here are 5 reasons why you should consider Kerala Tour packages while planning your next trip:

Backwaters of Kerala
The backwaters of Kerala is more than the iconic Houseboat rides which of course, are the prime attraction in any Kerala Tour Packages. The long stretches of palm fringed lakes, canals and lagoons of Kerala offers a grand visual treat. You can take a look at the golden paddy fields, lush vegetation, aquatic creatures and the serene life routines of villagers. The village walks through the backwater destinations are getting popular lately. You can indulge in a variety of villager's activities, get to know the culture better and Popular backwater destinations are:

Alleppey: Hailed as the 'venice of the East', large flocks of travellers head to this quaint town of Kerala. The magnificent sunrises and sunsets of Alleppey beach, the village trials and beach resorts make Alleppey a perfect haven for travellers.
Things to do  in Alleppey: 
Houseboat cruise

village trials

visit handloom

handicraft 

 textile industries.
Places to visit in Alleppey:
Alleppey beach, 

Vembanad Lake

Alleppey LightHouse

Krishnapuram palace

Punnamada Lake
Kumarakom
: The mangrove forests and exquisite backwaters are what make Kumarakom different from other backwater destinations of Kerala. Make sure you add this spot to your
Kerala Tour package.
Things to do  in Kumarakom: 
Village life experience
 Mangrove boating

 Houseboat cruise
Places to visit in Kumarakom:
Kumarakom Bird Sanctuary, 

Pathiramanal

Mango meadows Park

Driftwood museum
Ashtamudi:
Ashtamudi Lake of Kollam district is another popular backwater destination which has a palm shaped structure. Coconut groves and palm trees of this destination are breathtakingly beautiful. Exploring the port city of Kollam, which was formerly known as Quilon is also a merry affair.
Best time to visit Ashtamudi:
September to February
Things to do in Ashtamudi:
Boating,

 Fishing,

 Photography
Kottappuram:
Situated 40 km south to Kasaragod, Kottappuram is one of the most sought after tourist spots in Kerala. It is also referred to as 'Valiyaparamba backwaters'. 
Best time to visit Kottappuram:
October to February
Things to do in Kottappuram:
Hit beach

 riverside 

Boating,

Fishing centres.
Kochi:
The old port city - Cochin is hailed as the 'queen of Arabian Sea'. Kochi is more than a quaint old town graced with the Potughese Square and Jew street marvels. It was one of the finest harbours, and tells tales about the colonial past. Chinese fishing nets, boating activities, palm fringed groves etc make Kochi backwater ride a prime attraction of every
Kerala Tour Packages.
Things to do in Fort Kochi: 
Catch a good sight of Chinese fishing nets

Boating

Fishing

Visit Mattancherry Palace

Paradesi Synagogue
Best time to visit Fort Kochi: 
September to February
Hill Stations of Kerala 
1. Munnar: Munnar is an exquisite hill station situated in the Idukki district of Kerala. Hailed as the 'Kashmir of South India', it is one of the prime attractions of every Kerala Tour Packages. This hill station is graced with beautiful valleys, gushing waterfalls, dams, lakes, spice estates and foggy peaks. 

Trekking,

 Mountain Climbing,

 Cycling,

 Hiking 
Cheeyapara and Valara Waterfalls, Kundala lake, Echo point, Top Station, 
 2.
Vagamon:
The pine trees, green meadows, tea plantations and lofty valleys add to the aesthetics of this hill station.  Nestled in the Kottayam-Idukki border Vagamon never ceases to amaze the travellers and backpackers with its scenic beauty and foggy delights. The opportunities of adventurous activities drags large flocks of adrenaline junkies to the heart of Vagamon every year.
Camping 

Paragliding

Trekking

Hiking
Places to visit in Vagamon:
Pine forests

Thangal para

Mundakkayam Ghat

Marmala Waterfall

Vagamon Waterfall

Barren Hills

Vagamon Lake
3. Ponmudi: 
Located 62 km northeast to the Trivandrum city, Ponmudi is an underrated hill station which offers magnificent sights. It welcomes the touristers with the sights of gigantic hills and ravishing valleys. The wholesome misty delights of Ponmudi should not be missed for heaven if you are on Kerala Tour package.
Things to do in Ponmudi:
Trekking

Animal spotting

Mountain climbing

Places to visit in Ponmudi:

Meenmutty falls

Mankayam Falls

Ponmudi Hillstation

Braemore Marigold Estate

Ponmudi Upper Sanatorium
Golden beaches of Kerala. 
Marari
 Kerala is home to a good bunch of golden beaches and Marai is one of the best. Located 11 km  from Alleppey Town, Marari is rated as one of the top five Hammock beaches in the World in a National Geographic Survey. 
Blessed with both black sand and white sand beaches, a glore of beach bounty awaits every traveller who are on Kerala Tour package. 
Things to do in Marari Beach:
Snorkelling

Parasailing

Kayaking

sea surfing, 

water skiing, 

deep-sea fishing.
Best time to visit Marari Beach:
September to February
Cherai
Located in the northern side of Vypin island, Cherai beach is one of the top five pics of travellers. The beach goers here can  enjoy the turquoise hues of the Cherai sea and spot dolphins and Chinese fishnets here.
Things to do in Cherai Beach:
speed boating

snorkeling 

canoe ride

water scooter ride
Best time to visit Cherai Beach: 
October to February
 Kovalam
Kovalam is a beach set by the Arabian Sea in the metropolitan city of trivandrum. It is one of the white sand beaches of Kerala and is graced with a palm fringed beach. So many beach activities like Scuba diving and snorkelling are available here. All the adventure junkies out there make it a point to visit 
Places to visit near Kovalam:
Samudra Beach Park
Kovalam beach

Vizhinjam LightHouse

Halcyon Castle Trivandrum

Bond Safari Scuba Diving

Hawa beach

Rock cut cave temple

Vizhinjam Beach
Varkala
Varkala Cliff is one of the top picks of every beach goer who craves perky escapades in white sandy beaches. Nestled in the largest metropolitan city of Kerala, Varkala has become a hub for romantic couple activities like sun-bathing, swimming and water sports. Perched in the rustic brick-red cliffs of the Capital city, this destination pampers the tourist with a visual feast.  
Places to visit in Varkala
: 
Varkala Cliff

Anchuthengu and Anjengo Fort

Ponnumthuruthu Island

Sivagiri Mutt

Varkala Beach

Kappil Beach

Kappil Lake

Thiruvambadi Beach

Saint Sebastian's Pilgrim Church Moongode

Janardhanaswamy Temple

Odayam Beach

Edava Vettakkada Beach

Varkala Lighthouse

Varkala Tunnel

Chilakoor Beach
Best time to visit Varkala: 
September to February
Alleppey district is hailed as the Venice of the East by everyone who adores Nature. The magnificent beach famous for sunsets, the criss crossing canals, backwaters and lagoons, the picturesque paddy fields etc. make Alleppey a little heaven on Earth. You can take a stroll through the quaint villages of Alleppey, stop by for learning the captivating art of handicrafting, coir making, handloom textiles etc. You can also go for the iconic Houseboat cruise through the pristine waters of Alleppey by choosing Kerala Tour package with houseboat.
Best time to visit Alleppey:
September to May
Places to visit in Alleppey: 
Alappuzha Beach

Vembanad Lake

Pathiramanal

Krishnapuram Palace

Punnamada Lake
Breathtaking Waterfalls of Kerala
Athirapally Waterfalls: If you are an ardent fan of Maniratnam movies and Bahubali series, the chances are that Athirappilly waterfalls has already captivated you. Come see this magnificent waterfall in all its glory by adding this spot to your Kerala Holiday package. Fondly referred to as 'Niagara of India' Athirappilly is sprawled in Thrissur District of Kerala. Another beautiful waterfall next to Athirappilly is Vazhachal, which is visited together.
How to reach Athirapally:
If you are taking a train, Chalakudy is the nearest railway station to this waterfall. Cochin International Airport is the nearest airport to this destination which is 40 km away. The place is well connected with the public transportation system which you can rely on or you can take a taxi to this place.
Best time to visit Athirapally:
September to May
Attukad Waterfalls:
Nestled in Munnar, Attukad waterfalls is a real treat to the eyes. Water cascading down through the rolling hills set in the middle of  lush green jungle is a popular spot in every
Kerala Tour Packages
.
Best time to visit Attukad:
It is said that Attukad is best explored in Monsoon, which makes it a year round destination in Kerala.
How to reach Attukad Waterfalls:
Nearest Railway station to Attukad is Aluva railhead. And Cochin International Airport is the nearest Airport terminal to Attukad. You can rely  on other public transportation means or hire a taxi to hit this spot.
Soochipara: 
Soochipara Falls or Sentinel Rock Waterfalls cascades in three layers and its beauty is unparalleled. Set in the middle of the evergreen forest of Wayanad, Soochipara blends well to the picturesque topography of Wayanad. Water sports and swimming are encouraged in the downard pond of Soochipara.
Best time to visit Soochipara
: September to February
How to reach Soochipara: On reaching Kalpetta of Wayanad, you can either take a taxi or rely on public transportation means to reach the Vellarimala. You can trek to the waterfalls from there.
Steamy jungles of Kerala 
 Thekkady:
This lush jungle with rich flora and fauna is a must-visit destination if you are on
Kerala Tour Package
. Blessed with so many rare herbs, trees, birds and animals, Thekkady is a perfect haven for Nature lovers of all shades. It is home to the famous Periyar National park, which is a notable Elephant and Tiger reserve. The jeep safari through the terrains of Thekkady is also a popular activity in
holiday packages to Kerala.
Places to visit in Thekkady: 
Elephant Junction

Thekkady Rose Park

Spice parks

Ayurvedic Centres

Boating points

Suruli waterparks

Periyar National park
Best time to visit Thekkady:
September to May
Wayanad:
Wedged between the districts Kannur and Kozhikode, Wayanad is a tropical paradise set high on the Western Ghats. Blessed with splendid wildlife, peaks, coffee estates, jungles, lakes and long straight roads with picturesque sights.
Best time to visit Wayanad: 
September to May
Places to visit in wayanad: 
Edakkal caves

Soochipara Waterfalls

Wayanad Wildlife Sanctuary

Banasura Sagar Dam

Kuruvadweep

Banasura Hill

Kanthanpara Waterfalls

Thirunelli Temple

Pookode Lake
Forts and Palaces of Kerala
Padmanabhapuram palace: 
The fortress built during the Travancore era is a feast to witness with your eyes. The Mural Paintings, the marvellous architecture, brass lamps and the precious secret passage engineering will make you swoon. Make sure you drop in to see the charming artifacts and brilliant architecture of this beautiful palace.
Opening Hours: 9.00 am  to 4.30 pm, closed on mondays 
Mattancherry Paradesi Synagogue: 
Paradesi Synagogue is the first synagogue in India which as built in the 4th century. CommonWealth of Nations recognizes this synagogue as the oldest active synagogue in the World. Graced with glass chandeliers and brass railed pulpit, this synagogue is sure to entice you. You can also take a stroll through the jew street The history buffs will be highly impressed if you can make it to this spot during your Kerala Tour. 
Ticket Price:
INR 2/-per head
Opening Hours: 9:45 am to 1.00 pm and 2 pm to 4:45 pm
Hill palace:  
Built in 1865, this palace was the administrative office and official residence of Cochin maharaja and  is the largest Archaeological Museum in Kerala. You must have already adored the beauty of Hill Palace if you have watched the movie 'Manichitrathazhu' which revolves around this beautiful palace. 
Rs.10 per adult
Opening Hours:
9 am to 12.30 pm
2pm to 4.30 pm, closed on mondays
Wildlife Sanctuaries 
Eravikulam National Park:
Eravikulam National Park is home to many rare kinds of animals and birds, including the endangered Nilgiri Tahr and Neelakurinji which blooms once in 12 years. It has approximately 48 species of Mammals, 133 species of birds, 101 Butterflies, 21 species of Amphibians. Many medicinal plants and herbs including Drosera peltata are grown inside this National Park.
Opening time: 8 am to 4.30 pm
Periyar National Park:
This National park is a notable elephant and tiger reserve. As it is a watershed of two rivers- Periyar and pamba, it caters to  a large flock of animals and birds. Make sure you catch a good hold of Asian elephant, white tiger, gaur, sambar, wild pig, Indian giant squirrel, Travancore flying squirrel, jungle cat, sloth, Nilgiri tahr, lion-tailed macaque, Nilgiri langur, and birds like Malabar grey hornbill, Nilgiri wood pigeon, blue-winged parakeet, Nilgiri flycatcher, crimson-backed sunbird, and white-bellied blue flycatcher and many more species of animal kingdom when you head to Kerala.
Opening time: 8 am to 4.30 pm
Parambikulam National Park: 
Located in Palakkad district of Kerala, the Parambikulam Tiger Reserve is perched in the Sungam Range of Hills. Nature education is perfectly manifested in this park. It is home to lion-tailed macaques, Nilgiri tahr, elephants, Bengal tigers, Indian leopards, wild boar,  Nilgiri langurs, sloth bears, Nilgiri marten small Travancore flying squirrel and gaur.The birds who grace in this park are Lesser adjutant stork, grey-headed fish-eagle Peninsular bay owl, broad-billed roller and great pied hornbill. Other birds include: darter, little cormorant, black eagle, black-capped kingfisher, great Indian hornbill, and black woodpecker.
Ticket Rate: INR 150/- per head
Opening time: 7 am to 6 pm
Muthanga Park: 
Make sure you visit the second largest wildlife sanctuary in Kerala if you are on Kerala Tour Package. Muthanga Wildlife Sanctuary was established in 1973. Rich in flora and fauna,  the Nilgiri Biosphere Reserve implements a scientific conservation of plants and animals here. The place is blessed with rich flora including maruthi, karimaruthi, rosewood, venteak, vengal, chadachi, mazhukanjiram, bamboos, etc. It also has animals like Elephants, tigers, panthers, jungle cats, civet cats, monkeys, wild dogs, bison, deer, bears, monitor lizards and a variety of snakes 
Ticket Rate
: INR 20/- per head
Opening Time: 7 am to 10 am and 3 pm to 4:30 pm
Chinnar Wildlife Sanctuary:
Nestled in the Western Ghats Chinnar Wildlife Sanctuary is an exquisite Wildlife Sanctuary. It is blessed with animals like 
grizzled giant squirrel, star tortoise, wild elephant, crocodile, grey langur, gaur, tiger, leopard, spotted deer, and many more migratory birds and endemic insects. Make sure you slow down to explore this amazing spot during your Kerala Tour. 
Ticket Rate
: INR 10/- per head
Opening Time: 6 am to 6 pm
Pilgrim Centres:
Kerala is the perfect destination for Spiritual travellers. This state is dotted with vibrant holy sites including mosques, temples, churches and synagogues. Some of the famous religious centres which you can include in your Kerala Tour package are:
Sabarimala, Pathanamthitta district

Malayattur, Ernakulam district

Guruvayur, Thrissur district

Padmanabha Temple, Trivandrum district

Cheraman Juma Masjid, Kodungallur

Mattancherry Synagogue, Ernakulam.