Relish the Vibrant Atmosphere of Kuta
bali

|
sooraj

|
09-04-2020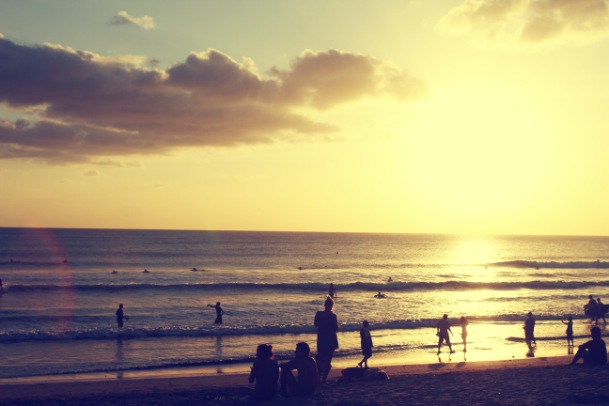 Kuta
Kuta is the capital of the Kuta district of the Badung Regency and is the most famous place in Bali. Kuta is well known for its long white sandy beach, fantastic nightlife, exotic bars, resorts, and nightclubs. 
Kuta is a major attraction for all sorts of tourists. Although there are many luxury attractions in Kuta, the place is also a perfect destination for budget travelers. You can find a bunch of budget accommodation around the place. Kuta is therefore considered to be the cheapest place in Bali. 
Things to do in Kuta
Kuta beaches are famous for their surfing activities. It is also an ideal place for beginners to learn to surf. Kuta Beach is Bali's most crowded beach with lots of tourist and local stalls. People gather around the beach before sunset to enjoy the magnificent view of the sun setting in the Gorgeous Sea.
The nightlife in Kuta is unmatched to any other location in Indonesia. The streets are adorned with bars, pubs and night clubs that lit up the place when the sun goes down. You can see people dancing to the tunes of zippy songs, singing and hanging out all around the place.
"Waterbom Bali" is one of Bali's most popular and oldest water theme parks. It's the most visited spot in Kuta and is an ideal spot to enjoy with your children. The park offers a wide variety of rides with lots of twists, turns, falls and tumbles that are entirely safe.
Shopping in Kuta is a great experience with lots of places to go to. It includes everything you can assume to buy from anywhere else in the world. There's a wide range of clothing, artwork, fashion items, home decor items, and many more to choose from. Discovery Shopping Mall, Beachwalk Shopping Center, Lippo Mall Kuta, Mal Bali Galleria, Kuta Art Market are some of the best shopping options in Kuta.
Kuta is one of the best places to try delicious Balinese cuisines such as Nasi Ayam, Satay, and Nasi Goreng. The primary ingredient used in Balinese food is chicken, eggs, seafood, lamb, and beef. The meals are usually accompanied by basic ingredients such as rice or noodles. There is plenty of restaurants in Kuta that serve food throughout the day and night. You can also find a lot of small street food stalls on the beach or on the street selling fresh food.
The other best way to explore Kuta is by walking.
Best time to Visit
The best time to visit Kuta is during the dry season between October and April. The ideal time to enjoy any beach is during a time when there are sufficient sun, less humidity and little or no rainfall.
How to reach
Kuta is located just 5 km away from Ngurah Rai International Airport. Public and private buses are available for transport in Kuta. Traveling in one of these buses will not be comfortable as they are overcrowded, and it will take a long time to get to the destination. So it is recommended to hire a taxi for a pleasant journey.
Kuta must be on the travel list of every traveler who wants to spend a great time partying in a vibrant atmosphere.