Visit Catherine Waterfalls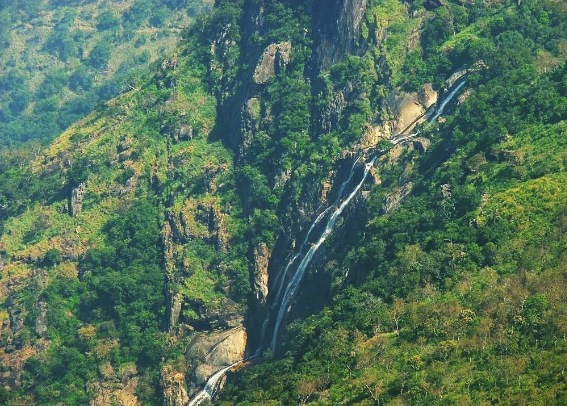 Huge falls in a surrounding lush-green area! Catherine falls is a huge scenic destination for nature lovers. It's located in Kotagiri and renowned for its seclusion from the bustling urban areas. Nestled among the splendid Nilgiri Hills, and great to witness the huge gush of cascading Catherine falls. It's actually the water of Kallar river, that cut off by Mettupalayam-Ooty road and falls in a double cascade at a height of over 250 meters. Catherine falls is popularly known as the second highest waterfall of Nilgiris. It's a favorite spot for people who love a calm and serene place in the Ooty-Coonoor region. 
                Catherine falls is a truly beautiful lap of nature, where travelers soak in for quiet ambience; discover nature routes, trekkers who love adventurous path, and obviously shutterbugs to capture some best scenery. Wild forest on one side and ravishing tea plantations on other side, get a paradise of both freshness and wilderness as possible. It's an ideal spot for honeymooners, solo travelers, and back-packers. 
Top things to do at Catherine falls
Dolphin Nose : Dolphin Nose is a spectacular viewpoint that is located around 1000 feet above the sea level. It's next to the Catherine falls surrounded with a whole stretch of greenery. The rock tip resembles the snout of a dolphin. Hence, it gets the quirky name as Dolphin Nose. 
Trekking : Catherine Falls has some fantastic trek routes! Enjoy a simple 2 or 3 km walk through the pine forests from the road to falls. Explore the roadways and a small town called Aravenu as well. There is a spectacular trek route through the nearby longwood Shola forest. Join trek groups and get ready for short and easy treks. Get the permission of forest department for safe trekking journey!
Photography : Catherine falls is a heavenly place for nature lovers. Photographers get wide exposure to the nature highlights and click magnificent pictures with stunning background of white foam water. Professional photographers get beautiful snapshots of the surrounding. 
Bird-watching : Bird watching is a special activity for nature enthusiasts, reaching the foot of the rock is not possible. So, spend some time sitting on the rocks and gazing at the beautiful birds. Enjoy waterfall as a mere spectator of nature's bounty. 
Best time to visit Catherine Falls : Since, most of the Indian rivers depend on the monsoon season. It's advisable to visit after the rainy season. September to April is the best time to visit Catherine falls.
Catherine Falls Location highlights : Catherine falls can be reached via Moon road off the Kotagiri to Mettupalayam Road. Tourists can reach Kotagiri from the main cities like Ooty and Coonoor with the help of buses or cars. 
                Tourists actually walk a small distance through the town Aravenu, it's a lush-green path surrounded with tea estates and other scenic spots. The road is pretty narrow, so drive carefully and ask for directions from the local residents. Most of the trekkers prefer walking from Kotagir or Aravenu to reach the falls, but it's essential to get prior permission from the district forest officer!!!