Fun |
Trivandrum

|
Aruna Nixon

|
03-02-2020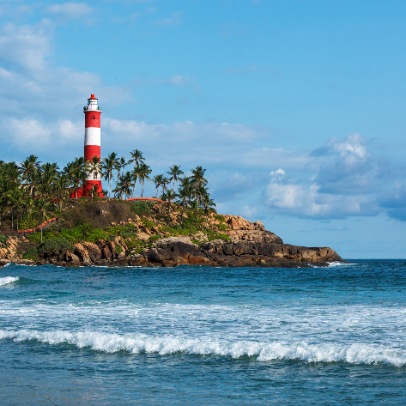 Kovalam is an idyllic destination in Kerala. The Kovalam coastal town is located around 13 km from the Trivandrum city. Kovalam is famous for its crescent shaped shallow waters and low-tide beaches. Kovalam was known as the fishing village and later gained popularity in the 1930s. Even now, the city has a huge rush of tourists from Israel and Europe.
  Kovalam Beaches
        Lighthouse beach, Hawa beach or Eve's beach and Saudra beach are the popular beaches of this town. Kovalam exactly represents grove of coconut trees, and so, the town is filled with this palm trees.
   Lighthouse beach
       It's the largest beach and one of the best beaches of Kovalam town. Kovalam beach in Kerala has a splendid tourist inflow from various countries across the globe. The lighthouse beach has a tall 30 meter high lighthouse, where visitors access with the help of lift services or climb the stairs. On reaching the top, enjoy the magnificent panoramic view of beach city. Also enjoy the sight of Poovar island and Beemapalli mosque.
 Hawa Beach
         Kovalam beach of Kerala is popular for its wide variety of water sports. Hawa beach of Kovalam houses a range of water sports amidst the stunning palm grooves that line up the beach shores. The beach is popular for its sunset view, reach early morning to visualize the fishermen set out into the sea chanting, singing their own folk songs. The beach is easily accessible via public or private bus. Relish on the popular street foods and local cuisine for a delicious retreat.
 Samudra Beach
         Samudra beach is a less crowded destination for people who love privacy and calm beach space. The coastlines are occupied by fishermen for fishing. People spend some family vacation in this calm and serene beach. Kovalam beach in Kerala is one of the best places for honeymoon journey.
 Kovalam Beach Nightlife and shopping
       Nightlife is popular with few bars and restaurants. It's a soothing experience with good music and delicious refreshments. Enjoy the mellow nightlife at Kovalam beach Kerala resorts.
       Shopping at Kovalam beach is really exciting with beautiful silk sarongs, colorful outfits, exquisite ornaments made of sea shell and heritage handicraft shops selling antique items and other souvenirs. Shop for the traditional Malabar spices and other spices at affordable rates!!
       September to March is the best time to visit Kovalam Beach in Kerala. These months assure comfortable journey and excellent sight-seeing. Monsoons expect heavy rainfall, but it's a good time to sit and relax in your resort with great Ayurvedic treatments. Kovalam beach is a must-visit place in Trivandrum!!