Fun |
Varkala

|
Aruna Nixon

|
03-02-2020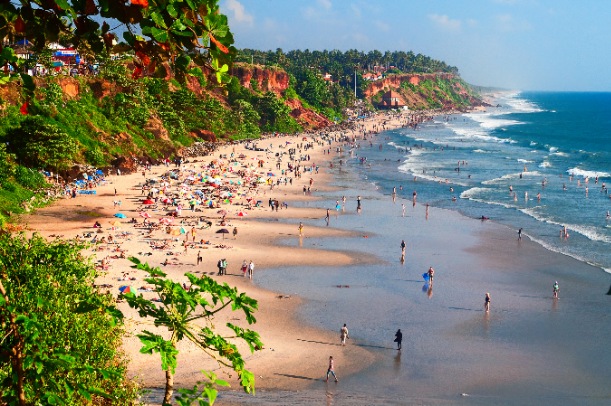 Varkala is a unique coastal town in Kerala. The town has a unique 15 meter high 'Northern Cliff' adjacent to the Arabian Sea. The coastal town and premises are popular for its hippe culture. The coastal town shacks serve great food with the beauty of globally playing music. Varkala is known for the Samadhi of Sree Narayana Guru and Jardana Swami temple or popularly known as 'dhakshin Kashi'.
            Varkala beach in Kerala is a pristine spot situated among high rising hills, lakes, forts, lighthouse and natural fisheries. A simple line that depict about Varkala beach in Kerala is "it's a small paradise of Kerala".
            The beach is beautifully set apart 10 km from the quiet hamlet of Varkala. This beach is also called as Papanasam beach by the local residents. The beautiful stretch of long white sands is renowned for its solitude rather than the commercial beaches of Trivandrum. The unique cliffs and beackdrop of Arabian Sea is found nowhere in Kerala. Varakala beach coastline is splendid for an excellent day out or weekend getaway.
          Varkala beach is divided into two parts, southern area of the beach leading from the Janardhana Swamy temple is considered as a sacred place by Hindus, where as the northern part of Varkala beach in Kerala is right at the bottom of the cliff and popular for its natural mineral spring.
             Varkala Beach in Kerala is renowned for its medicinal properties too; the beach waters prove to have some medicinal and curative properties. So, once you reach here, take a dip in the holy water and cleanse yourself from the impurities of body and mind. The word 'Papanasam' means 'Destroyer of sins'
  Varkala Beach resorts
           Varkala beach resort in Kerala is a charming stay destination and marked as a favorite holiday spot by many of the travelers. Varkala has some of the popular resorts and hotels around the region. Get all the basic and luxury facilities to accomplish your holiday package. Varkala beach resort in Kerala is renowned for its amenities such as AC rooms, Ayurvedic Spa, yoga centers, outdoor pools, bike rentals, restaurants and bars. Get everything according to your desired budget.
          The weather is dry, with a temperature of around 30 degree Celsius, Late December to March is considered as the best time to visit Varkala beach. The temperature is mild without much humidity.  Avoid travelling during the summer months, as the climate remains hot and humid, Varkala beach Sunset is a special and surreal experience. Go for a nature-filled beach walk and admire the beauty of Arabian Sea.