Fun |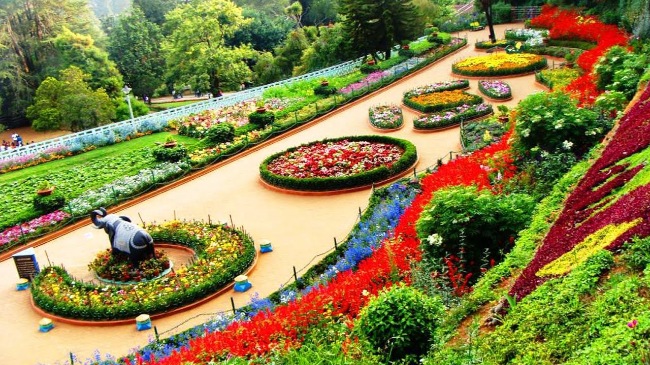 Great space for nature lovers!! Rose Garden in Ooty is dedicated to the beautiful rose flowers. Rose is a peculiar flower with unique color shades and each color has some representations. The Rose garden of Ooty is situated in the heart of the town and popularly known as Jayalalitha Rose garden or Centenary Rose park. Nature enthusiasts easily spot this tourist destination like bees to honey. 
                    The view of lush-green landscape and captivating rose varieties is a spectacular sight for visitors. The flowers look beautiful in ravishing colors, attracting visitors from all age groups. People who are interested in the study of Botany or other such nature groups; you're bound to enter into a leisure world of beautifully landscaped gardens. Rose garden Ooty is located on the Elk Hill slopes. It was established in the year 1995 to commemorate the Centenary flower show. The government Rose garden in Ooty is maintained by the horticulture department of Tamil Nadu. Occupying a huge area of more than four hectares on the hill slopes and finding it in variety of colors is something alluring. 
Trending facts about Rose garden Ooty
The four hectares on the slopes of Elk Hills is completely adorned with rose shrubs and other flowering plants. It's constructed in a terrace curve along the hill slopes giving a mesmerizing look to the garden. Ooty climate supports considerably longer season of bloom. 
Rose garden in Ooty has a splendid layout comprising beautiful bowers with creepers of Rose, Special Rose tunnels, and Pergolas. Nila Maasam is the observation tower where visitors get a complete view of the Rose garden. 
The garden was established with over 17,000 plants, out of which 1900 varieties of colorful fragrant roses. Today, the garden is estimated to have around 20,000 roses and 2,800 plants, creating a national record of India's largest collection of roses. 
Rose garden of Ooty

has been appreciated by the Federation of Rose societies and received the most prestigious award 'garden of excellence' for the best Rose garden in South Asia in the year 2006. 

Rose Garden Ooty

is one among the 35 gardens to receive this honor.
Type of rose varieties 

                 Visitors can find a variety of rose collection in the Ooty Rose Garden. It has a vast collection of local, national and hybrid varieties of roses. The government has sourced roses from all over the world including hybrid tea roses, Floribunda, black roses, green roses, polyanthus and miniature roses. 
Best time to visit
Ooty Rose Garden
                 Rose Garden in Ooty is best visited during the months between March and June. The garden looks stunning as the flowers appear in full bloom during these days. Ooty flower show in held in these months, usually in May. People, who are not interested in summer months, opt for November to February, it's not a blooming season, but you may feel relaxed with the chill climate. 
How to reach
Rose garden in Ooty
?
                  Rose garden is easily accessible via road from any part of Ooty. There are public transport facilities like buses, auto-rickshaws and taxis. 
                The garden operates from 7.30am to 6.30pm; the ticket price starts from INR 15 for children and INR 30 for adults. They take an extra charge of INR 50 for still camera and INR 100 for video camera. Take a visit during the early morning hours or evening hours to enjoy the natural beauty.