Fun |
Ooty

|
Kajol Salim

|
01-03-2020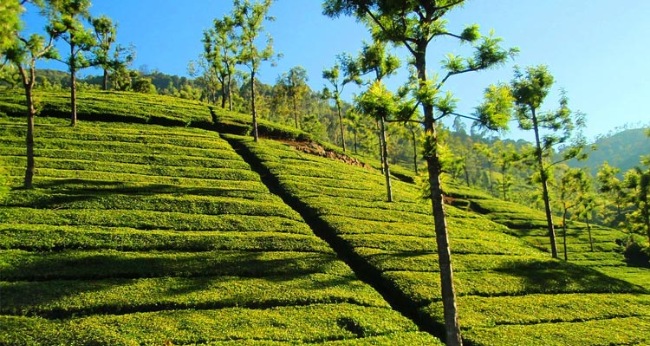 Ooty tea gardens is a real haven for visitors, the slice of greenery looks stunning from the skies above. Tea gardens in Ooty perched at different levels give a beautiful helicam shot. Walking around the misty skies and falling into the green carpet fields make tea gardens a must-visit place for every traveler. Ooty has plenty of tea plantations sprawling across vast hectares of land providing great charm and beauty to the surrounding. 
                  Ooty is filled with serene tea estates, where you can just stop and enjoy the alluring aroma and mesmerizing views at several attractive spots, but Tea estate view point at Doddabetta Park is worth visiting for its unique slopes and trails. 
               Ooty tea museum is located on the Doddabetta road surrounded by the beautiful emerald green tea plantations. The tea factory and museum covers up to an acre of area, allowing visitors to experience tea processing in live.  The tea museum is a spectacular place that takes you through a simple tour of tea evolution from the origin till the present innovation. The museum exhibits few preserved tea leaves for display. Tea museum has an adjacent souvenir shop, where you can try out and purchase various kinds of tea leaves. 
Interesting things to do at tea estate view point,
Trekking at Tea estate : Ooty is established over tea plantations and having a trek among these green plantations, is simply an unforgettable experience. If you're on a honeymoon phase, then walk around with your loved ones, take splendid photographs or drool over the spectacular views. Spend some more time to visualize the catch of buds being cultivated. 
Tea processing activities : Tea factory is the best place to gain information on tea making process. Learn how tea is produced from a wide range of consecutive process from rolling, drying to CTC stage and final packing or shipping stage. It's a great place for chai lovers and they get astounded witnessing the manufacturing process. 
Understand the tea culture : It's a museum cum gallery, not just a factory. Get an opportunity to learn about the history of tea cultivation and origin of different types of tea leaves around the world. Check out the stories that depict the evolution of tea in India and other production in Nilgiris. 
Tea Tasting : It's a pleasure to sip the finest tea from the factory. Apart from the ravishing view of tea plantations and valleys, sip a cup of freshly prepared masala tea at the factory. 
Shop tea products : The museum has a small tea outlet that offers a variety of tea leaves. Purchase the best flavor and take it to your home. Also, check for the availability of souvenirs, essential oils, and freshly prepared chocolates. 
Time to explore :  Winter is the best time to explore Tea factory and museum, between October and March, the city has a soothing chill climate to trek around the tea plantations. The factory is open from 6am in the morning and closes at 6pm in the evening. Tea estate viewpoint entry fee is around INR 10 per person and INR 10, if you like to explore the Tea museum. 
Take plenty of photographs and have some knack for shopping, Tea estate viewpoint is one of the best places to visit in Ooty.