singapore

|
Aruna Nixon

|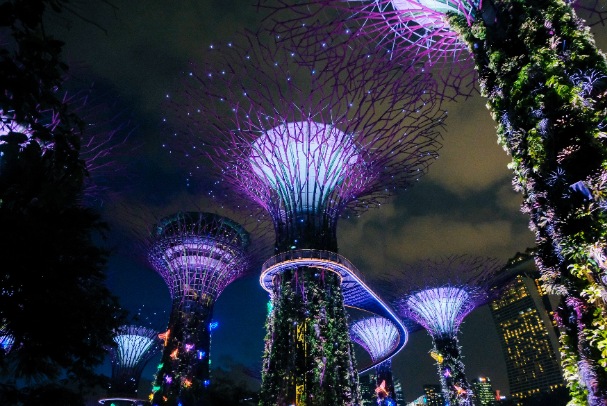 Imagine stretches of flower fields, surreal super tree groves, colossal flower domes, and the changing display sparkles, creating a visual feast for you! Pop into the exquisite spot - 'Gardens by the Bay' when on a
Singapore Tour Package
and treat your eyes to the best visuals possible.
'Gardens by the bay' is a representation of future botanic gardens. The area consists of next-gen supertrees, outlandish sculptures, and magnificent high-tech domes. It's home to around 4,00,000 plants. 'Gardens by the bay' is well-known for its contemporary architecture, hypnotic garden rhapsody, alluring light arrangement and sound show. 
This hi-tech park is spread across 250 acres of land with a beautiful water-front. The giant Supertrees structure is connected by a commanding Skyway. Viewers are allowed to traverse the skywalk over the gardens. Flower Dome is the largest greenhouse in the world. It's an over-sized seashell model greenhouse which recreates super-cool mountain climate!! The garden houses the World's tallest indoor waterfall, tourists admire the creativity in it!! Walking around Gardens by the Bay is a real expedition on future botanical gardens. 
November to January or June to July is the peak tourist season in Singapore. 'Gardens by the bay' is open to visitors on all days. Make sure you don't miss out on this alluring spot in your Singapore Tour Package. Unlock incredible deals on Singapore Tour Package.