Fun |
Kerala

|
Aruna Nixon

|
03-02-2020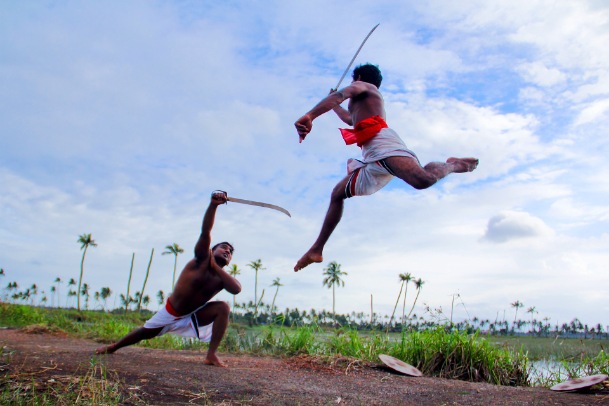 Kerala is popular for its martial arts form and sports. In the ancient period martial arts were taught in places like Gurukul. People interested in learning martial arts start their training school at a very young age and get well-trained in various art forms. The training includes rigorous physical exercise, mental strength, yoga, and maintaining physical fitness. Students achieve complete knowledge in the fighting tactics and defensive methods.
         Free hand combat with various implements is a part of martial art. Some of the weapons include Knives, sword, stick, long and flexible spring called Urumi. Displaying the weapons used in martial arts is a recent attraction in festivals and other important occasions.
            Have a look at the popular martial arts in Kerala,
 Kalaripayatu in Kerala
          Kalaripayatu in Kerala is one of the oldest martial art form, performed by artists who posses unique skills and training to withstand well-trained performers. Kalaripayatu history states it as an art form to combat. Combat training is undertaken usually at the professional Kalari training school. Kalaripayatu training usually begins with an oil massage of the entire body. This makes the body agile and supple. Kalaripayatu begins with the basic moves and finally learn with weapons like swords, spears, bow and arrows and lot more. Chattom means jumping, ottam mean running and marichil represents somersault, these are basic moves in Kalaripayatu. Kalaripayatu is the result of ultimate coordination between mind and body. It's a combination of correct steps with unique postures.
  Parisa Kali and Velakanni
       Parisa Kali is a splendid art form that originated in North Malabar. Velakanni is a unique art form of Travancore. Velakanni represents the war scene between Pandavas and Kauravas during the Kurukshetra war. The art is performed during the festivals and special occasions at Cherthala and Ambalapuzha temple.
  Njaninmel Kali
         Njaninmel Kali is a popular martial art in Kerala. People indulge in a walking performance on a tightrope during the temple festivals in Kerala. It has great significance during the ancient times and even today, people prefer watching such martial arts. The art form requires great strength and mind control. Only skilled professionals attempt Njaninmel kali and accomplish it successfully.  
 Vaaleru
        Vaaleru is a peculiar art form performed during the reign of kings. People undergo special training and perform such art for improved concentration and stability. It's a complicated art form which requires immense mind power and attention.
          kerala has a long history of martial arts. The ancient forms reflect the culture, heritage and tradition of this God's own country. So, have a glance at the martial arts while you reach Kerala for a holiday trip.