Fun |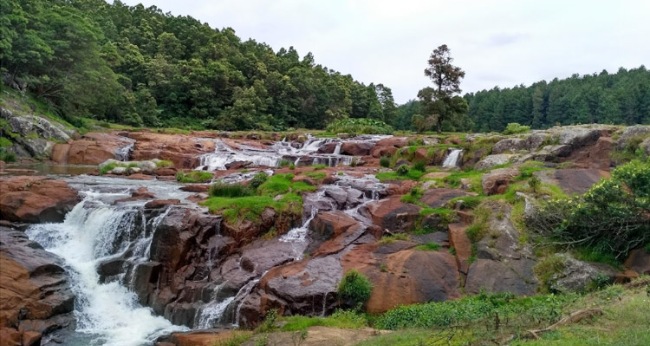 Move deep into Ooty and experience the real magic of nature! Pykara waterfalls are an absolute delight to witness, situated in the backdrop of lush-green forest. Pykara is a village located around 20kms from the main city. Pykara river flows through the village and considered as a sacred river by the native villagers. The river flows down from a series of mountain ranges and resembles a series of waterfalls. 
                   Pykara waterfalls and Lake is popularly known as Pykara falls. The falls drop into two different sections of 61 meters and 55 meters. The beauty of water flow and majestic atmosphere makes it a right choice for an exotic weekend. Family, friends, or honeymooners, Pykara is a perfect picnic spot for all age groups. Pykara falls is a mesmerizing sight you ever get to witness in your life. 
Top sight-seeing destinations in Pyakara
Enjoy boating on the Pykara River : Boat house on Pykara River is controlled by the Tamil Nadu Tourism and Development Corporation. The boat house has a restaurant space and other added attractions that lures the visitors to Pykara Falls. The boat house consists of motor boats and speed boats. Motor boat is allowed for a maximum of 20 minutes and speed boat is allowed for 10 minutes. Relish on the delightful location of Pykara River.
Pykara Dam : Pykara Dam is located close to the Ooty-Gudalur road. The dam has a power station and considered as one of the oldest construction of the country. It dates back to the British Viceroy, Lord Macaulay. The power station still functions to generate electricity. Pykara dam has a reservoir; visitors are allowed to visit the reservoir as well. 
Pykara Lake : Pykara Lake is one of the world heritage site and must-visit destinations in Ooty. Enjoy boating or roam around in the sun on the lakeside. Pykara waterfalls have a beautiful enchanting ambience for romantic couples. If it's your honeymoon phase, then visit here during the weekdays to avoid usual rush and the place leaves you awestruck. The tourism department focuses on maintaining a clean and pristine lake premises. 
Shooting point at Pykara falls
                     Shooting point is approximately 3,.8kms away from the Pykara dam. It's a ravishing spot for capturing plenty of films and documentaries. Shooting point is an attractive choice for most of the song sequences. The calm and windy space with lush-green surrounding makes it a superb choice for designing beautiful sets. Visitors can enjoy horse riding at the shooting point or climb up to the little hilltop to enjoy the amazing views. 
M and N chocolate museum

                  M and N chocolate museum is a special chocolate museum situated just 8 kms away from the Pykara waterfalls. The entry fee is around 20 INR, but it's worth visiting to learn all the knicks and knacks of the chocolate making. Get a complimentary wafer with hot chocolate while leaving the museum. Most of the chocolates here are made of Cocoa butter and cane sugar. It's a popular attraction among locals and tourists. 
                  Pykara waterfall timing
is around 8.30am to 5.00pm.
Waterfalls in Pykara
is just an hour drive from Ooty and pretty easy to reach. Experience the gush of cascading waters under mesmerizing climatic conditions.