Kochi

|
Aruna Nixon

|
01-01-2020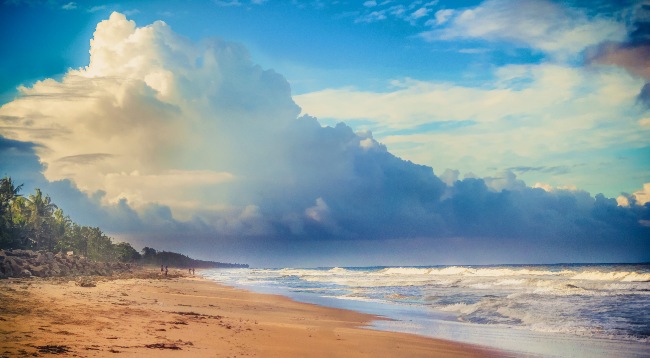 Cherai Beach 
               Cherai Beach is a haven for beach lovers. It's a beach paradise for tourists with plenty of entertaining activities. Cherai beach is located to the northern end of Vypeen Island in Kochi; it's a picturesque spot with a perfect blend of sea and backwaters. The beach looks stunning dotted with seashells of different shapes and hues. The beach has a beautiful surrounding with green groves and paddy fields. 
               This 18 km long beach shore is popular for various activities; visitors could see Chinese fishing nets on the waterfront and splendid coconut grooves add charm to this enchanting beach destination. Cherai beach Kerala is popular for the calm waters that allow visitors to swim in the deep sea waters. Enjoy sunbathing in a lounge chair; this happens to be a tempting activity for people who love a calm space, rather than bustling city life. The sandy shores attract huge number of locals and tourists who love beachfront view and pleasant day out. 
               Cherai Beach kochi Kerala is a pleasant beach space during the evenings. The walking edges reaching beach shore is lit up with high-mask lamps that assures a spectacular nightlife. Apart from the beach shore, the beach has a children's park, where you can spend time with your family and kids. 
                Cherai Beach is a space for people who love adventures like speedboat rides and water-scooters. Get a spectacular and awe-inspiring holiday at the swimmer's paradise of Kerala. Go for a spectacular boat ride and capture the best photographs with the backdrop of coconut groves and the wonderful sight of Cheena Vala or Chinese fishing net. 
               Cherai beach resort is a popular accommodation spot with luxury facilities and striking beach front views. Cherai Beach hotels assure luxury stay at affordable cost. Get plenty of accommodation options starting from the most-luxurious, mid-range and budget hotels for travelers. 
                Cherai beach Kochi has Aluva Junction as the nearest railway station situated around 23 kms from the beach premises. Kochi to cherai beach is easily accessible via plenty of bus services. There are buses available from Cochin to North Paravur and then to Cherai beach. Visitors can opt for a ferry service to the Vypeen Island or go for a long driving route from Edapally to Cherai beach that is approximately 25 kms. 
                 Cherai beach has plenty of attractions and so, choose the right time to enjoy the beauty of bewitching beach spots. October to March is the best time to visit Cherai beach and relish on the peaceful ambiance of Cherai village life.