Pop into the quaint Toda Huts
Fun |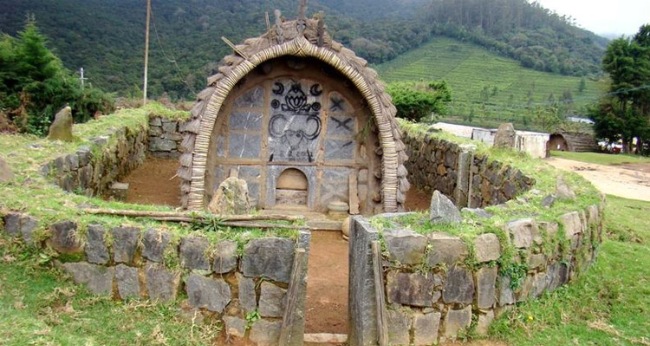 Ooty has turned from a sleepy little village into industrially significant tier 2 City. Ooty has become a bustling city with immigrants from all over South India. Before the immigration, around centuries ago, indigenous tribe of Western Ghats inhabited in Ooty and surrounding areas. These tribes account to a formidable part of local population. Todas are the popular tribal community among inhabitants. Todas where mainly pastoral people who live by farming and cattle herding. Exploring the ancient tribal community is one of the best things to do in Ooty. 
Toda huts Ooty architecture
                 Toda huts are beautiful oval-shaped buildings that symmetrically blend with the environment. The houses are usually called as Dogles and built at a height of 10 feet with an area of 160 square feet. These Dogles are made up of bamboo canes, available in varying thickness and woven to create a basic architectural structure. The bamboo structure is thatched and finally, enclosed by small wall of loose stones. 
                  Toda huts entrance is specifically decorated with primitive art forms of Toda people. The art include reminiscent of rock paintings or murals that date back to the early stone age. The door of Toda hut may surprise visitors, raising the question, how to get inside? The door is just three feet in height and three feet in width, so it's necessary to crawl on all fours to enter the house. These doors were intentionally prepared to protect themselves from the attack of wild animals that used to roam around Nigliri hills. 
Todas culture and lifestyle
                    Today's have a fascinating culture and their physiognomy is quiet similar to other communities in the region. They still remain in an enigma stage and the area is declared as World heritage site by UNESCO. Todas revolve around the dairy economy, they not only breed buffaloes but also venerate. Todas are usually vegetarians, out of which few of them have started eating fish in the recent times. Toda cuisine is centered on dairy products. 
                     Todas are normally pastrol community. They revolve around buffalo, which is considered to be the first creation of their goddess Teikirshy. Toda temples are similar to their huts. The temple is usually built within a circular pit and hedged with stones. Toda hut and culture is a fascinating thing to explore in Ooty. Todas lived in the region in large numbers, practicing their own way of life. It's a unique vacation spot to refresh your mind with great interaction and create a bond with your loved ones. 
Toda village location
                        Most of the Toda huts are giving way to modern architecture, but the village has few Toda huts that proclaim the Toda culture and tradition. Toda village is situated around 15kms from the Ooty bus stand. Take a cab or bus service to reach the destination. The village has separate temples for men and women. It's an amazing experience to learn their culture and tradition. The villagers or Todas exhibit immense hospitality to their guests. They have acute shopping space, where they sell knitted cotton cushions, table covers, shawls, and lot more. Enjoy a unique cultural visit at Toda huts in Ooty!!