36 best kerala resorts for honeymoon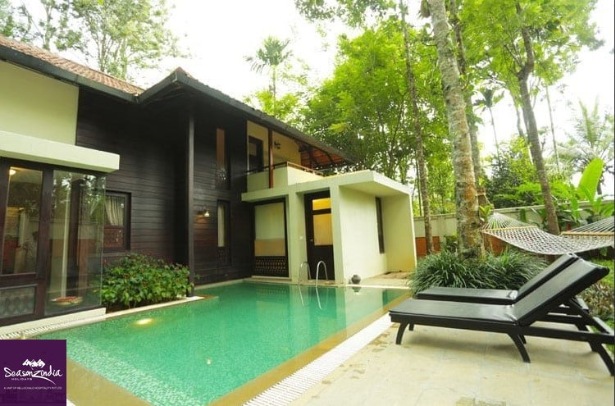 When your Honeymoon is on the line, you cannot go wrong with the destination, food, and accommodation. Choosing the right resort for stay is as important as choosing the Honeymoon destination. Every couple deserves a perfect escapade from, let's admit - the long and tiring Indian wedding ceremonies. Not to mention, a king-sized
Honeymoon Package to Kerala
with finest resorts is ideal indeed!
              If you want a little help with choosing the right resort you wish to add to your Kerala honeymoon package, we have got you covered. Scroll down to read about the top 10 luxurious resorts in Kerala, which are our top picks from each destination for you:
Kumarakom:
Kumarakom Lake Resort, Kottayam
                         Nestled in the placid shores of Vembanad Lake, Kumarakom Lake Resort is sure to take your breath away with panoramic views of and hospitality it boasts. They have reconstructed the quaint 'manas' of Kerala with unparalleled comforts and modern amenities seamlessly blended into them. From Presidential Suits, Heritage Lake view villas, Luxury Pavilion rooms to Houseboats, Kumarakom Lake Resort has every kind of comfort to make your stay a delightful experience. 
                  If you need a little more convincing, BBC has featured Kumarakom Lake Resort as "One of the most Luxurious Holiday Destinations in the World". Many ayurvedic treatments and rejuvenating spas are offered here along with delectable cuisine they prepare in-house restaurant - Nalukettu.  Make sure you choose this resort over a heartbeat enjoy a cultural fiesta during your Kerala honeymoon Package stay. 
The Zuri Kumarakom, Kottayam
                      Pamper yourself with the pristine beauty of Vembanad Lake by checking into the 5-star resort - Zuri Kumarakom.  Mouthwatering Kerala delicacies and revitalizing spas from 'Maya's spa' right in the lap of Nature are the other attractions of this resort. They have won the 'Best Resort Spa Hotel' many a time with their impeccable service and comforts offered in here.
                         You can treat your senses to the serene delights of God's own country by staying here for Kerala honeymoon Package. The couple can dissolve into the visual feast sprawled in every direction, soak in the wellness massages provided here and savor the sumptuous Kerala cuisines available in the resort.
 Coconut Lagoon, Kottayam
                        The cottages of the resort - Coconut Lagoon look straight out of the dream. The backwater canals, tall trees and coconut groves of this resort make this a little heaven to stay. The only way to reach this resort is by means of water, where a boat will take you from the jetty to the resort - this makes it a one-of-a-kind resort. This heavenly isolation from the bustle of the city makes this resort ideal for Kerala Honeymoon Packages. The impeccable service,  delicious platters and warm Hospitality comes along with the picturesque accommodation option in this resort. 
Taj Kumarakom Resort and Spa 
  Taj Kumarakom Resort and Spa, circling one of the oldest bungalows from 1881 is nestled on the shores of  Kumarakom lake. The colonial estate was later converted into a resort and you can imagine the comfiness and historical significance surrounding the resort. The backwaters cuisine, plush interiors, and vintage decors are what make this resort one of a kind among other luxurious resorts of Kerala. Kayaking, Jiva Spas, Cycling to the village and many other activities are encouraged here. 
Niraamaya Retreats Backwaters & Beyond, Kumarakom
   Being one of the most exquisite resorts in Kumarakom, this is one of the top picks of Kerala Honeymoon Packages. Sprawled in 8 acres of tropical gardens, this resort with 27 luxurious villas - all of them with lake views spans glorious views in every direction. Niraamaya resort blends well to the beauty of the destination and gets along with Nature in complete harmony. The outdoor swimming pool, a performance check, two gourmet restaurants, a wellness spa etc are the other attractions of this property.
Munnar
 Spice Tree:
                   Wedged between the Kanan Devan Hills and Bison Valley Hills, this resort extends unparalleled stay experiences. Renowned for its exquisite beauty and keen attention to details, Spice Tree attracts flocks of honeymooners every year. You can savor the picturesque vistas from the resort and enjoy the impeccable hospitality during your stay in Spice Tree resort. With Organic garden sprawled in 10 acres, you can imagine the crisp fruits and fresh vegetables you will be consuming from their flattering platters. Don't forget to pamper yourself by taking an Ayurvedic spa during your stay with their famous 'sugathi' retreats. 
                     Indulge in the ravishing beauty of Sahyadri hills, where the resort is nestled in. The thatched roof aesthetics are the next best thing about their cottages. They grow their own food and is totally blended to Nature when it comes to sustainable existence goals. The services are available round the clock in this resort which completely blends to the Ecosystem with rustic aesthetics and charms. 
  Chandy's windy woods:
              This luxury resort nestled in Munnar is perfect for a honeymoon retreat for the isolation it offers from man-made everything. Experience Munnar completely by choosing this resort for your Kerala Honeymoon Package. Ranging from Presidential suits to Deluxe and Super Deluxe accommodation options, this resorts is sought after for its plush interiors and modern amenities. They also have a Multi Cuisine Restaurant, Swimming pool, Spa, In house laundry, Doctor on call, conference halls, valet parking, supply of hygiene and all-purpose kits along with free Wifi. 
           Due to the proximity to wonderful destination delights, you can indulge in amazing activities like Forest Tour, Bird Watching, Trekking, Mountain Biking, Jeep safari and much more.
   Tall Trees, Munnar: 
                Nestled in the middle of manicured tea gardens and sparkly water bodies, Tall Tree Resort is a little heaven. Make sure you make this your temporal abode during your Kerala Honeymoon Package. The idea of warm hospitality and Nature perseverance blends together and manifests in the 
             Right from the tea served in refreshing flavours like  Premium Leaf Tea, Dust Tea, Organic Tea, Orthodox Tea, Oolong Tea, White Tea, Flavoured Tea, Heritage Tea, and several types of green tea including Hand-rolled Green Tea, this resort extends sumptuous cuisines and drinks for the guests. Recreational Activity Centre, Play-yard, Wellness zones, Group Activities zones, Green Gym, etc are the other attractions of this resort.
Marari
Marari Beach Resort
              If you are looking for a laid back stay in your Kerala Honeymoon Package, you should definitely go with Marari Beach Resort. Sprawled in 30 acres, this seaside resort is a thing of beauty in the true sense. With a large organic farm, palm fringed premises, blue ponds and fruit trees, this resort has been attracting plenty of couples in Kerala Honeymoon Package. 
           You can whiz around the beach which is a few steps away from the resort, enjoy the beach delights to the fullest and bask in the sunshine during you stay. The resort supports and blends easily with the coastal living. The traditional fishing and the serene village life can be closely experienced during the stay here. The Ayurveda Kitchen and Organic garden are the other attractions of this resort.
Carnoustie Ayurveda and Wellness Resort
                    Carnoustie Ayurveda and Wellness Resort offers villas that are perfect fusion of Traditional and Modern Kerala architecture. All the villas are graced with modern amenities and comfy facilities. Punag Pool Villa, Semantha Pool Villa, Zukra Pool Villa, Mallika Pool Villa and Akund Deluxe villa are the uber cool accommodation options available in this resort. Several Ayurvedic treatments and spas are also offered here. Their Wellness programs also include Naturopathy, Yoga, Kalari and Sports Medicine. Make sure you heal and revitalize in your Kerala Honeymoon package.
Thekkady
Niraamaya Retreats Cardamom Club, Thekkady
Wedged in the misty heights of the tropical forest - Thekkady, Niraamaya Retreats is the perfect choice to stay if you are on Kerala Honeymoon Package. You can indulge in the tranquil forest delights all though your stay. Savor the freshly cooked meals and the resort as you enjoy the visual feast Thekkady has to offer you. Niraamaya Spa has won several awards for their excellent service and this resort would be the right choice if you are looking for Kerala Honeymoon packages with spa. They have a holistic approach which combines Ayurvedic Therapies, Yoga, Meditation and Pranayama. During your stay, You can catch endangered animals including Nilgiri Tahr prancing around, slow down by the rivers and lakes of this destination etc.
Spice Village, CGH Earth Hotels
This beautiful resort in Thekkady is famous for the ecological living it promotes. Set in the laps of Mother Earth, brick cottages with thatched roof aesthetics which are said to be the re-imagined Mannan Homes from the past attracts many couples on Kerala Honeymoon packages to this resort. This eco-friendly property is set in the charming landscape of Thekkady. Private Garden villa and Spice garden villa are the two amazing stay options available here. Both of them are graced with elegant and cozy interiors.
Greenwoods, Thekkady
This luxury resort is located in the tropical paradise - Thekkady. You can settle in the middle of dense steamy forest if you are choosing this beautiful resort for your Kerala Honeymoon package. You can doze of and wake up to the songs of birds, spot beautiful animals and savor the orchard gardens. The unspoilt Nature comes to you in its purest form here. Indeevaram, Indraprastham and Aranya are the three stay options available here- all of them with unparalleled comfort and beauty. Private pool with Jacuzzi, plush interiors, patio with warm pools, secure lofts for children, amazing grasslands and tree lined spaces are the other attractions of this ravishing resort. Nature walk, Cloud walk, Jungle Scout, Border Hiking, Bamboo rafting, Periyar Tiger trail, Tribal art performances etc. are the activities which are encouraged by the resort.
The Elephant Court
The Elephant Court Luxury Hotel, is nestled in the middle of beautiful  forests of Thekkady. The majestic interiors which includes imperial chandeliers and rustic sophistication adds to the charm of this hotel. Patio rooms, Garden villa, Pool studio and Honeymoon villa are the luxurious stay options Elephant Court extends. The architectural grandeur of this hotel is commendable and so is the colour theme they have followed from walls to the blankets. The activities promoted by the hotel are Trekking, Elephant ride, Periyar Tiger Reserve visit, Bullock Cart Discoveries, Jungle Scouting, Plantation Tour, Jeep safari, etc.
Cardamom County
Enjoy the delights Western Ghats has to offer you by staying in this  resort which stays close to the Nature. Wake up to the beautiful views of cloud hugged valleys, the songs of birds and charming spice plantations and many more feasts. Every cottage of this resort arranges for these treats. The verandahs of these cottages offer amazing views of Periyar Hills as well. Make sure you grab all of them by choosing this hotel for your Kerala Honeymoon Package. 
Kofiland 
Kofiland Resort is nestled in the picturesque forests of Thekkady. The cottages are incredibly beautiful and offers amazing views of the valleys. The wooden cottages are facing a charming lake and is surrounded by pepper vines, tall trees and coffee bushes. This right degree of isolation from the neon lights and bustle of the city, makes this resort the perfect choice for a Kerala Honeymoon Package stay. It has numerous fishing spots arranged in its lakefront where couples can have a good time. Other activities encouraged in this resort are Trekking, rock climbing, camping, Nature walks, Cloud walk, Bamboo Rafting, Periyar Tiger Trail, Border Hiking.
Poetree Sarovar Portico
This beautiful resort is perched on the top of a hill, which is again in the middle of a forest. This charming property offers unparalleled view of unspoilt land and other marvels of Nature. This resort blends easily to the picturesque destination it is located in. The management puts extra care and effort to go by sustainable and conservative methods which favours the Ecosystem. They have re-imagined the Mannan cottages and have perfectly manifested 
Hill & Hues Resorts
Hills and Hues is a beautiful resort set in the middle of the tropical paradise - Thekkady. You can enjoy the aroma from the spice gardens, spot the rarest flora and fauna and explore the steamy forest during the stay. Make the best out of this beautiful destination by opting for a Kerala Honeymoon Package stay in Hills & Hues resort, Thekkady. The top perk of choosing this resort is that it encourages Hills and Hues Nature to walk through the fruit orchards, Ayurvedic herbs, and spice plantations. 
Athirapally
RainForest Athirapally 
Soak in the alluring beauty of the athirappilly Waterfalls by booking your Kerala Honeymoon Package stay in the Rainforest resort. This resort offers mind-blowing views from every room. The major attractions of this place are Waterfall Trek, Forest walks, exploring the Kitchen on Kadar tribe, cycling through the beautiful roads, Birdwatching, Firefly breeding, Waterfall Hopping, Guruvayur Temple visit, Sail and Kayak at Olam and many more. Their chef curated platters and fresh ingredients that go into the kitchen are the most sought after feature of this resort. Tree House, Luxury suits, Premium, Celestial and Cottage are the stay options available in this charming spot.
Samroha Resort Athirapilly
This resort is graced with the incredible beauty of Athirappilly. It has Therapeutic Ayurveda Wellness Center, Meeting halls, Meditation and Yoga lawns, Cottages, Deluxe, and Premium rooms and many more to offer tourists on Kerala Tour Package. Other than the wellness programs offered and exquisite beauty it spans, the resort also serves lip-smacking grub, which makes the most demanded resort in every tour packages to Kerala. Make sure you snatch all of these delights by choosing this resort for your Kerala Honeymoon Package stay.
Kollam
The Raviz Resort and Spa, Ashtamudi
The Raviz Resort & Spa offers great views to the beautiful Ashtamudi Lake. Inspired by the 'Nalukettu' architecture, the accommodation options - cottages and villas are designed in grandeur. You can take a cruise through the meandering lake, enjoy fishing, savor delightful Kerala cuisine and engage in many destination bound activities. The property also caters to the authentic Kerala ayurvedic Spas as well. The superior room, Lake view room, and suites are the accommodation options available. all of these stay options are made extra elegant with colourful Mural paintings, woodwork and modern amenities.
Fragrant Nature Hotels & Resorts
The Fragrant Nature Hotel is situated in a breathtakingly beautiful location facing the Ashtamudi lake. Indulge in Yoga and spa in the most picturesque locales of the lakeshore during your stay in this hotel.If you wish to best explore the alluring beauty of Ashtamudi lake, make sure you opt for a stay in this hotel in your Kerala Honeymoon package. Scrumptious cuisines, cozy interiors, modern amenities, engaging activities, Nature walk, Ayurvedic spa, Yoga sessions, Fishing etc are the major attractions of this resort.
Club Mahindra Ashtamudi
Nestled in the beautiful lake destination of Kollam, Fragrant Nature blends easily to the beauty of this lake. On choosing this resort to stay, you can get in contact with the goodness of old vedic practices like oil massages, organic meals, yoga and meditation. Farm grown, pesticide free fruits and vegetables go into the kitchen of this resort and you can savor the delicious dishes during your stay. Premium lake view villas, private pool villa, Anna Rasa, Sandhya and Ritulahari are the magnificent stay options available in this resort.
Kovalam 
Taj Green Cove Resort & Spa Kovalam
Taj Green Cove Resort & Spa Kovalam is nestled in the beautiful beach destination - Kovalam. Sprawled in 16 acres, this resort boasts Balinese style villas on the hillock. Along with savoring the amazing vistas from the hilltop, the couple can also indulge in Ayurveda and jiva Spa during your stay in this hotel. For couple on Kerala Honeymoon package, exclusive pool villas, Tropical Garden view rooms, sea view villas etc are available. Graced with green lawn, lagoons and wooden walkways, there is no other beach resort as magnificent as this resort for the beautiful sunsets it offers.
The Leela Raviz Kovalam, Exquisite Cliff-Top Beach Resort
India's only clifftop beach resort - The Leela Raviz Kovalam is much more than all the superlatives. Apart from the splendid scenery, it has to offer, you can choose to detoxify, destress and rejuvenate, in this resort. With 125 garden and beach view rooms, 49 club rooms and 9 suites. this resort is spectacular in every way. With unparalleled services, warm hospitality and grand interiors, this resort is one of a kind in every way.
Turtle on the Beach
Turtle on the beach is a five star luxurious resort with refined services and amazing architecture. Gorgeous views, mesmerizing sunsets and delicious platters are waiting for you in this resort. If you are a couple on Kerala Honeymoon Package, make sure that you sign up yourself for the magnificent sunrises and warm ocean air by choosing to stay in here. Luxury Spa, Vaidyasala and Spa savvy are available in this accommodation for you to detoxify.
Poovar Island Resorts
Wedged between the Arabian Sea and Western Ghats, Poovar Island resort is really a thing of beauty. Golden beach, Emerald backwaters, palm fringed shores and lush vegetation surrounding this resort offers exquisite views to the dwellers who chose this resort as their temporary abode on their Kerala Honeymoon package. The scrumptious backwater cuisine and Ayurvedic treatments are the other attractions in this place. Maharaja Suite, Superior Land Cottage, Premier Land Cottage and Floating Cottage are the amazing stay options provided here.
Uday Samudra Beach and Leisure
Uday Samudra Leisure Beach Hotel and Spa is located in one o the most beaitiful spots of Kovalam. You can completely savor the magnificent sunrises and sunsets during your stay by choosing this resort for stay. This 5 star hotel is renowned for the courteous service, amazing food platters and authentic Ayurvedic treatments. They also encourage so many beach activities for the guests.
Niraamaya Retreats Surya Samudra, Kovalam
Niraamaya Retreats is the perfect option for stay if you are on Kerala Honeymoon Package. Along with the captivating beauty of beach bounty and lush vegetation, you can indulge in aromatic spas from the award winning spa unit of Niraamaya Retreats Surya Samudra. You can get the closest glimpse of fisherman's life and village life by engaging in the nature walk activities encouraged by the property as well. Rock Garden Room, Heritage Classic Room, Heritage Superior Room, Heritage Premium Room, Banyan Tree Bungalow, etc. are the accommodation options available.
Kochi
Grand Hyatt Cochin
Grand Hyatt Kochi needs no introduction and is easily one of the finest options for you to choose for your Kerala Honeymoon package. They gave unparalleled definition to the destination weddings in Kerala with their beautiful decors and arrangements. enroute to quaint destinations of Cochin are made easy due to the envious location of this resort right at the heart of the city. It has a poolside restaurant named as which serves authentic Bangkok Street Food. The accommodation options available in this resort are Grand Executive Suite, Grand Suite King, Grand terrace Suite, Presidential Suite, Grant Terrace Suit, etc.
Fragrant Nature Kochi
Nestled on the shores of Aabian sea, is this resort with amazing services and scenic beauty. Due to the proximity to the popular destinations of Cochin, this resort is easily one of the most popular choices for a stay in every Kerala Honeymoon packages. You can savor the mesmerising sea view and explore the Jew Streets, Synagogue and grottoes of this spot. Duke's chambers, Ocean Blue suites, Royal Sutch suites etc are the accommodation options available here along with an amazing multi cuisine restaurant called Zamorin.
Brunton Boatyard Resort - CGH
Brunton Boatyard Resort is famous for its marvellous architecture and the rustic charm it posses. It boasts the splendour of Colonial past possessed by Fort Kochi in the most glorious way possible. It is a top pick for Kerala honeymoon Packages for the unparalleled ambience, amenities and food platters they provide. Sea facing rooms and Sea Facing Deluxe Suite are the two excellent stay options available. 
Taj Malabar Resorts and Spa
Taj Malabar Resort & Spa is perched at the tip of Willingdon Island and boast captivating views from the suites. Sign yourself up for exploring the old world charm of Cochin together by choosing this resort during your Kerala Honeymoon package. Swoon to the bustle of harbour, Chinese Fishing nets and other delights 'Queen of Arabian Sea' has to offer you. You can also indulge in Ayurvedic Spas and treatments to revitalize your mind and body during your stay.
Kochi Marriott Hotel
With 150 elegant rooms with amazing amenities and comfort, Kochi Marriott Hotel is one among the finest resorts in Kochi. Enviably located in the heart of the city, this hotel offers upscale comforts and elegant interiors to the guests. If you are on Kerala Honeymoon package, your enroute to Cherai beach, Cochin Airport, Lulu Mall and Fort Kochi is made super easy from this resort due to the proximity. Being one of the prime resorts in India, Kochi Marriott never compromise for anything less than an elegant service to their guests.
Ramada Kochi
Ramada Resort is synonymous with luxury and comfort for  Kochites. Nestled in a postcard perfect locale of Cochin, this resort boasts amazing views and services to its guests. Lake facing cottages, deluxe rooms, library bar, lounge bar, sunken pool bar, multicuisine restaurant etc are the major attractions of this resort. They also have a well-equipped Health Club and Ayurvedic Center to entice and revitalize the spirits of the guests.
Xandari Harbour Kochi
Xandari Resort is one of the most spectacular properties you will find in Kerala. The port town of Kochi can be best experienced by choosing this resort for your Kerala Honeymoon Package. The finest amenities, plush interiors and warm hospitality awaits you in this resort to pamper you during your stay. You can savour the sight of beach and old harbour from the resort as you indulge in the sumptuous delights served in the multicuisine in-house restaurant.