Fun |
Ooty

|
Limi Tresa

|
12-12-2019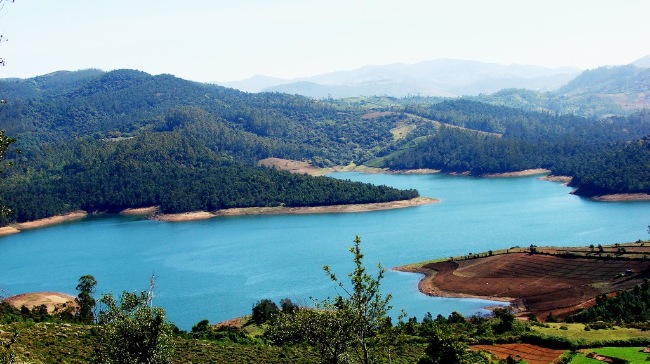 Emerald Lake Ooty
is a part of the silent valley national park in Nilgiris district. Emerald lake is a serene destination away from the huge tourist population. The lake and its surrounding are much cleaner for a perfect weekend getaway or offers a beautiful honeymoon spot for newly-married couples. Enjoy a leisure time in the vicinity of nature and quietude. Emerald lake is an unexplored place of the South Indian hill station. The area is not yet encroached by huge mass of tourists. It's an ideal spot for nature lovers and photography enthusiasts. Get mesmerized in the delightful landscape and sparkle out your stunning vacation. 
                       Emerald lake in Ooty
offers a plenty of exciting activities for all type of travelers. It's a popular picnic spot for locals and families surrounded by a quiet and solitary place. The blue waters and the woods around, make it a home to number of flora and fauna. 
Top things to do at Emerald Lake Ooty
Emerald Lake is a good spot for bird-watching, check out the most beautiful domestic bird. 
Tourists love the abundance of flora and fauna. Hence, they enjoy feeding fish, which gather in groups along the lake side. Capture the most beautiful moments of lake and fishing.
Emerald lake in Ooty is perfect for people who love nature photography, people who take more interest in the avian part of animal kingdom are lucky without much waiting. Enjoy splendid photography under the open sky, blue waters, and lush green surroundings. 
Emerald Lake Ooty is popular for its beautiful sunrise and sunset. Make it a lovely experience with your partner or loved ones. The sun shimmers in the ice cold blue water creating a fantastic sight to behold. 

Tea garden is a splendid place to roam around. It's an informative journey to experience the lifestyle and culture of urban areas. 
The lake doesn't offer any peculiar recreational facilities, but Emerald Lake resorts offer broader activities like trekking, bird-watching, mountain-biking, and fishing to indulge in the lake region. 
Shopping at
Emerald Lake in Ooty
                 Tea is the popular shopping product. Tourists buy tea-leaves from the nearby tea shops. Nilgiri tea is popular for its unique flavor and people opt for top-notch tea products in Ooty. Get direct tea products from the factory outlets, they assure great quality, authenticity, and quantity. 
Emerald Ooty timings
                  Emerald lake has no special timings or entry fee. It's situated on the way to Avalanche Lake and Dam. There is no immediate bus route that connects Ooty or any other major cities. So, taxi or private vehicle is the only option to reach this alluring destination. It's easy to access via car, drive down to the woodcock road and then take the Lake road to reach within 40 minutes. 
              Emerald Lake is a must-visit place in Ooty. It's a superb choice for honeymooners, get indulged in the enchanting tea plantations and endless lush greenery. Visiting the Emerald Dam and Lake is a spectacular sight to behold.