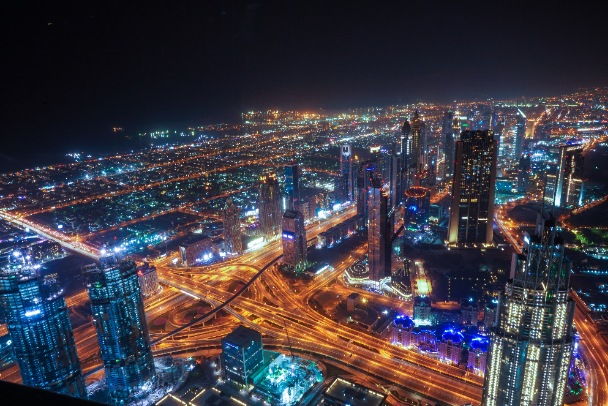 Persian tales had grown all over us during our childhood which we can recollect together with the smell of Oudh and sparkly pearls. Dubai is also a destination of "Word's first"s. The vintage delights of old Persia and the urban delights of high rising buildings in Dubai can both be explored if you are choosing this dreamy destination. Bag in the best of Middle East relishes by choosing a Dubai Tour packages for your next holiday getaway. Check out the trending tourist destinations in Dubai, and add them to your Holiday Packages of Dubai.

Burj Khalifa
Burj Khalifa – a popular tourist destination in Dubai. It's the tallest building with almost 829.8 meters height. Visiting the observation deck on the 124th floor is a must-do activity in Dubai. A complete picture of the whole city from the bird's-eye perspective is simply staggering. Photographers choose a nighttime visit to experience Dubai's famous city-light panoramas.
Nicknamed as the 'Vertical City' of Dubai, Burj Khalifa is the largest free-standing structure in the World. Its elevator has the longest travel distance in the World. It extremely lives up to the hype and gives you great value of your time and money.  After all, Dubai Prime Minister's desire to put Dubai on the map with something really sensational has come true with a manifestation as radiant as Burj Khalifa. Enjoy the mesmerizing view of the desert on one side and ocean on the other side. The best time to visit Burj Khalifa is at Sunset around 4 pm to 6 pm. 
Dubai Frame 
Dubai frame is a new addition to the impressive skyline. According to 'The Guardian' it is the biggest picture frame on the planet'. It's a mammoth achievement of engineering. Dubai frame which is located in Zabeel Park which is one of the oldest parks in Dubai. It flaunts 15,000 sqm of gold cladding and was opened in January 2018. The frame is an iconic tribute to the 'City of Gold' which Dubai is.
Now, this frame is a must-visit tourist attraction in Dubai. Gaze upon every aspect of the city at a height of 150 meters. Visitors experience a 360-degree viewpoint from Deira's old town to the sparkling waters of the Arabian Sea and the vast dunes of Arabian Desert. The best time to visit the Dubai frame is around 5 pm, so you could enjoy both the day and night effect. No Holiday Packages of Dubai is complete without visiting this iconic spot.
Palm Jumeirah
Dubai's magnificent archipelago – Palm Jumeirah. Palm Jumeirah is considered to be an epitome of beauty.  The archipelago resembles a palm tree with a circle and looks great on the overhead view. This is one of the key tourist spots in Dubai which has attracted herds of people from all over the World.
Palm Jumeirah was one of the initial tourist attractions in UAE. Currently, Palm Jumeirah houses top tourist destinations like Aquaventure waterpark, lost chambers aquarium, Atlantis and the Palm. You can head to this spot for fine dining or for beholding the sight of its beauty by going for boating in yacht or speedboat. It sure is a happening hub for business, partying, luxury stay and dining. It is also the right spot for skydiving as the ariel view of Palm Jumeirah is eye-popping. Enjoy the beauty of Palm Jumeirah in the months of November to April.  
Dubai Fountain
Get mesmerized with the world's largest choreographed water fountain!! It's located in the Burj Complex. This dancing fountain reaches a height of 150 meters in complete synchronization with the world's popular musical numbers. The water gracefully dances to the exotic Arabic Music and entice every Dubai visitor. Forget everything else and dissolve into the spellbinding feast offered by this magnificent fountain!
The fountain is specifically designed to form beautiful arcs and ump according to beats.  The show begins every day in the evening. Dubai Fountain is capable of spraying 22,000 gallons of water in the air at any moment. The dusk makes the glittering waterdrops look like sparkling diamonds swaying on the air. Best to see from the lakeside; go before and after the sunset to visualize two different experiences!!
Jumeirah Beach
Jumeirah beach stretches along the long coast of the Al Faihidi district. The white and clean sandy texture brings in huge visitors crowd. The cluster of high-end resorts, large hotels, wild wadi Water Park, Jumeirah beach hotel and Burj Al Arab tower adds unique grace to the waterfront. This is one of those perfect spots in Dubai for a laid back getaway with your family. Along with around twelve hectares of gardens and recreational centers, Jumeriah Beach becomes the most sought after picnic spot. Get ready for something adventurous!! 
Enjoy the popular water sports like jet skiing, kitesurfing and other activities with great safety. This lovely beach is the perfect spot for a sunbath. It also has a specific day 3 hours reserved for Women and Children alone. So many carnivals, musical fests and talent shows are hosted here. Visitors can rent sun loungers for a quiet beach day.  Summer season is the best time Jumeirah Beach!!
Burj Al Arab
A luxurious stay at the premium hotel!! Burj Al Arab is a popular restaurant located on an artificial island off Jumeirah road. The hotel is designed in the shape of a sail. The iconic tower houses an array of chauffeur-driven limousines and a private helipad. The tower is at the height of 180 meters with an attractive fountain, luxurious lobby, and 203 suites. Melt your heart away by choosing this resort for your Dubai Honeymoon Package.
Finest services and amenities, warm hospitality and stunning sights are available in this amazing luxury hotel which is nestled in an artificial island. The Al Mahara or Oyster restaurant which features a large seawater aquarium inside is another feature that attracts flocks of tourists to this hotel. You can visit, dine in or stay at this heavenly resort. Evenings are the best time to visit Burj Al Arab!!
The Dubai Mall
Dubai Mall is the home of the Dubai shopping festival. Get ready to reach the World's second-largest shopping mall with more than 1200 stores, unique and large walk-through aquarium, 14,000 parking spaces, world-class rink and lot more creative space for shoppers. Opened in 2008, it has incorporated the most sought after features like Ice Rink, kids center for Education along with Entertainment and a huge Cinema Complex. Dubai Mall easily entices kids and adults equally and makes for a perfect family hang out spot.
With over 70 signature outlets, including the very Blooming dales, Dubai Mall is the first in the whole of the Middle East to feature this a big array of International Fashion outlets. The mall is popular for its underwater zoo with a collection of over 300 species of marine animals. Dubai Ice rink is a popular family-oriented attraction open to the public. January to February is the best time to visit Dubai Mall!!
Global Village Dubai
Visualize a bunch of cultural activities every day. Global Village is a multicultural festival park for family visitors. A great destination for shopping, culture, and entertainment!! Global Village features special displays from near and far countries where visitors can shop for their favorite handicrafts and other stuff. Hailed as World's largest project for tourism, shopping, leisure, and entertainment, it attracts around 5 million visitors every year.
Global Village features the cultural programs of around 90 countries every year. Each pavilion is a huge and iconic structure that creates a lively atmosphere.  It constitutes four gigantic sectors for fabulous events and concerts, carnivals, food, and shopping. International artists like Jason Derulo, Shahrukh Khan, Rahat Fateh Ali Khan, Liam Payne, Elissa and many more have performed here. Stop by and experience huge fun with countless games and thrilling rides!! Evenings are the preferred time to visit the Global village.  
Miracle Garden Dubai
The world's biggest natural flower garden!! Located in Dubai land of United Arab Emirates, Dubai Miracle Garden was launched on Valentine's day of 2013. This stunning garden with flower castles, flower clocks and many such structures made of real flowers is spread over a vast area of 72,000 Square meters. The garden features over 45 million flowers and plants. 
It's a mesmerizing attraction for nature lovers. With every new edition, they launch talented street performers, Zumba sessions and arrange for flower parades to entice the visitors. Some of the flower structures like that of the Mickey mouse have made it to the Guinness World Record for being the Tallest Topiary Structure.  The whole area is covered with flowers from English style cottages to trucks and windmills. Mid-November to Mid-May is the best time to visit Miracle garden. 
Dubai Marina
Dubai Marina is a perfect man-made canal city. It's popularly known as 'New Dubai'. The picturesque combination of luxurious yachts and winding canal right next to the skyscrapers is a visual feast to behold. Dubai Marina Walk is one of the top picks of every tourist for the wide array of eateries and shopping outlets it is graced with. You can also sign yourself up for a spa session, camel safari, sky diving or yachting when Dubai Marina bound.
This residential neighborhood has around 60 restaurants and 300 shopping points as well.  Experience the luxurious lifestyle with alluring waterfront along the Persian Gulf shoreline. A destination for several classy hotels and other leisure options!! Dubai Marina Mall is a good choice for shopping and entertainment. The area is pedestrian-friendly and ideal for a relaxing day-out. Have a thrilling water bus journey for just sight-seeing!! November to February is the best time to visit Dubai Marina.
Atlantis the Palm
The first resort built on Palm Jumeirah Island in Dubai! This luxury resort is designed in a nautical theme. It also holds the record of most Instagrammed Resort in the former year. It has 1,548 fine rooms with top  A popular destination for tourists who love swimming and underwater expeditions!! Opened on 24 September 2008, this alluring resort is wedged between the Arabian Gulf and Dubai Skyline. The spot is widely recognized and demanded in every Dubai Luxury Holiday Packages for the unparalleled entertainment they offer.
Go through the underwater aquarium and swim with dolphins for a fascinating experience. You can spot the rare bottle-nosed dolphins here. Have a look at the mesmerizing Arabian Gulf and the myths of Atlantis. The rooms are specially designed with great Arabian influence and feature all amenities. It's highly recommended to visit before noon during the working days. 
Madinat Jumeirah
People who look for luxury choose Madinat Jumeirah. With over 50 restaurants and bars, Madinat Jumeriah is easily the largest resort in the Emirate. Unique resort experience with a wide variety of trending amenities!! It constitutes three boutique hotels and one cluster of summerhouses. One among them has suites designed in the theme of a sheik's summer residence. Excellent culinary delights are available to the tourists along with the dreamy stay.
Spanned in 40 hectares of landscape and gardens, it is said to be a destination in itself. Madinat Jumeirah is incredibly gigantic with a private beach, ballrooms, fitness club, amphitheater, special theatre rooms, kids club, and turtle sanctuary. They also have a Turtle rehabilitation sanctuary for treating injured turtles before releasing them back to the sea. Get access to unique facilities and make the best holiday time at Madinat Jumeirah. Evenings are the best time to visit this luxurious outpost. 
Old Dubai
Love culture and tradition!! Old Dubai is the ideal choice to look into the deep-rooted culture of the region. You can find coral and gypsum structures in these pavements which boasts the glorious tales of old Dubai. So many art galleries are available here, for the history buffs. It makes the perfect spot for family dining where you can get authentic Emirati cuisine.
Watch the fascinating traditional Arabian houses and Old Iranian neighborhoods. Also, explore the vibrant textile souk and Dubai Museum. Deira is another part of old Dubai with traditional commercial activities. The city is well-known for preserved historical sites and Arabian authentic food. You can dissolve into the labyrinth pavements and get transported to older Persian times. You can get great jewels from the Gold Souk, do boating through the Dubai Creek which is also a great pearling and fishing site. Mid-morning is the best time to visit Old Dubai!!
Dubai Creek
Explore the commercial lifeline and trade activities in Dubai!! Dubai creek is a major port that divides the city into two parts. One trading port is connected to the desert. This iconic saltwater creek divides Dubai to Deira and Bur Dubai. You can find the mesmerizing vintage visuals which we had tried to imagine while reading the old Persian tales in our childhood. 
Pop into this vintage spot, sign yourself up for a cable car ride, boating, visiting the dolphinarium, shop Gold and keepsakes for friends and family, watch the busy sailers by the port, bag in some fresh spices, enjoy street shows and fireworks and watch the sun going down! The waterways facilitate not just tourism but also, trade, harbor ships, and commercial activities. Enjoy the light and music shows, floating dhows, yachts, and ships to get a glimpse of Old Dubai. Evenings are the best time to enjoy this commercial life!!
Children's City
Motivate your children with inspiring galleries, workshops, and exhibitions. Take a break from sight-seeing and spend some quality time to educate your children. An effective measure to improve the sustainability and awareness of the world to children!! Engaging workshops, interactive sessions and brilliant exhibits here are sure to instill interest in academics in the kids.
With study points like the nature center, space exploration, the World we live in, the human body, computer & communication, planetarium, cultural study, etc, children between 3 and 15 years can get genuinely interested in knowing more about the world we live in. Special learning zones, amusement facilities and play areas for kids and toddlers are available here. Make sure you gift your kids this amazing learning experience during your Dubai holidays, they are sure going to love this space. A unique place to explore everything!! Best to visit during all seasons!!
Safa Park
Safa Park is one of the oldest parks in Dubai which was opened in 1975. The park is named "Al Safa Park" because of its quiet ambiance and mesmerizing surrounding. The park is owned by the municipality. The lush green sanctuary right in the middle of Safa Park. With the encouragement of fitness challenges, this park became the favorite spot for jogging as well. You can rest in the meadows, breath in some fresh air, stroll around through the gardens and savor the downtown views of Dubai.
Walkthrough the pleasant park which houses around 200 species of birds and several varieties of trees and bushes. It also has three gushing lakes, on which you can swoon all day long. The children's area which resembles a miniature city with cute pave ways and traffic lights is everything your kid needs on the weekend getaway. Enjoy good food with the perfect blend of nature. Winter months are the best time to visit Safa Park. 
Dubai Opera

Dubai Opera is one of the largest and first performing arts centers with a 2000 seat. Apart from the theatre, ballet and concerts performed here, the flat floor of Opera House is open for weddings, gala dinners, exhibitions, and fashion shows. Fondly referred to as the shining pearl of Opera city, this spot is a melting pot of cultural performances and talents. You can swoon into the soulful performances of domestic and international artists here. The gleaming concert hall, lights, reflectors, unparalleled sound quality and perfect ambiance contribute big time to the heavenly delights offered in this spot.
Dubai Opera is well-known for its unique architecture. The opera is shaped like a sailing vessel or like dhow. This architecture is a perfect tribute to the maritime tales it was once famous for. Visualize the gorgeous architecture and get immersed in its beauty. Get engaged in the exciting vibe of concerts, ballets, theatres, orchestras, and conferences too. Come after sunset to visualize the beauty of Dubai Opera!! 
Dolphin Bay
Are you an adventure junkie? Then, travel to Dolphin Bay for an exciting refreshment. Enjoy a fresh day with the dolphins and get energized!! Dolphin bay allows visitors to interact with dolphins in their habitat. It's a man-made dolphin locale with exciting options to swim with these marine mammals. 
You can swim with and feed the dolphins in the shallow waters here. Dolphin Bay is recognized as one of the most sophisticated and ethical dolphin habitats in the World. You can play with, and hug the sea-lions which are one among the cuddliest creatures on Earth. So many educational sectors are also arranged here if you are a marine animal enthusiast.
A fun-filled activity for kids and adults!! November till March, the climate remains pleasant for a perfect journey!! Is a Dubai Holiday Package even complete without meeting the friendly pod of cute dolphins?
Saeed Al Maktoum House
Saeed Al Maktoum is a historical destination in Dubai. It's situated in the Al Shindagha district and well-known for its antique architectural style and unique construction.  It was the official residence of Sheikh Saeed Al Maktoum who ruled Dubai in the early '90s. The original house was modernized several times and is now opened to the tourists for tasting the closest glimpse of old Arabia.
Established in 1896 by the Al Maktoum family, this has now turned into one of the richest museums with explicit artifacts from the former century. The 'majlis' reception room and the ornamented teak doors and windows of this exquisite destination allure the tourist to great levels. Go through the nostalgic history. You can visit the Sheikh Saeed Al Maktoum any time between 8 am and 8.30 pm on all days except on Fridays. Best to visit during all seasons.
Dubai International Finance Centre
Explore the world's leading international financial center!! Dubai's stock exchange is housed in a complex of six buildings surrounded by a huge and impressive 80meter triumphal arch. Dubai International Financial Centre (DIFC) has made it to one of the top ten Global Financial Centre. It comprises 72 countries with an approximate population of 3 billion. 
The gate is a captivating architectural landmark designed by the popular American firm Gensler Associates. Enviably located right in the heart of Dubai, right in the crossroads, * is housed in a complex of 6 giant buildings. One of the inevitable features of its archeological structure is the arch called "the gate" which is 80 meters high. It rests on the twin Emirate Towers and World Trade Centre. DIFC is the leading financial hub for the Middle East region and Dubai serves as the leading business destination. Best to visit during all seasons!!
Dubai Clock Tower
Dubai clock tower is also called a Deira clock tower. It was built in 1965 as designed by the architect Ziki Homsi. The clock tower is a symbol of trade, road, and commercial activities. The tower is a prominent monument situated in Eastern Dubai. It's described as the 17th most beautiful clock tower in the world. This magnificent monument is also a roundabout in Deira. 
The clocks were renovated with the latest technology in 1989 as it was getting weak with the course of time. On finding cracks, the strengthening measures began. The clock is equipped with a GPS device for time accuracy and installed with new Omega clocks. This glorious structure has made into the beautiful towers list of the World. It iconically represents and celebrates the celebration of oil trade in Dubai. Evenings are the preferred time to visit the Dubai Clock tower. 
Dubai Dolphinarium
Dubai Dolphinarium is a perfect attraction for locals and international tourists. Situated in the creekside park of Bur Dubai, this fully air-conditioned indoor dolphinarium conducts many live dolphin shows and offers interactive sessions and photoshoots with friendly dolphins. Opened on May 21st of 2008 as a Dubai government initiative, the dolphinarium aims at youngsters growing closer to marine biodiversity and protecting the same in the future.
Enjoy a 45-minutes demonstration of Northern fur seals and Black Sea bottlenose Dolphins in a fully air-conditioned indoor space. You can also attend educational sessions about dolphins, seals, and marine organisms. You can pay extra and swim with the dolphins for refreshment and even befriend these cute creatures. They assure complete entertainment and dry activities for kids like Mirror Maze, bird show, magic show, and other such events. Available in all seasons according to the scheduled timings!
The World Islands
Dubai never fails to amaze everyone with their "World's firsts" and "the largest". This is again, one such marvel. Imagine a  huge collection of man-made 300 private islands shaped into the form of the world! Yes, in the waters of the Persian Gulf, artificial islands have been beautifully made, out of sand dredged from Dubai's shallow coastal waters.
Sprawling in 14,000 to 42,000 square meters of area, his unique development was initiated by the Nakheel Development Company. The construction began in 2008, halted with the financial crisis of 2008. On resuming the construction got completed in the year 2012. Marine or air transport is the only way to commute between these islands. But you can find luxurious hotels and restaurants here. Yes, all it takes is one day to visit all seven continents in It's situated around 4km off the coast of Jumeirah near Palm Island. It's a perfect destination for adventure lovers. Indulge in water sports like parasailing, banana boating, jet skiing, and other such activities. April to early May is the best season to visit World islands!!
Guru Nanak Darbar, Dubai
Guru Nanak Darbar, it's the first and official Sikh temple in Gulf. This temple happens to be the first ISO certified Gurudwara in the World. The Sikh devotees of UAE are forever indebted to His Highness Sheikh Mohammed bin Rashid Al Maktoum, who them the land. This exquisite temple aims at imparting peace, solace, and hope for everyone irrespective of caste and creed.
Huge temple with the aim of offering a place of worship for around 50,000 Sikh people in Dubai!! The services here go like 160 Akhand Path, Sehaj Path & Sukhmani Path Sahib, 234 ardas, 140 Langar Sewa, 55 weddings prayers and misc. Programs. This alluring shrine has been conducting record-breaking grand breakfast feast for more than 600 people from 101 different nationalities and for the largest distribution of saplings. Sikhs named it Gurdwara which is an epitome of hope, peace, and solace. Open to the public on all days!!
VR Park Dubai Mall
VR Park is a must-visit place while visiting the Dubai mall. It is the biggest indoor reality park in the World. The VR Park spreads over 76,000 Sq.ft area. This VR dedicated park has been trending and crowded with huge AR and VR fans. The augmented reality attraction right in the virtual park has over 30 plus rides and games inside. Adventure junkies who want to pipe up their adrenaline level can head to this spot to get immersed in the right mix of horror, excitement, and experiences.
Experience some mind-boggling games, Dubai Drone, Apex and other VR special effects. It's a thrilling experience for kids and adults. Educational journeys are also available here where the student's mind can absorb lessons quickly with the 3D portrayal. Great to visit in all the seasons!! Virtual reality at your fingertips!!
Jumeirah Mosque
One of the beautiful and iconic landmarks in Dubai!! The mosque is open to all the visitor to admire their surroundings and learn about the Islam culture. The mosque is large enough to accommodate 1200 worshipers. The mosque was entirely built from white stone in the medieval Fatimid tradition. Head to this mosque to savor the glorious monument in white and Golden tinges. Enjoy the friendly atmosphere and unique culture of our fellow-beings. Visitors are allowed during weekdays for the mosque tour. 
One of the beautiful and iconic landmarks in Dubai!! The mosque is open to all the visitor to admire their surroundings and learn about the Islam culture. The mosque is large enough to accommodate 1200 worshipers. The mosque was entirely built from white stone in the medieval Fatimid tradition. Enjoy the friendly atmosphere and unique culture of our fellow-beings. Visitors are allowed during weekdays for the mosque tour. 
Al Bastakiya
There are times you might find the glitz and bling of Dubai overwhelming. It is okay to take a break and look for other options. If you are looking for a historic spot that boasts the enchanting history of Dubai, head to Al Bastakiya. The city has its own charm with traditional outlets made of mud and wood. A simple walkthrough Al Bastakiya is enough to understand Dubai's transformation into the current swanky town. 
The town was built by the immigrants from Bastak of Persia. The prime attractions of this ton are the Mawaheb gallery, the Arabian Tea House Cafe, Coffee Museum, Make art cafe, etc.  You can find the vintage sea-port charms in the most life-filled details. The old world artifacts and the vintage coral, mud and gypsum buildings add up the undeniable beauty of this spot. Al Bastakiya is the right choice that quenches your thirst for discovering the historical facts. History buffs experience great comfort during the winter season. 
Sunset Beach Dubai
Sunset beach or Umm Suqeim beach is one of the busiest beaches in Dubai which boasts an alluring view of Burj Al Arab. Open for all beach activities and adventures, herds of tourists head to this beach for the daily dose of sun. The beach topography makes it ideal for jogging, leisure walks, and exercises. This charming coastal slice is a photographer's paradise. A million photographs of the magnificent sunset of this beach have been clicked. 
Head to this spot if you wish for an idyllic getaway. Swoon your eyes to the never-ending waves of the mesmerizing sea. A perfect place to stay fresh and energetic for kids and adults!! Ideal place for morning and evening walks, just enjoy the sunset for a blissful evening!! A fully-equipped beach with all necessary amenities including Wifi services!! Completely safe night swimming guarded by lifeguards!! Visit during the sunset hours for a mesmerizing effect!!
Dubai Autodrome
Are you a lover of speed and wheels? If yes, do not forget to add Dubai Autodrome to your Dubai Holiday Packages. Embrace perfect and real-life racing experience here. Dubai Autodrome is a specialized motorsport facility for daily visitors and tourists. The autodrome works with a sanctioned circuit of 5.39Kms. Opened in 2004, the venue has hosted many fierce contests of famous brands like FIA GT Championship, European Touring Car Championship, 2004 Formula Renault V6 Eurocup season, final rounds of  FIA GT Championship, European Touring Car Championship and 2004 Formula Renault V6 Eurocup season, etc to name a few.
If you want to spruce up your Dubai Holidays, head to this spot without a second thought. Start your journey to Dubai Autodrome for  Drive the most thrilling and popular cars like Ferrari GT, McLaren Sprint, etc. Enjoy special kart race for children, simulated races and much more. Get ready for racing every day!
Dubai Gold Souk
Witness the world's largest gold market next to you!! Dubai is one of the leading producers of excellent quality gold. Dubai Gold Souk is an iconic tourist spot with glittering displays around. Located in Deira, Gold souk has around 350 jewelry traders and retailers and is stocked with at least 10 tons of gold every day. If not for shopping, pop into this wondrous world of Gold bling to know why they call it the largest Gold market in the World.
This amazing expanse has a big role in contributing to the nickname 'City of Gold' to Dubai. You can find unique collections of 18, 21, 22 and 24-carat gold here as earrings, rings, necklaces, bangles, bracelets, pendants and much more. Both traditional and most modern designs are available in splendid quantities here. The golden souk is easily the most-visited tourist attraction in Dubai and it happens to be the famous shopping hub.  Best time to visit during all seasons!!
Dubai Museum
Dubai Museum is situated in the Al-Fahidi Fort in the Dubai creek. The museum was built in the late 70s. It was a fort of defense, arsenal for weapons and also a prison for the outlaws in the past. But later this magnificent museum was restored by the Dubai ruler in 1971. With the addition of the underground museum which blended to this majestic monument in 1995, herds of tourists started flocking to this spot.
The splendid architecture houses the city's rich heritage and several significant historical events. Go through the traditional way of Emirates and enjoy their cultural diversities. The wings of the museum are graced with artifacts including pottery, tombs, weapons, etc. Local boats and bamboo houses in the display have also been attracting the attention of the tourist flock. You can find re-imagined old homes, souks, mosques and date farms in the gallery display. Get immersed in the glorious past of Dubai and get acquainted with the heroic tales of Dubai's success journey. You can visit this fascinating museum every season!
Bollywood Park
Bollywood Park is the first theme park in Dubai.  Bollywood Park is a part of Dubai parks and resorts. It's a perfect location to understand the happenings of the Bollywood film industry. It engages the visitors with stunning live shows, sumptuous Indian Dining and shopping arrays of Indian products. 
Bollywood park has amazing zones like Bollywood Boulevard famous for the street food, Indian cafes and carts, Mumbai Chowk where you can find a set similar to Don and SuperHeroes, Rustic Ravine filled with the charms of rural India and the Royal Plaza which best manifests the Sufi songs in Sanjay Leela Bansali movies. You can totally go for deep research on the working of the Indian movie industry as you savor the visual feast arranged here. Bollywood Park houses several popular film sets like Lagaan, Sholay, etc. A graceful journey amidst the most-loved B-town in the world!! Evenings are the best time to visit Bollywood Park!
Grand Mosque 
Sheikh Zayed Grand Mosque is one of the largest mosques in the World. As the name indicates, Grand Mosque is home to Dubai's tallest minaret. With an intention to celebrate the glorious civilizations of Islam and its cultural diversity, the mosque was built in Abu Dhabi, the capital city of the United Arab Emirates in the year 2007. It has the capacity of over 41,000 people during the Eid ceremonies.
The Mosque is built in an Iranian Style and proclaims the city's rich heritage. It has also taken inspirations from Persian, Mughal and Alexandrian mosque of Egypt. The interior work is stunning with beautiful blue mosaic work. Grand Bur Dubai Masjid is a place of worship and learning center for visitors from all over the world. Spend some peaceful time when in Dubai by choosing this spot, It is possible to visit during all weekdays. 
Palm Jebel Ali
If you wish to visit another architectural marvel in Dubai which is still under construction, this is the right choice! Palm Jebel Ali was proposed to be a huge man-made island in Dubai. The construction work started in 2002 and came to a halt in 2008 because of the financial crash in Dubai. The island was expected to house more than 2, 50,000 people, with six marinas, water park, and boardwalks. At present, Palm Jebel Ali is an abandoned Island. 
Devoid of the city structures, right in the middle of the deep blue sea, you can have your isolated exploration. You can imagine the vastness when Palm Jebel Ali is 50 percent larger than  Palm Jumeirah. Another attraction is that the fronds of the palm represent an Arabic poem by Sheikh Mohammed bin Rashid Al Maktoum, from the areal view. All seasons are good to visit this architectural marvel.
Alserkal Avenue
Ready to explore the art world? Start your trip to the most-attractive Alserkal Avenue. Alserkal Avenue started as an industrial unit with several warehouses but later, transformed into a significant art and culture forum. The district houses all the local and global artists' museums, art galleries, performing platforms, exhibition halls, and design studios as well. 
Some popular art campaigns hosted in this venue are the Qouz Arts Fest, Metasitu public art commission, letters from the seventh cave, The Arab street community exhibition, Gallery Night 2019, November in Alserkal Avenue, Adult  drawing class, Absolem Design Commission by Cricklab, Mixed Media Resin masterclass, coffee workshops, Short+Sweet Theatre, The rustling of the stone, The dreamfish by Michela De Matte, Tuesday Talks, Yogalogue with Kim, Art tours, Black Med listening session, etc. You can visit the museum on weekdays between 10.00 am to 7.00 pm, Fridays remain closed!
Etihad Museum
Etihad Museum also is known as Union House, is a famous historic museum and a heritage center of the United Arab Emirates. The museum collects, preserves, and displays the socio-political and cultural aspects of the UAE. Personal artifacts like vintage rings, letters, and pocket watches are also displayed here. The eight brilliant pavillions of this majestic museum focuses on the history of UAE, era before the formation of the federation, events before the union, newborn nation, etc.
History-lovers should definitely choose this spot, for you will get to know the story of UAE. Walkthrough the mesmerizing architecture and enjoy the museum collects. Take a look at the stunning heritage and tradition of the country. The museum has eight pavilions that depict the different stories of UAE. The best time to visit during weekdays anytime between 10.00 am to 8.00 pm. 
Ibn Battuta Mall
Ibn Battuta Mall is a huge shopping complex in Dubai named after the explorer Ibn Battuta. Over 270 shops, 50 restaurants, and over 4,500 parking lots and much more, this mall is World's largest themed shopping mall. Each of its six courts is designed with inspiration from Andalusia, China, Egypt, India, Persia, and Tunisia, which were the countries visited by the Moroccan Berber explorer Ibn Battuta. The zones are ell designed and are very spacious. 
Enjoy the remarkable architecture with huge shops, restaurants, 21 screen cinema, Trampoline Park and bowling alley. Get inspired by the craftsmanship and shop through International brands. It's a must-visit place that assures a complete entertainment package. You can both shop and savor the 7 themes beautifully portrayed here. So many activities and contests are also carried out here to engage the visitors. Best to visit during all seasons.
Ain Dubai
Clutch that bird's eye view of Dubai city by heading to this gigantic observation wheel! Ain Dubai is the World's tallest observation wheel with a 210-meter length built in the center of the Bluewater Islands. All the landmarks of Dubai can be seen as tiny dots as you reach the highest point the Ferris wheel might take you. This is easy, one of the most awaited project of 2019.
Get a huge panoramic view of the city, beaches, and coastline. Spot Burj Al Arab, Palm Jumeirah and Burj Khalifa from the wheel! Get immersed in the mesmerizing view of Burj Khalifa, Palm Jumeirah, and Burj Al Arab! The construction is about to finish by October 2020 during the Dubai Expo. This adventurous ride is set to provide breath-taking moments for all the visitors. Ready to visit after the inauguration!
Dubai Polo and Equestrian Club
Having established in the year 2006, Dubai Polo and Equestrian Club is a multipurpose destination for visitors from all over the world. It is well equipped with over 300 stables and long stretches of the green field. It has Horse riding options, Pony clubs, Showjumping, Horse stables, Polo area, Spa and restaurants, etc. You can both watch the matches and ride the horses and try a hand in the competitions as well.
Great facilities to enjoy sports, leisure time, entertainment and even get a platform to discuss business!! Excellent opportunity to learn horse-riding and get a good polo vibe!! The club allows visitors to host private parties and many more facilities. Adrenaline junkies should definitely try out this spot. Enjoy the lush-green atmosphere with amazing dining longue!! Summer months are the best time to visit the Dubai club.
Bur Dubai
Bur Dubai, also known as Old Dubai and is a complete contrast from the present cityscape. It's a perfect destination to look at the past culture, lifestyle, architectural works, and maritime history. You can have the best of both worlds here. The perfect blend of traditional and cosmopolitan vibes is available here. 
Stroll around the Bastakia quarter here Persians lived until the 19th century, stop by the Dubai Museum, head to Majlis gallery and Sheikh Mohammed Centre for cultural understanding. Get a detailed view of the Pearling industry and get to know the work of talented artisans. You can also hit the heritage village of Dubai, old souk and Meena Bazar when Bur bound. Bedouin village consists of great artworks, crafts, handmade goods, and old Dubai artifacts. January is the best time to visit Old Dubai. 
Cayan Tower 
Cayan Tower, also nicknamed as the Infinity Tower is a destination in itself. This luxury apartment is a 75 storey skyscraper. The unique architecture attracts huge visitor's crowd every day! The wooden floors, Chinese marble countertops and kitchen fixtures of this tower are stunningly beautiful. They also have sand filters and pipes to impart fresh air to the rooms.
The tower is set 1.2 degrees clockwise on building every apartment floors which gives it a helical shape. Apart from the aesthetic value of this helical shape, it has been helpful in preventing the northern diurnal winds which comes with dust and sand. Cayan Tower is basically a residential tower with limited facilities to outsiders. The tower stands tall at the Dubai Marina waterfront and enables the best view of the sea and desert. It's a popular residential complex and great to visit during all seasons. 
The Third Line
The third line view is one of the oldest art galleries in Alserkal district. They feature the contemporary Middle Eastern art of both local and international artists. The third line is a perfect destination to meet local, regional and international artworks. The art gallery hosts several exhibitions and displays to promote art and artists. The gallery has a unique Audio/Visual room, library facilities and additional book store. 
This art gallery unites people from different regions!! You can spot the art of famous artists like Abbas Akhavan, Ala Ebtekar, Amir H. Fallah, Babak Golkar, Farah Al Qasimi, Farhad Moshiri, Fouad Elkoury, Hassan Hajjaj, Hayv Kahraman, Huda Lutfi, Joana Hadjithomas & Khalil Joreige, Jordan Nassar,Sahand Hesamiyan, Sara Naim, Sherin Guirguis, Shirin Aliabadi, Slavs and Tatars, Sophia Al-Maria, Tarek Al-Ghoussein, Youssef Nabil and Zineb Sedira here. The best time to visit during weekdays from 10.00 am to 7.00 pm except for Friday!!
Dubai Street Museum 
Dubai street museum is one of the most popular tourist attractions in the country. It's also known as the prominent global graffiti hubs. Well-known for the impressive murals, painted buildings, walls that depict the UAE's culture and heritage. Located in the Al Fahidi Fort which was built in 1787, this museum features the traditional Emirati way of living. Filled with mannequins and murals of famous artists, this outdoor gallery which best exemplifies the rich heritage of Dubai.
Some famous exhibits here are Founding fathers, Resting falcon, Calligraphy quote, Emirate Children, Old man in boat, etc. You can find inspiring creativity with historical presence and cultural significance all around you when Dubai Museum bound. The Open museum celebrates Arab culture and tourists visit back to enjoy the serene beauty. Make sure you savor this slice of Dubai Culture explained. Open to visitors on all days!!
Dubai Design District 
Dubai Design District or D3 is a project dedicated to the community of innovative and talented creators. The whole city is dedicated to fashion and the latest design trends. The district provides a unique platform where people connect, explore and celebrate all creative ideas. The district is a warehouse of famous jewelry and accessories. The project aims at evolving the aesthetic, cultural and designer platforms of Dubai. 
Located near to Mohammed bin Rashin City this business park with three phases includes residential, retail and office space facilities. You can always find exhibitions, group art, talks and art workshops here. Some of the popular galleries at Dubai Design District are Art Hub, Sinyar Gallery, Blue Cave, Swarovski Creative Center. Get the right info on product making and development. Open to visitors 24 hours! Make sure you pop in and enjoy the design district at your comfort!!
Museum of Illusions, Dubai
Museum of illusions is a part of the International museum chain that began in Croatia in 2015. It has never ceased to excite the visitors with the unparalleled multisensory illusions. If you wish for an amazing journey that challenges your fundamental senses in an enticing way, you should really sign up for this museum. Spread with 80 interactive exhibits that give you a sensory experience that defies logic over 450 square meters, the Museum of Illusions happens to be one of the largest museums created by a team of designers and architects. 
The jaw-dropping showpieces and collection of holograms here are sure to amuse you. After all, everything around us is a spectrum of illusions. Some of the popular units here are the Infinity Room, Antigravity room, Rotated Room, Kaleidoscope, Infinity Tunnel, Rubin's vase, Head on the plate, Chair illusion, Turntables, Ames room, Clone Table, True Mirror, Tricky Stick, etc. Reach here to enjoy the rare illusions, brainteasers, and exhibits. Get ready to indulge in the illusion anytime, open to visitors on all days!!
Meydan Racecourse
Meydan Racecourse in Dubai is gigantic a has a grandstand with one mile length and can accommodate over 60,000 spectators. It is the World's first five-star trackside hotel with 285 rooms, two race tracks and a good number of fine restaurants, corporate suites and even a racing museum. The Meydan city covers around 200 million square feet with two race tracks and huge five-star hotels for refreshment. Exceptional range of entertainment, dining and stay is offered at this point. The venue also hosts many race meetings and Dubai World Cup.
The prominent names in the horse racing industry compete in nine races at the 2,000-metre racecourse in this venue. The racecourse is actually operational from November to March every year. In the other months, it serves as a business or conference center. Do a little stable tour befriend the stallions, stroll around the grandstand and meet the great team behind the venture including the trainers!
Dubai Waterfront
Dubai Waterfront is another addition to the World's firsts list of Dubai. Expected to be the largest Waterfront and the largest man-made development in the World on completing, Dubai Waterfront is an ambitious project yet to be developed fully. The project adds up around 70 km of the Dubai coastline and constitutes canals and artificial islands of Dubai. The project aims at creating a World-class destination for commercial, residential, business and tourist areas.
Dubai waterfront is already a favorite tourist attraction where people gaze at a number of canals and man-made islands spread over the coastline. The developers are expecting to complete it by 2020. Spend some quality time shopping and sight-seeing. Enjoy the beauty of waterfront with great entertainment and leisure activities available in Dubai Waterfront, which already has become the iconic landmark. Let us wait for the most mesmerizing waterfront. 
OliOli
Are you on a Family trip to Dubai? Then, never miss Oli Oli!! It's a fun-packed tourist destination for children. Oli Oli is an interactive play area for children. It has around eight galleries holding up to 40 exhibits and frequent workshops. Oli Oli is a creative learning space for kids and parents. The spaces here bind kids closer to the aspects of Science, Technology, Arts, Maths and engineering. Nothing boosts the creativity and interest to learn new things like a concept explained in a fun and engaging way.
Categorized into six galleries named Air, water, Toshi's net, Creative Lab, Cars and Ramps, Future Park, Toddlers and Forts and Dens, children's curiosity knows no bounds when in OliOli.  Concepts of aerodynamics, gravity, friction, etc are explained with airways, Bernoulli's Blower and such installations. The water gallery entices the kids with rain dance, ball cannons, washing a car and teach density, buoyancy, and pressure as they enjoy. Creative lab, Toshi's Net, Forts, and Dens, etc familiarises other study concepts to the little ones in a versatile way. Explore a variety of topics with interactive hands-on experience!! Best time to visit during the weekdays or weekends. 
La Mer Dubai
The wholesome coastal and shopping delights are uniting at this popular destination. La Mer is a unique destination for families to unwind the joy of playing next to the beach. The nearby area is transformed into a huge locale for assured entertainment with promenades, restaurants, shops, and cafes galore. Laguna Water Park is an entertaining choice for kids. The beach bounty and luxury come to you in the best blend here. With the booming self-love hashtag in IG, there is no better place to take some time out for a laid back day to rest on the day bed and pamper yourself with wholesome salads and juices with the azure blue sea in the backdrop.
It has wooden walkways, and the palm tree line adds extra-charm to the location. You can savor the delights of the Arabian Gulf, as well as a shop until you get tired. They have the best collections of chocolates, Confectionary and Icecream, Department stores which sell Fashion jewelry watches and eyewear, spas, and salons. Best to visit during the monsoon season! Have a fun day at the Sea! 
Mall of Emirates 
Mall of Emirates is a frequently visited shopping mall by tourists and residents. It's a one-stop destination for magnificent family leisure housing Ski Dubai. It's well-known for an indoor ski resort and Snow Park! The mall stays unique with a huge theatre and the magic planet. Owned by Majid Al Futtaim properties, Mall of Emirates was opened in 2005. This colossal mall features above 630 retail outlets, 900 parking spaces and over 100 cafes and restaurants. This mall posses many units which are of course Middle East's first. One such feature is the Ski Dubai - Middle East's first indoor ski resort and snow park. It also has the 500 seat capacity Dubai Community Theatre and Arts Centre and Magic Planet - the largest indoor family entertainment centers in Dubai.
Get mesmerized with the huge architecture and rare architectural style!! Savor the funs from the Ice skating rink, a huge aquarium, and the fairy fountain. Visit during all your leisure time for great shopping.
Deira
Wedged between Persian Gulf, Sharjah and Dubai Creek, Deira is famous for its Dhow cruises and old-world charms. The retail outlets and historical wonders of this destination drag herds of tourists to Deira every year. The city is well-known for its commercial activities and depicts the historical modes of transports in dhows. It's a unique attraction for tradition lovers. Most of the visitors shop Gold, spice, and Perfume at a reasonable price. 
Deira assures great entertainment with tasty Arabian cuisine and a lot of shopping destinations. You can shop for priest gold in here from the Gold Souk, adore the displays at Women's Museum, pop into Heritage House and embrace the old charms. bag in some aromatic spices fro the Spice Souk, savor the aerial views of Dubai by flying in chartered flights, and so on. Visit from November till March for ideal climatic conditions. 
Hatta Heritage Vill
Hatta Heritage Village, a mountain village that is reconstructed extensively for the purpose of tourism. The 3000-year-old Village is perfectly revamped and the present landscape is a visual treat from visitors worldwide. Houses and mosques made of mud, palm tree trunks, and stones with vintage interiors can be spotted here. The Watchtowers, Castles, and Forts restored inside the village will make you step back in time and adore its charm. Enjoy spotting vintage local music instruments, palm-tree accessories, utensils and much more inside the village.
Get a simple insight into ancient Emirati villages and mountain cities called Hajarans. The village is flecked with quaint shops selling heritage products, archaeological cemetery, and freshwater canal. Make sure you add this spot filled with amazing artifacts and everything precious from the past during your Dubai Holidays. You can drop into Hatta Heritage Village during the winter season for alluring views! 
Pier 7
Pier 7, also called the "Mecca for food lovers" is stuffed with every cuisine you were craving for. Pier 7 house seven different world-class restaurants under a single roof!! It's the perfect destination for foodies and specially designed to accommodate seven floors of the dining experience. The French restaurant Atelier M, Lebanese Abd el Wahab, The Scene with European cuisine, The fume, Cargo which serves cocktails, Asia Asia and Mama Zonia are the seven restaurants with sumptuous delicacies featured here in Pier 7.
Head to Dubai Marina and pop into this extravagant restaurant to fill your senses with everything delightful, aromatic and sumptuous. You can swoon to and appreciate the interiors and ambiance they have thematically set at each zone. Enjoy food with the most attractive city skyline as a backdrop.  Relish on the world's best cuisine and refresh your taste buds. Best to visit during the evenings for great food and a good atmosphere!!
Dubai Garden Glow
Make your family trip rich by enjoying the fantasy world!! It's the world's first park dedicated to the glow-in-dark. It's situated in Zabeel Park and well-known for light installations. The installations are inspired by art objects across the world. It's a favorite destination for children who love the fantasy world and theme parks. Established in 2015, this park has added many zones and features in the years that followed. Magic Park, Ice Park, Dinosaur Park, Art Park, Glow Park, Flower Valley, Colourful World, Happiness Street, City of Happiness, Happy Forest are some, to name a few.
The happy news is all of the million energy-saving bulbs and yards of recycled luminous fabric used in this glow garden is extremely Eco-friendly. Ceramic dishes, CDs and small bottles which are recyclable have gone into the making of this space. You can also check out the Dinosaur Park that displays more than a hundred animatronic dinosaurs, an Ice Park set in Polar climate for the spectacular Ice Sculptures and a Magic park where illusionary wonders reside. You can visit the glow garden during the evenings and witness the sparkling world.
The Walk at JBR
The Walk at Jumeirah Beach Residence is a perfect location to spend some quality time with your partner or kids! The walk at JBR lined up with swaying palm trees on sides, classy restaurants and trendy shops attract thousands of visitors world-wide. The walk hosts several attractive events and festivals. The buzzing beach and eyepopping colors of the shop exhibits make a picturesque sight to savor.
This 107 km long strip with plazas and arcaded doorways on both sides is the right spot to do some shopping and eat out. The Walk is easy, one of the most sought after tourist destinations in Dubai. The street graffiti-like art, art displays from recycled materials, sculptures and photography displays make your strolls really refreshing and enticing. You can also shop for fashion accessories and keepsakes for your friends and family back home. The best time to visit The Walk is during the sunset!!
Wafi Mall
Wafi Mall is a lengthy shopping mall, specially designed with the Egyptian theme. Dotted with exotic sphinx statues, the Wafi mall is spread over 5 levels. It has designated areas for shopping, leisure activities, entertainment, and other activities. The stained-glass pyramids, pharaoh world manifestations and artifact models that graces the mall makes the visit an alluring experience to the visitors and tourists. Incredibly wide catalog of clothes, watches, perfumes, fashion accessories, bags, and shoes are available here.
Get the rich shopping experience from the 350 plus stores featured inside the mall. Go for a relaxing day at Cleopatra's spa, walkthrough the Carrefour Hypermarket and enjoy some fitness at the Pharaohs' club. Stroll around, slow down at the sculptures and installations to enjoy the artistic qualities, choose to eat from a wide array of cuisines and restaurant options and call it a day! Open to visitors on all days!!
Al Quoz
Al Quoz is a famous hub for contemporary art and is known for the number of art galleries it houses. With the fabulous collection of art displays, performance spaces and galleries, it strikes a polar contrast to the industrial area around the art space of Al Quoz. It happens to be the first private museum of Dubai and you can imagine the vintage grandeur it house. 
It is a top destination for people who love artworks. It's one of the best art galleries around the city. It's a predominant residential space with quaint cafes, eateries, hot music, and workouts. The cartoon art gallery exhibits unique animation, clips, and cartoons. Mizoram Chocolate makers, check out the entire chocolate-making process. Make sure you add some god time spent on the art scene in Dubai. The spot is best to visit during the mornings!
Riverland Dubai
The Riverland Dubai is a huge 234,000 square feet area themed with 1-kilometer Long River. The area has abundant restaurants and cafes spread along the riverside. The Riverland is one part of the Dubai Parks and resorts. The area is divided into four main zones that showcase different parts of history. One is Boardwalk which manifests the charms of 50's America. India gate is another such zone with the splendid art installations to bring out Indian aesthetics. The French village arranges for a mindblowing visual feast with a waterfront and vintage architecture. The peninsula is another zone that is hailed as the heart of the Riverland. It has a large outdoor venue to host brilliant concerts and festivals. This spot is packed with all kinds of funs, dining options and retail points. Riverland has special outdoor venues and multi-purpose venues!! The spot is best to visit during the sunset!!
Century Mall Dubai
Century Mall is a popular mall in Al Mamzar area. The mall is built over two levels and is equipped with all the necessary shopping facilities. It is famous for the highly appealing stores that sell special Arabian attires, perfumes, accessories, and impressive food court! This mall has some alluring about its comparatively petite size and utilization space. It is not at all overwhelming for the same reason, but will surely make your shopping experience a comfortable one.
Century mall is not too big but simple and meets our shopping demands. You can pop into this mall and shop some unisex fashion, jewelry, watches, groceries and essentials from hypermarket, shoes, and bags, fashion accessories, pharmacy products, electronics and mobile, opticians and sunglasses, cosmetics and perfumes and what not! Pack your shopping bags and get ready to visit the century mall in the evening. 
Dubai Butterfly Garden
Dubai Butterfly Garden is the world's largest garden which houses around fifteen thousand butterflies and fifty different species of butterflies.  It's a visual treat to look and feel the variety of butterflies. Butterfly museum serves as an educational platform for kids and visitors. It has ten alluring domes to it and is breathtakingly beautiful. We can watch the caterpillar going to its pupa state only to come out in alluring colors. Take some time off to enjoy the little creatures dancing in the air flaunting their vibrant colors and brilliant patterns.
Sprawled in 2600 sqm, this garden is home to exquisite butterflies and some other insects as well. Do not forget to check out the insect garden set right inside the garden. Get to know the advancements of butterflies through each stage. All Nature lovers on a Holiday Package of Dubai are welcomed! Enjoy the colorful and beautiful winged creatures' every day between 9 am to 6 pm.
The Lost Chambers Aquarium 
Witness the largest aquarium in the UAE which is located in the huge luxury hotel Atlantis. The museum is designed with the theme of the lost city of Atlantis. It's a must-visit place for all the age groups. You can spot around 65,000 marine animals inside this magical aquarium. The spot also serves as an education center where study tours with detailed descriptions are available. They have amazing waterparks, Dolphin bays, Sea Lon point, and much more to this spellbinding endeavor. Dissolve into the aquatic delights offered here in an unparalleled way.
Visitors can enjoy Scuba diving with experienced trainers and enjoy the real-time experience of touching marine animals. Adventure junkies can opt for this activity without a second thought, for it is highly rewarding. Enjoy a special day with your family and kids. It's open to visitors every day from 10 am to 10 pm. 
Al Jaber Gallery
Al Jaber gallery is one of the renowned gift and sovereign chain in the UAE. It's located in Dubai Mall. The gallery was developed by Abdulla Jaber Belshalat, a veteran in antiques and handicrafts in Dubai. You can find the spectacular collections of Souvenirs, Handcrafts, Arabic Perfumes, Shawls, Antiques, Arts and crafts. The shops in this chain itself are such feasts to watch and study more about the magnificent past.
You can spot sheesha, coffee pot, rugs, stuffed camels and miniatures of Burj Khalifa here. Get to know the rare collection of arts, antiques, and handicrafts for your home. This could be that perfect spot you were looking for to shop some keepsakes for your friends and family and maybe for some elegant room interiors. Have a look at the carpets, perfumes, shawls, artifacts made in copper, brass, gold, silver, etc. Choose from a hundred designs of pashminas, scarves, necklaces, bracelets, purses, etc. Al Jaber Gallery is open to visitors every day. 
Xpark Jr Dubai
Xpark Jr. is a natural forest-scheme play space for adults and kids. It's located in Minzmelah Street and specially designed for kids to play in the natural atmosphere. The park is trying to recreate the Natural scapes for the old time's sake. Visit this space to binding us and our kid's little more closer to nature by rolling on the serene meadows, digging in the purest dirt and splashing the sparkly waters right at the heart of Nature. Yes, you can get dirt on your dress and totally not regret it. Take that glee back home after jumping and rolling in the lush green spaces and filling your pockets with sunshine!
Get immersed with nature, climb on the wooden bridges, tree houses, feel the real nature, play with pets like goats, ducks and enjoy the fun-filled outdoor experience. Best to visit during the winter season for a relatively cool climate!
Al Qudra Lake
AlQudra Lake is the part of Al Marmoom desert conservation reserve. It's a series of human-made lakes located on the southern outskirts of Dubai. Al Qudra is a perfect choice for nature lovers with extensive dunes, oasis-like pools and plenty of fauna. 
With an intention to spread green meadows and enrich Dubai dessert with Nature's bounty of plants and water bodies, it was placed in the middle of the  Seih Al Salam desert and Bab Al Shams, Dubai. Spanned in 10 hectares, the area is filled with hundreds of bird species and desert plants. You can spot fruit trees and shade trees in plenty. Treat your eyes to the lush green beauty of the garden and freshwater delights when you are Dubai bound. Promote eco-tourism and enjoy this scenic beauty in the months of October to May!!
Dragon Mart Dubai
The 1.2-kilometer lengthy dragon-shaped mall offers a huge stock of Chinese products at wholesale price. The mart has about 4000 shops with all the necessary home essentials, electronics, furnishings, machinery, gadgets, fashion accessories, and clothing. Located in Dubai Hatta road, the Dragon Mart Dubai is regarded as the largest Chinese trading hub outside China. Around 40 million people flock to this spot every year to shop from the 5000 shops inside the mart.
Enjoy great shopping and dining at this extensive mall. Along with shopping, you can also treat your taste buds to a sumptuous feast when Dragon mall bound. From food courts to outdoor dining, Dragon Drive at Dragon Mart offers fine dining to every visitor. Get ready to check out the largest trading hub for Chinese products. Make sure you choose mid-day to pop into the mall, as it usually crowded towards the evening. You can get incredible discounts and offers here. Everything comes at affordable prices and the vendors are all in for bargains and haggles. 
Wild Wadi
Wild wadi is a beautiful water theme park with huge and innovative rides. Located in the Jumeirah Beach of Dubai, this park boasts around 30 plus water rides. The entire park is designed after the Arabian tale character Juha and the theme is incredibly appealing to the kids.
Family rides are designed in a stunning and creative way. Wild Wadi is the perfect spot to unwind during your Dubai Holidays. You can get immersed in a quick adventure and look for a breath-taking experience. The tipping bucket at Juha's Dhow and Lagoon or float along the lazy river are the two major attractions of this water theme park. Apart from unique rides, you can also experience surfing. Get an excellent panoramic view of high-rise buildings and enjoy this family-oriented park to its maximum. This mind-blowing tourist attraction is open to visitors on all days!!
Belly Dance
Tap your feet according to the beat and enjoy the famous belly dance. The dance form was originally initiated from Western Asia where a woman moves her hips and stomach rhythmically according to the exotic musical beats. Like a beautiful wave or like the movement of a snake, the trained dancers seamlessly dissolve into the beats of the music. Rather than the limbs, the torso muscles of the dancer's body fluidly embrace the feminine interpretation of music. Regarded as one of the oldest forms of dance, Belly dance is also known for its extravagant costumes and flowing veils. The exotic jewelry which is re-imagined versions of 200 BC ornaments adds charm to the spectacular dance feast.
Enjoy this fusion-filled dance and mesmerize your evening with the graceful belly dance steps. Is your Dubai Tour even complete without watching this magnificent dance pulled off by the artists after many years of training? Take a desert safari and enjoy the most attractive belly dance after the sunset!
Dubai Coffee Museum
Dubai coffee museum is a coffee lover's paradise with few heritage facts. Enjoy the love for coffee with little coffee culture in a cup of brewed Joe. Tucked in the Al Fahidi hub of culture and heritage galore. If you are a caffeine lover, make sure you do not miss this spot during your Dubai Tour. The smell of freshly ground coffee is rewarding in every way, we tell you!
Go through the coffee bean journey from around the world. The visitors are often welcomed with a warm cup of Java and popcorn. It's the symbol of Arab culture and hospitality. You can find the oldest coasters, pots, and grinders in here. Explore the coffee museum from Saturday to Thursday from 9.00 am to 5.00 pm if you are on an India to Dubai tour package. Fridays remain closed!!
Mercato Mall
Get to know the Italian renaissance and Mediterranean atmosphere at the Mercato shopping mall! Huge housing of more than 140 stores and service outlets resemble Italian Market square. You can have the perfect insight into the European Renaissance brings in art lovers, as well as worldwide tourists. Located in the Jumeirah area of UAE, this mall has been incredibly designed after the Mediterranean town theme.
Mercato Shopping Mall was opened in 2002. The mall is quite big with around 130 retailers to offer you an unparalleled thematic shopping experience. Make sure you visit this mall for a joyous experience during your Dubai Holidays. All your favorite brands like Calvin Klein, Gap, Armani, Mango, etc are easily available here.  Enjoy the variety of international brands and other lifestyle outlets at the Virgin Megastore. The best time to visit the mall is in the evening hours.
The Green Planet Dubai
Imagine a magnificent indoor tropical rainforest set right in the middle of a cosmopolitan city. A gigantic dome that is home to 3000 plants and a wide array of animals. That's right, The Green Planet is going to be the largest green canopy in the country. The other attractions of this space are butterfly balcony, treehouses, a waterfall, and a forest tunnel. If you are done and dusted with the incredible urban delights of Dubai city, pop into this spot for some crisp air. Treat your eyes to the green feast arranged over here.
Get a chance to relive the enclosed ecosystem and get immersed in the fascinating world of different plants and animals. Learn about the ecosystem and experience the rainforest adventure. It's a perfect destination for biologists and researchers. Never miss this destination, educate your kids on the importance of tropical rainforest.  This spot is open to the public every day from 10 am to 7 pm.
Nothing can beat the comfort and pampering you get when a brilliant tour operator takes up the planning and logistics part of your Dubai Tour Package. Without any hassle, fear of cancellation or any of such nightmares, you can explore the city at your pace. Seasonz India Holidays will help you explore the on- and off-the-beaten-path things to see and do, save money and time with budget itineraries and much more! If you are specific about the departure points, we can customize Mumbai to Dubai tour packages, Ahmedabad to Dubai tour packages, Delhi to Dubai tour packages and so on.