Discover the Secluded Monroe Island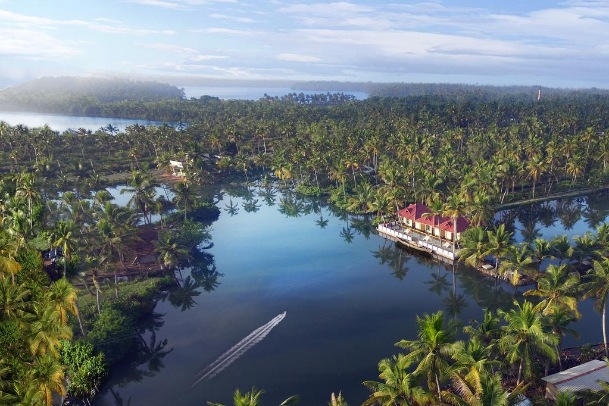 Munroe Island is a unique and beautiful island situated at the intersection of the Ashtamudi Lake and the Kallada River in the Kollam district. It is a hidden gem in the backwaters of Kerala, straight out of fairy tales. It consists of a collective group of 8 distinct tiny islands interlinked with each other with a turquoise network of canals.
It is given the title in the honor of the Resident Colonel John Munroe, of the erstwhile princely state of Travancore. He is said to have integrated many of the backwater regions by digging canals using stone-age tools and megaliths.
Several people from nearby areas visit this scenic destination to enjoy their time for relaxation in the warmth of Mother Nature. While some of them capture the gorgeous surrounding area of the spot, many simply enjoy the tasty delicacies of Kerala, prepared with coconut oil, and served in authentic restaurants on the island of Munroe.
Filled with evergreen coconut groves, these islands can be titled the epitome of solitude and peacefulness. Whether you're on a family trip, a honeymoon tour, a backpacking trip, or a casual vacation, you can visit Munroe Island at any time or during any part of the year.
Away from the city, yet near to the heart, Munroe has some miracle on his sleeve. The circulation of daily existence here is as peaceful as the river that elegantly accumulates into the broader backwaters. There is the larger water body of Ashtamudi Lake, and then there are houseboats ready to take you all around. What makes Munroe Island tick is a plethora of canals, elaborately traversing a verdant landscape of 13 square kilometers. A few of these canals are so relatively small that they might fit a canoe in.
A canoe cruise through these waterways really is an experience, especially when we have to get away from small leafy branches that are almost certain to scratch the face. Canoes and boats are open to hiring. DTPC and private firms are providing boat rides for rent.
We all know that the backwaters put us in such a comfortable and enjoyable way. Local life does have fabulous vibes, too. Communicate with local people and get along with their traditional culture and down to earth lifestyle. Their life revolves around coir weaving, sand mining, and fishing activities.
The island village is a tourist attraction where you can see the coir retting process, coir retting and weaving process, fishing, prawn farming, migratory birds, tight canals and waterways, coconut groves on the shores of the lake, lagoons, mangroves and the gorgeous little islands of Pathupara.
Thankfully, the peacefulness of the place is not so far threatened by large-scale developments, including hotels and resorts. Homestays are suitable and available choices for accommodation. There are also several houseboats that serve the guests overnight.
The Munroe island is located 27 kilometers from Kollam. The island is about 25 km from the town of Kollam. Road transport is the common way of traveling, although you will have to take a ferry service to get to the island. It takes about one hour or so to get here from Kollam town by car.
An unadulterated destination in the arms of mother nature, the Munroe island is hidden Venice of India. With a blissful backwater with the backdrop of rich flora and fauna, there was some magic on the sleeve, something that can never be negotiated.
If you are looking for a calm and relaxing place away from the crowds, Monroe island is a perfect choice. Book your Kerala tour package or Kerala honeymoon package with Seasonz India Holidays.