9 Remarkable Experience You Can Only Find In Kerala
kerala tour | Kerala Honeymoon | munnar honeymoon packages |
KERALA

|
sooraj

|
11-02-2021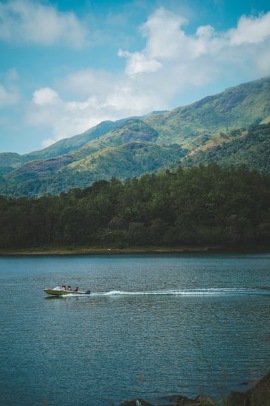 Kerala definitely deserves to be called God's Own Country. Owing to the natural setting and the unforgettable experiences of Kerala, it is one of the most beautiful places in the world. There is a lot to enjoy in Kerala, From the lush green hills of the Western Ghats, scenic beaches along the Arabian Sea, serene backwaters, enchanting wildlife sanctuaries, and the traditional Ayurvedic treatment centers, there is a lot to enjoy in Kerala. Popular for its stunning natural beauty, every experience in Kerala is a precious memory.
It is not just the intense tropical climate and abundant greenery that separates Kerala from the rest of India. Bordered in the east by a rampart of the high mountains of the Western Ghats, and in the west by the glorious Arabian Sea, the state has developed a unique culture with its own language, styles of dressing, worship, music, art, and literature. Literacy rates in Kerala are higher than in any other country, and poverty is almost non-existent. No matter if you stay in beautiful treehouses, Be it a houseboat cruise on the serene backwaters, overnight stay in a beautiful treehouse amidst dense forest, adventure activities, relaxing Ayurveda treatment, learn about the ancient culture, or more, Kerala is amazing in all aspects. 
Besides the stunningly beautiful destinations to stay in, Kerala's unique way of living enhances the charm of this captivating holiday destination. Tourists can experience things here that you can't find anywhere else. Kerala tour packages are popular with both domestic as well as international tourists
Here is the list of remarkable experiences that can only be found in Kerala. Seasonz India Holiday's specialist consultants will be pleased to suggest ways to incorporate these unique experiences into a well-balanced travel itinerary.
Kerala backwater cruise
Kerala's backwaters are an intricate network of brackish lagoons, canals, and lakes running parallel to the Malabar coast in South India. Kerala has over 900 km of interlinked waterways, rivers, lakes, and inlets that form Kerala's backwaters. Amidst this beautiful landscape, there are several towns and villages which are the starting and finishing points of backwater cruises. The serene backwaters of Kerala can best be enjoyed on a cruise in the traditional Kerala houseboat, also known as 'Kettuvallam.' Indeed, the Kerala Houseboat journey is all about delicious foods, relaxing, enjoying the slow pace of life, and exploring the beauty of Kerala's backwaters.
The unhurried pace of the houseboats helps you to relax and soak in the beautiful surroundings. For overnight stays, houseboats have comfortable rooms equipped with modern amenities such as a television, bedroom with attached bathroom, dining area to enjoy your meals, and sometimes even Wi-Fi. The houseboat crew on board will catch fresh fish and cook for you on the spot. A backwater cruise in a houseboat is an important inclusion in most of the Kerala tour packages.
Sunrise at world's highest tea plantations
Kolukkumalai, located in the outskirts of Munnar, on the border of Kerala and Tamil Nadu, is the highest tea plantation in the world. Its bright green gardens swirl around the flanks of South India's second tallest mountain, Meeshapulimalai, overlooking a spectacular sweep of shady ridges and the Shola forest. The best time to visit the plantation is at dawn when you might be lucky enough to see the sunrise above the clouds that form over the hills in the early morning. It's one of the most remarkable sights in southern India. Afterward, enjoy a tour of the deliciously old-fashioned tea production factory in the tea estate, which preserves its original Scottish-built machinery.
Kathakali Performance
Kathakali is Kerala's classical dance form. This traditional art form is an icon for Kerala and Kerala tourism. Kathakali is a combination of dance, music, and acting, and portrays stories that are mostly adapted from the Indian epics. This other-worldly form of ritual theater exists anywhere else in the country, and you should definitely try to catch a performance while you're in Kerala. Shows staged in towns and beach resorts are customized to the fairly short attention span of international audiences.
Kathakali's elaborate language is conveyed in a sophisticated lexicon of hand gestures, facial expressions, and poses. Highlighted by divine vocal music and percussion, the spectacle alone casts a powerful spell. Many high-quality hotels and resorts stage Kathakali performances in Kerala besides the Kathakali centers.
Kalaripayattu Performance
Kerala has its own traditional martial art form called 'Kalaripayattu.' Practiced in earth-floor gyms throughout the state, its distinctive style of acrobatic combat draws heavily on yoga and hand-to-hand combat methods established over thousand years. Kalaripayattu demonstrations are held in Kalaripayattu centers and resorts throughout Kerala. It is great to watch the opponents leap through the air brandishing deadly spears, swords, and daggers.
Kerala Ayurveda
Ayurveda is a traditional medicine system in India. It relies mainly on herbs and natural oils, and those derived from plants growing in popularly fecund climate and soils. Over the last decades, some Ayurvedic methodologies have found a home in wellness spas attached to upscale hotels and resorts where they are used to detoxify the body and enhance relaxation Most of the properties in Kerala have spas attached to them where you can choose from a variety of treatments, from body massages to full-on oil baths.
Banana Chips
Chips made from slices of unripe banana that are deep-fried in coconut oil is one of the favorite snacks of Kerala. Banana chips are sold in shops all over the state, often in small, giant, and family-sized bags. There are dozens of varieties of chips flavored with different blends of spices are available here. Customers are always welcome to try it out before they buy.
Chinese Fishing Nets
The huge, cantilevered fishing nets spotted throughout the backwaters of Kerala are known as 'Chinese fishing nets,'. They were allegedly introduced by Chinese sailors who regularly visited the ports of Malabar centuries ago. The Chinese fishing nets lining Fort Cochin offer a great photo opportunity, especially around sunset, when photographers get photographs of them silhouetted against the tropical skies of the harbor. To see the nets in action, you'll have to head over to the seafront before breakfast, when teams of local fishermen set up intricate systems of counterweights, ropes, and beams to catch fish.
Kerala Cuisine
Kerala cuisine is a unique combination of vegetarian and non-vegetarian cuisine. Making the most of local spices, fresh fish, poultry, regional fresh fruit and vegetables, Kerala-style cooking produces sublime results from simple ingredients. Meals are usually served on a round, tin tray or banana leaf with a wide variety of dishes, all intended to achieve a harmonious balance of sour, hot, cool, and sweet flavors. To dilute the intensity, there's always a small mound of rice in which you shatter a crispy fried papad.
From the extremely large platters of vegetarian dishes like Sadya, the range of non-vegetarian dishes made with seafood, lamb, and beef, to the sweet and spicy delicacies, Kerala's food will take you on a motorcycle ride. Therefore, Kerala is a foodie paradise.
Utsavam
The tradition of parading beautifully caparisoned elephants around the shrines during festivals is a unique experience for visitors. Accompanied by percussion performances and fireworks, the tuskers are ridden by teams of young mahouts wielding peacock fans, and gilded parasols. Onam, Vishu, Thrissur Pooram, Thiruvathira, Theyyam Festival, Attukal Pongala, Makaravilakku Festival, Ambalapuzha Arattu, Aranmula Festival, etc. are some of the most important festivals or Utsavam in Kerala.
For enjoying this unique experience and creating an unforgettable trip, contact Seasonz India Holidays. We offer custom made Kerala tour packages at affordable rates. Book your tour package from a wide range of Kerala tour packages and kerala honeymoon packages