Fun |
Thailand

|
Siji C V

|
29-02-2020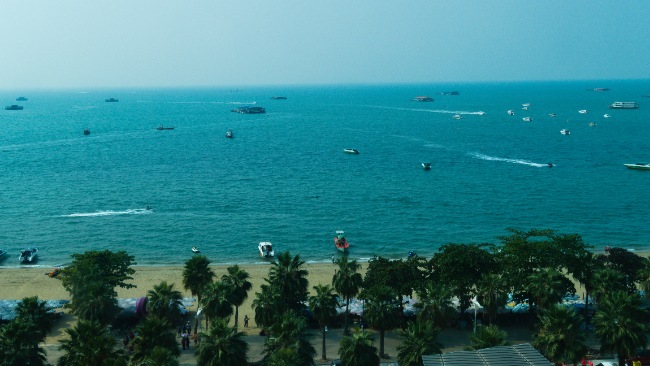 Pattaya gives you a memorable experience with serene nature and mind-blowing engaging activities. Pattaya beach is the best place to visualize some unique water sports and indulge in great beach activities. Pattaya nightlife is amazing with excellent pubs, bars, cafes, discotheques, cabarets, go-go bars and restaurants. Apart from loud music and pulsating dance, involve in shopping around the popular floating markets, supermarkets, bazaars and classy malls. Pattaya is an easily affordable place for travellers.
       Pattaya is an exciting honeymoon destination where the beach road has swaying palm trees on either side, making it a beautiful honeymoon hangout. There are plenty of activities between the Pattaya North road and Pattaya south road. This particular 4km coastline is fraught with myriad activities and attractions. 
Water sports at Pattaya Beach
        Parasailing at Pattaya Beach is a mesmerizing water sport, fly high into the sky and get the deep view of surrounding nature. Most of the tour operator conducts speed boating and scuba diving as the major water sport. Pattaya beach is open to experience most-thrilling and adrenaline rush water sports like fly boarding, snorkelling, sailing, kite surfing, ski-boarding, wind surfing, wake boarding, and jet skiing. If you're on a honeymoon phase, then enjoy couple sports for great entertainment. 
Explore the walking street 
          The walking street Pattaya is a crazy place for party lovers that stretch about a kilometer packed with all the entertaining activities. Walking street is a dynamic hub with plenty of restaurants, local street food, crafts, clothes and showpieces. The street begins at Pattaya beach road and ends at the Bali Hai Plaza. The place is renowned for its super-energetic clubs, go-go bars, discotheques, massage parlours and lot more to explore in this vibrant street. Walking street in Thailand creates some unique buzz hosting live events, talk shows and other such activities to entertain the crowd. Since, it's a crowded area, visitors are requested to take care of their personal belongings and make it a safe journey.
Cabaret shows in Pattaya
         The Tiffany Cabaret show is a pretty interesting activity in your Thailand vacation trip. It's a cabaret show that offers truly amazing art. The show has immense local fans and international visitors.The artists' exhibit over 28 years of stage experience and it's really stunning to visualize such beautiful art. People love the elegance and ever-charming performance with dazzling lights and mesmerizing costumes. 
         Alcazar Cabaret show is an exciting entertainment show in Pattaya and visualize those precious moments of luxurious art. Make your Thailand nightlife splendid and attractive with the colourful cabaret show in Pattaya. The show has a magnificent musical floor and most of the shows are performed by the 'lady boys'.
        Apart from the above listed; there are plenty of cabaret shows that entertain families and couples. 
Pattaya beach highlights
        Involve in couple spa and refresh your thoughts. The city has trending Spa and massage centres. Most of the visitors reach here to refresh their body, mind and soul. The massages start with traditional Thai massage and oil massages. Visitors can select from varying spa or beauty treatments. 
        Pattaya nightlife is ravishing with colourful lights, bars, discotheques, and lot more exciting features. Get the taste of Thai foods and international cuisine at the Pattaya Beach road. Beach road has plenty of shopping outlets. Enjoy shopping with varying delicacies at the trending destination of Thailand.