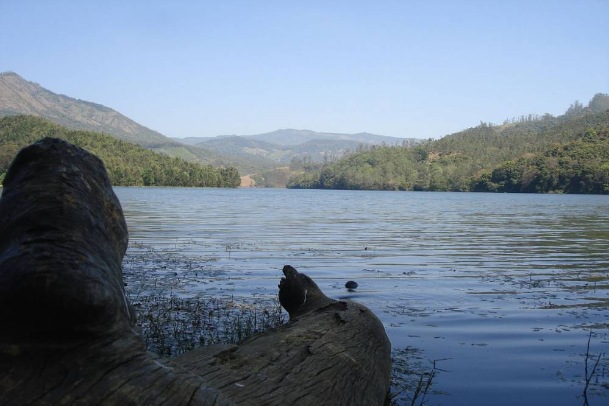 Kundala Lake
                 Enchanting picnic spot in Munnar!! Visualize the glittering effect of sunshine on lake waters and enjoy the beauty of Munnar Kundala Lake in absolute serenity. 
Kundala Dam lake Munnar location highlights
                 Kundala Lake is situated at a height of 1700 meters above sea level. It's approximately situated at 20 km distance from the Munnar town, on the way to top station. Visitors love to see the cherry gardens that blossom twice a year. Also, the lake is surrounded by the popular Neela Kurunji flowers that blossom just once in 12 years. This is a magnificent sight where the hills turn into refreshing blue beauties. 
Kundala Dam lake Munnar
                The lake leads to an artificial dam, which is another major tourist attraction in this region. Kundala Dam is the first Arch Dam in Asia. The dam was constructed for Pallivasal Hydro Electric Project in the year 1946. The dam is also called as Sethuparvathipuram Dam, reaching on the dam top, visitors could enjoy the sight of stunning green valleys, tea gardens, eucalyptus, pine trees and mesmerizing sight of gushing waterfalls. 
Kundala lake for honeymooners
                Kundala Lake in Munnar is a beautiful honeymoon spot for couples. Go through the misty lake pathways and spend some quality time for yourself. Get on a horse ride and travel around the lake to enjoy its scenic beauty. There are plenty of several horse riding facilities available on the lake premises. Boating is a stunning option to explore the deep lake. Hire a pedal boat and start pedaling with your loved one amidst the lovely lake. Take a ride on the alluring Kashmiri Shikara for an utterly unique romantic experience. Take a simple early morning stroll to the Echo point situated next to the Kundala Lake in Munnar. 
Kundala Lake travelers' tips
                Kundala Lake Munnar timings is not a big concern since the lake is open round the clock for visitors. Kundala Lake Munnar entry fee is free of charge, but there are special charges for boat ride and other attractions. Make sure to take your camera and capture the most-breathtaking views of the lake area. It's best to visit in the early morning to enjoy fog –filled surroundings. After sunrise, sunlight seems dancing on the water. 
               Monsoon is the best time to visit Kundala Lake in Munnar. June to September is the flower blossoming season and the entire lake premises is a beautiful green cover of fresh flowers. 
                Munnar is the nearest town to Kundala Lake and connected via road transport. There are plenty of bus services and taxi facilities from the nearest railway station. 
                Kundala Lake in Munnar is a must-visit tourist attraction wrapped in scenic calm and exciting activities. Find yourself surrounded in the fresh air, thick forests, high hills, and fragrant tea gardens.