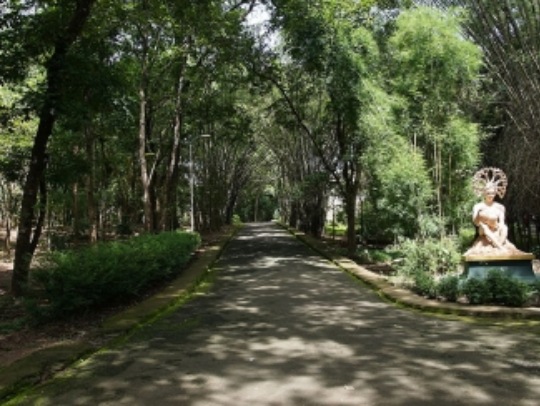 Nourished with raw nature, a unique combination of culture, lush green sceneries, elegant art forms, and the reflections of colonial rule, Nilambur is a lovely town situated in the Malappuram district of Kerala. Tucked away on the banks of the Chaliyar River in the vicinity of the Nilgiri Range, this small town is widely known as the 'Land of Teak Plantations'. The Nilambur rainforest is a great source of biodiversity. With stunning views, tribal colonies, waterfalls, and river valley, the place is absolutely wonderful.
Endowed with vibrant shades of scenic beauty, the area is packed with exotic wildlife and displays captivating illustrations of the previous era through several royal residences. Nilambur, which is blanketed under the extensive paths of the dense forest, has various kinds of wood growing around other than teak. Venteak, rosewood, and mahogany are mostly the types of wood that grow in the region. Cool-weather is the other attribute that makes this town a perfect destination for holidaymakers of all kinds.
Nilambur showcases a colonial influence, endorsed by large expanses of rainforests, dripping waterfalls, royal mansions, and tribal colonies. There are indeed a lot of sightseeing options in and around Nilambur. Conolly's Plot and other Teak Museum have been the most visited attraction in the town. Adyanpara Falls and Vellamthode Falls draw tourists with their cascaded waterways and picturesque landscapes.
Nedunayakam, a spot near Nilambur, is renowned for its rainforests, elephant shelters, and wooden homestays. The remote village of Aruvacode welcomes visitors with the pottery work for which the location is primarily known. The Nilambur Bioresource Park is yet another popular tourist destination, and the butterfly park nearby excites the nature enthusiasts.
The Nilambur Kovilakam Temple, the main deity of which is Vettakkorumakan, brings believers and tourists throughout the year. There are a lot of resorts and home-stays in Nilambur where travelers can relax and enjoy their time in solitude witnessing the amazing scenery. Restaurants in Nilambur offer delightful and traditional Malabar food that is absolutely mouth-watering. With a favorable climate and excellent connectivity, the town of Teaks encourages travelers to admire and explore the place.
Conolly 's Plot, one of the ancient teak plantations in the world, is the major tourist attraction in Nilambur. To get to this plantation, you have to take a short stroll through the Kerala Forest Departments area and you'll have to cross a hanging bridge constructed across the Chaliyar River. One of the best-preserved man-made teak plantations in the world, Conolly 's Plot will amaze you with its great abundance of trees and green space.
Another wonderful experience that Nilambur offers is a museum dedicated specifically to teak. The Nilambur Teak Museum, which functions on the Kerala Forest Research Institute campus, is a compendium of geographical, historical, esthetic, and scientific information on teak. The 'Kannimara teak' structure, the earliest naturally growing teak tree in the Parambikulam Wildlife Sanctuary, the life-size prototype of the trunk of the largest recorded teak growing in the Malayattoor forest, and the complex root structure of the 55-year-old teak are among the most fascinating displays here.
Providing a mesmerizing view, Adyanpara Waterfalls is located in the village of Kumbalangod 14 km from Nilambur. Surrounded by a thick cover of verdant forest, the water of this cascade is claimed to have divine medicinal benefits and is naturally purified. Set in a spellbinding environment of bamboo forests and thick vegetation, the Elembalai Hill is a natural environment of a wide range of wildlife, including bison, elephant, blue monkey, deer, and wild cats.
Due to its distinctive geographical location, Nilambur holds a prominent culture. The Royal Kingdom, which controlled the region long before the advent of the British and the policy changes carried out under the Madras presidency, gave Nilambur varied cultural features. This picturesque town is famous for its kind of art called Nilambur Vettekkoru Makan Paattu also known as Nilambur Paattu. This form of art is performed annually in the Temple of Nilambur Kovilakam.
How to Reach nilambur
Nilambur is well connected by road and bus services to Nilambur are available from major cities such as Ernakulam, Kozhikode, Thrissur, Palakkad, and Kottayam. Kerala State runs a regular bus service to this town. Nilambur had great connectivity to all neighboring towns by road. Tourists can also travel in private buses and cabs to get to this place.
Trains are available from Nilambur Railway Station to a few places, such as Palakkad, Shornur, Thrissur, and Ernakulam. Shornur is the major railway station in the vicinity of Nilambur and there are regular train services from Nilambur to Shornur. The train journey to Nilambur is a unique and wonderful experience, and the train passes through beautiful landscapes, lush green paddy fields, dense forests, and secluded villages.
Nilambur is an amazing place that should be added to your Kerala tour package itinerary. Honeymooners can also pick this place for their Kerala honeymoon package. Book your Kerala honeymoon package or Kerala tour package with Seasonz India Holidays. We offer amazing custom made tour packages that make your truly remarkable.