Fun |
Kerala

|
Aruna Nixon

|
03-02-2020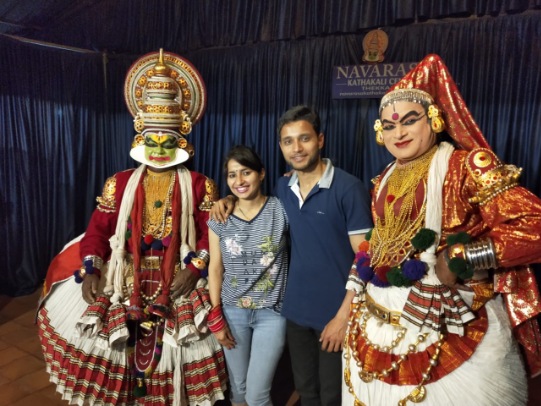 Kathakali and Kalaripayatu are the proud art form of Kerala that have won great admiration among the world-class art lovers.
  Kathakali in Kerala
            Kathakali originated 300 years ago from the Kerala's shores. Even today, the art form is well-preserved and performed all over the state. Kathakali is a combination of music, dance, drama, devotion, costumes and unique makeup. Kathakali is a divine art that retells all the great stories of the past. Most of them perform from Indian Epics and keep the viewers spellbound with their intricate and amazing performance. Kathakali dance is full of expression, every single quiver of lips, simple flicker of eye movement or movements involving fingers twirling has much importance in this unique art form.
           Kathakali dancer whether it's a man or woman wears a painted face and communicates stories using music, animated expressions, or mimes with hand gestures and facial expressions.
Best places to watch Kathakali performance
          Kerala Kalamandalam in Kochi , get a chance to visualize this art form either in temple festivals or programs for shorter-tourist groups take place all-round the year.
          Ernakulam Kathakali club is one of the best options to see Kathakali dance in Kerala. Enjoy night-long plays at the TDM hall or Ernakulathappan Hall.
  Kalaripayatu in Kerala
        Kalaripayatu in Kerala is one of the oldest martial art form, performed by artists who posses unique skills and training to withstand well-trained performers. Kalaripayatu history states it as an art form to combat. Combat training is undertaken usually at the professional Kalari training school. Kalaripayatu training usually begins with an oil massage of the entire body. This makes the body agile and supple. Kalaripayatu begins with the basic moves and finally learn with weapons like swords, spears, bow and arrows and lot more. Chattom means jumping, ottam mean running and marichil represents somersault, these are basic moves in Kalaripayatu.
        Kalaripayatu is the result of ultimate coordination between mind and body. It's a combination of correct steps with unique postures.
Best places to watch Kalaripayatu performance
        CVN Kalari Kozhikode and Trivandrum
        CVN is a reputed Kalaripayatu training school in Kerala. This training school provides regular classes or short term classes for foreign visitors. Apart from class, they provide special treatment for neurological, muscular and orthopedic diseases.
Kadathanadan Kalari center
        Kadathanadan Kalari center is situated in Thekkady, Kerala. They conduct regular performances and most of the visitors reach here to witness the ultimate coordination of mind and body.
         Kerala has several enriched art forms. Kathakali and Kalaripayatu is an entertaining and traditional art form that reflects the culture of ancient Kerala. Never miss enjoying these picturesque art forms while visiting Kerala.