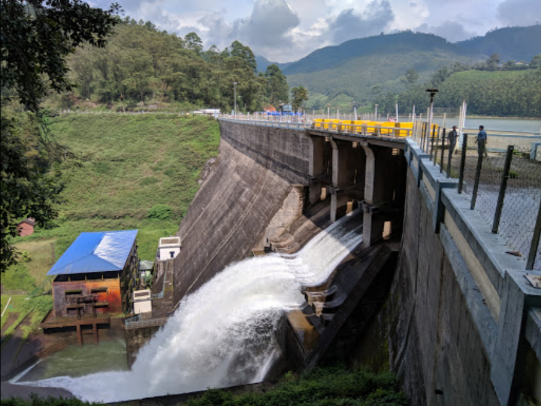 Mattupetty Dam
                Mattupetty Dam is the tourist hub of Munnar. Mattupetty Dam in Munnar is a most-visited tourist destination with beautiful picnic spots that bring in regular visitors all over the season. It's a regular sight for weekend getaways; the lake attracts families for a fine and well-spent evening. The view of valley is breathtaking, relax and enjoy the striking view points. 
                Mattupety Dam Munnar is situated next to the Anamudi peak. This hill station lies at a height of 1700 meters above sea level. The dam is located around 13 kms away from the Munnar town. Enjoy the surrounding green valleys and melt in the fabulous chill climate. 
                Mattupetty Dam was constructed as a storage concrete gravity dam. The project was accomplished in the year 1940s under the surveillance of Pallivasal Hydro-electric project. The dam was built with a motive of improving water conservation and power generation. Mattupetty Dam in Munnar is the primary source of electricity in this district. The dam and lake is blessed with constant water availability throughout the year. The surrounding welcomes plenty of wildlife and birds. 
                Mattupetty Dam boating is one of the best things to do in Munnar. The boating takes you through deep lake waters, with a chance to witness the exotic animals and birds. The still water is a huge attraction that reflects the tea gardens in the surrounding. Enjoy the speedboat ride organized by the tourist promotion council of Idduki. There are plenty of options to enjoy the tranquil nature. Go for boating, visitors can choose from a speedboat, motorboat, pedal boat or rowboat. Visitors can sit back and relax in the green landscape. Have a look at the beautiful lake surrounding and serene ambiance that gives you extra peace of mind.
                Mattupetty Dam Munnar offers a special trekking adventure in the Shola forest.  Trek through the hilly woods, and beautiful lake surroundings, situated just a few miles away from the dam premises. Go through the beautiful cattle village, the Indo-swiss farm project or livestock project was initiated in the year 1963. Visitors can witness more than hundred varieties of high yielding cattle in the farm. 
                 Aluva is the nearest railway station that takes about 109 km from Munnar. Cochin international airport is the nearest airport, around 108 km from Munnar. There are bus facilities from the Munnar to Mattupetty dam or visitors can opt for cab services.  June till July is the best time to visit Mattupetty dam, as the sky remains clear and free from fog, visitors can enjoy the picturesque scenes and indulge in several other activities.