Priyadharsini Planetarium
Fun |
Trivandrum

|
Aruna NIxon

|
03-02-2020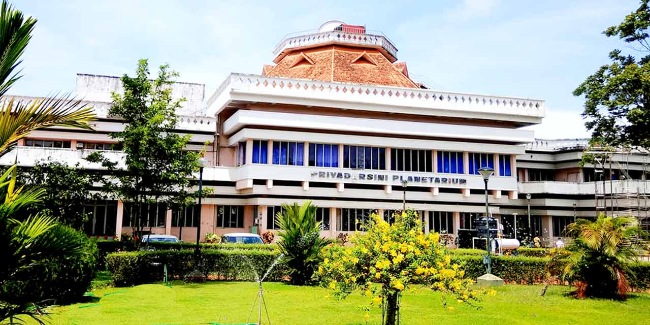 Priyadharshini Planetarium was opened in the year 1994 and recognized as the most unique planetarium in South India. It's a must-visit place while you reach the bustling Trivandrum city. Priyadharshini Planetarium Thiruvananthapura Kerala is titled as the first domed planetarium. The planetarium keeps on educating people with diverse variations of astronomy and keeps the viewers acquainted with latest evolutions in Astronomy. 
           Priyadharshini Planetarium shows open up a new world for the visitors, filled with science and mysteries of Universe. The auditorium has advanced GM-11 projector that can simulate even the star-studded sky from any location on the planet, according to the given time like any day 12500 years in the past or into the future. The planetarium depicts excellent virtual reality without even connecting to the device. Priyadharshini Planetarium Thiruvananthapura Kerala hosts program both in Malayalam and English that take visitors to the magical outer world space. 
              Travel with your kids to improve their curiosity on universe and its outer space. Gather some informative knowledge on Earth and surrounding planets. Get immersed in virtual reality and build a scientific interest in the minds of children. 
Priyadharshini Planetarium show 
            Priyadharshini Planetarium is an excellent choice to get into the galaxies and Milky Way. Be prepared to visualize the mind-blowing show of planets, stars, landscape and atmosphere of other planets. The auditorium is fully air-conditioned that allows end to end reality with surround sound speakers and sound studios. 
              Priyadharshini Planetarium show timings start at 10.30am, 3.00pm and 5pm. They organize a special show in English at 12pm, played on each working day. Apart from the indoor auditorium, there are plenty of outdoor exhibits like rocket models, airplanes and similar attractions. Get to know the minute details of every single model and make it a memorable experience travelling to the Trivandrum's planet city. 
             Priyadharshini Planetarium has a sky observatory section open to visitors on Thursdays and Fridays of the week from 6.30pm to 8pm. Also, check out the beautiful 3D and 6D shows, playful Children's Park, laser shows that mesmerize the evening and the popular musical fountain. It's a bundle of entertainment and perfect spot to spend your weekend with family and kids. 
Priyadharshini Planetarium Tickets
              The ticket rate for children starts at INR 40 per person and ticket price for adults is around INR 75 per person. There are special discount rates for group of children or students. 
            If you wish to enter Night sky observatory, then pay a nominal ticket of INR 20 for adults and INR 15 for children. 
            Enjoy the most thrilling 3D and 6D shows at INR 25 for adults and INR 15 for children. Also, catch up the laser shows and musical fountain with a simple ticket of INR 30 per adult and INR 20 per child. 
            Priyadharshini Planetarium online booking is a great option to pre-book your seats and enjoy a hassle-free journey!! Priyadharshini Planetarium is one of the best places to visit in Trivandrum.