Best Customized Kerala Tour Packages
kerala

|
sooraj

|
10-11-2020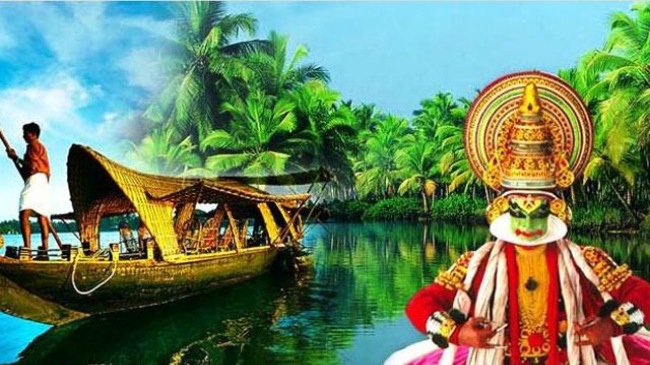 Popularly known as 'God's Own Country,' Kerala is a state situated on the Malabar coast of Southern India. Home to a wide network of backwaters, wildlife sanctuaries, picturesque tea plantations, hill stations, ayurvedic massages, exotic beaches, and colorful traditional art forms, Kerala has everything you need to choose from. Wedged between the majestic Western Ghats on the East and the Arabian Sea on the West, the narrow strip is a life-long destination. This small state has a diverse range of geographical features and cultures is a wonder in itself.
After the six months of the COVID-induced lockdown, Kerala had reopened the state to domestic travelers. Hill stations, national parks, houseboats, Eco-tourism spots, and beaches are now accessible to tourists in a controlled manner in accordance with the COVID-19 guidelines. Tourists can be assured that the Government of Kerala has put in place stringent safety and hygiene standards to ensure that the tourist destination is reopened safely to tourists.
Guidelines for tourists 
Domestic tourists who want to visit Kerala for a trip of fewer than 7 days are excluded from quarantine

 People who want to stay more than 7 days in Kerala should carry a COVID-19 negative certificate or should undergo a COVID test immediately upon entering the state. If one has failed to do both, then he/she must stay in quarantine for 7 days

All tourists should register in the COVID jagratha portal before entering the state. Here is the link for the registration https:/covid19 jagratha.kerala.nic.in 

It is advised to avoid traveling to Kerala if the person has symptoms of the virus

The use of face masks, hand sanitizers, and practicing social distancing is mandatory during your visit

Body temperature will be checked at all the tourist destinations
There is a wide range of Kerala tour packages available, but choosing the one that really best suits your interest, whether it's nature, history, culture, cuisine, or leisure, requires advice from experts. We will help you to shortlist Kerala tour packages from cochin that are perfect for your budget and preference. 
Kerala has a 600-kilometer stretch of coastline extending the Arabian Sea, palm-fringed sandy beaches, a network of gentle backwaters, fascinating rural life, mist-covered tea plantations, wildlife reserves littered with widespread flora and fauna, and spice plantations running rampant on its valleys and hillsides.
Make sure your travel itinerary contains these locations in your quest for the best Kerala tour packages. Here are some of the best places to visit in Kerala. 
Munnar
Munnar is the most popular tourist destination in Kerala and is one of the most preferred tourist destinations in a Kerala tour package itinerary.  Explore the magical beauty of Munnar and experience the feeling of standing above the clouds looking at the panoramic view of the misty valley blanketed by the perfectly manicured tea plantations rising and falling into the distance in Munnar honeymoon packages 
The curvaceous contours of the rolling, emerald-green tea plantations define the magnificence of the Western Ghats scenery. The tea plantation that flashes a vibrant green just disappears under a veil of mist, especially during the winter season.
To get a glimpse of local culture and an opportunity to visit the undiscovered acres of greenery, set out on foot. But before leaving Munnar, make sure you visit the Eravikulam National Park, Top Station, Mattupetty Dam, Kundala Lake, Echo Point, etc. 
Alleppey 
Popularly known as Kerala's getaway into the backwaters, Alleppey is a small district in Kerala famous for backwater tourism. It has an intricate network of waterways littered with a thousand houseboats either anchored or cruising through the waterways. A key hub for Kerala's coir industry, the Alleppey backwaters stretches to its south, north, and east, and brings you close with some splendid rural scenery that you will remember for some time to come.
Green waterways with a heavy fringe of coconut trees that shelter backwater life is a mesmerizing sight to behold. Traditional Kerala houseboats on the pristine backwaters are remarkable, and a houseboat cruise can prove to be a pleasant and rejuvenating experience. Book your Alleppey Tour package at the best possible price with Seasonz India Holidays
Wayanad
A trip to Kerala mandates a visit to Wayanad. An important elephant corridor, Wayanad, enveloped by the Nilgiri Biosphere Reserve which is a part of the Western Ghats, creates a mesmerizing view of the mountains. Located in a secluded region of the state, the presence of some idyllic coffee and spice plantations, and the serpentine roadways that wind up its hillside, make Wayanad an ideal retreat and a rejuvenating break from the densely packed backwaters and the beaches. Dissected by the Kabini River and home to India's largest earth dam, the Banasura Sagar Dam, Wayanad's fertile land has been a proven treasure trove for a variety of cash crops since the colonial era. Wayanad tour packages are popular among wildlife enthusiasts, honeymooners, and family.
 Varkala
Varkala is a beautiful coastal town in Kerala, known for its unique coastal cliffs adjacent to the Arabian Sea. It is popular for its hippie culture, shacks that serve great seafood, and playing vibrant music. It is located about 50 kilometers northwest of Trivandrum. The place is a hotbed for backpackers and people looking for a peaceful getaway.  A typical day in Varkala can be about lazing around the town and listening to the sound of waves from your window, attending a yoga session, reading in a library, taking a walk at night, enjoying delicious seafood in the evening. 
Fort Kochi
Fort Kochi is one of the most famous tourist destinations to visit in Kerala. It is widely regarded as the Queen of the Arabian Sea. For more than 500 years, travelers, traders, and explorers have found their way to this port city, a shimmering gem of South India. This has led to the blending of cultures embodied in its Chinese fishing nets, ancient mosques, Jewish synagogue, traditional houses from the Portuguese and Dutch era, as well as the rapidly fading artifacts of the British rule. 
A stroll around this multicultural town on the Malabar coast, littered with a unique combination of medieval European villages, will open you to some idyllic and artistic boutiques, cafes, and an abundance of heritage hotels and homestays. This city still practices its age-old art forms and remains the best place in Kerala to watch a Kathakali or Kalaripayattu performance.
Check out popular tour packages such as Kerala tour packages, Kerala Honeymoon packages, and Kerala houseboat packages at www.seasonzindia.com. Seasonz India Holidays offers you exciting tour packages that comply with all the COVID guidelines.