Top 5 Destination To Visit In Kerala
Kerala Honeymoon | kerala tour | munnar honeymoon packages |
kerala

|
sooraj

|
07-02-2021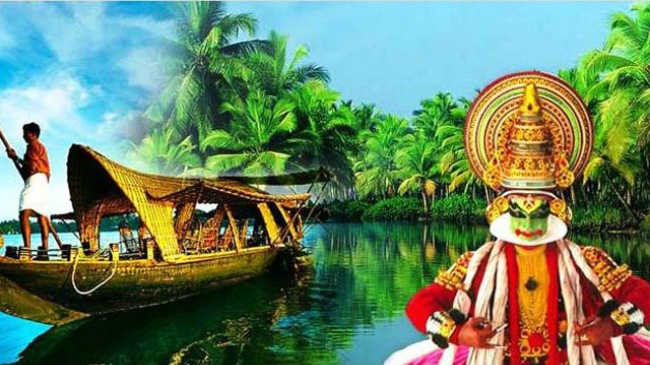 Kerala, the God's own country, which enjoys the blessings of Mother Nature, has a lot to offer to its tourists. Crafted by the hands of the Gods, Kerala is one of the most beautiful places in the world. The whole expanse of Kerala is bestowed with abundant greenery, picturesque beauty, unmissable attractions and some of the most breathtaking tourist destinations. From the lush green hill stations of the Western Ghats to the scenic coastlines of the Arabian Sea, serene backwaters to the exotic wildlife sanctuaries, the enchanting tea gardens to the roaring waterfalls, the relaxing Ayurvedic resorts to the thriving festivals, Kerala abounds in beauty and exhilaration.
The coastal state nestled between the majestic Western Ghats and the glorious Arabian Sea, is delight for travelers all around the world. Kerala can be visited throughout the year as it is a year-round destination. Whether it's family vacationers, honeymooners, solo travelers or adventure lovers, there 's something for everyone. Featuring a stunning landscape evident in its lush green hill stations, tranquil backwaters, enticing beaches, dense forests and scenic views, Kerala is the ideal place to spend your holiday alone or with your loved ones.
There are a number of tourist destinations to visit in Kerala, ranging from coastal towns to hill stations, and each of them offers you something distinctive and native to admire and cherish. It's very difficult to shortlist the tourist destinations in Kerala to narrow that down to five best spot. However, we have made an attempt here, and you could include as many in your Kerala tour package itinerary. The only recommendation while you're visiting Kerala is to take a long time off so that you can maximize your stay at the place. Wide range of Kerala tour packages are available here, so it's better to book a tour package for a comfortable and hassle-free trip. 
1) Munnar
Get ready to lose yourself in the timeless beauty of the place where three rivers meet, namely Kundalay, Muthirapuzha and Nallathanni. Located at an altitude of 1532 metres on the Western Ghats, the Munnar hill station makes you wonder if it is the birthplace of natural beauty. The beautiful green landscape, waterfalls, lakes, dense forests and tea plantations make the place a paradise on earth. Munnar is synonymous with Kerala tea plantation.
The place offers a breathtaking view of the misty hills, valleys and lakes. You might never have believed that watching tea gardens continuously might be so soothing and fascinating. Here you can have a sense of adventure as you can go paragliding, trekking and rock climbing. It is undoubtedly the best tourist destination in Kerala that is frequently visited by travelers all over the world. Munnar is the most important inclusion in Kerala tour packages.
Places to visit in Munnar
Mattupetty

Attukad Waterfalls

Eravikulam National Park

Top Station

Marayur

Chithirapuram

Kundala Lake
2) Alleppey
Alleppey is the backwater paradise in God's Own Country. Located around 63km from the Kochi and around 155km from Trivandrum, Alleppey or 'Alappuzha' is among the most coveted tourist destinations in Kerala. Located on the banks of the turquoise Vembanad Lake, Alleppey is regarded as the backwater hub of Kerala. This scenic place is known for its enchanting backwaters, scenic beauty, azure lagoons, evergreen coconut groves, intricate network of canals, and other natural bounties. Whether you are a nature lover, searching for romantic destinations, planning for a family or a solo trip, Alleppey in Kerala can be your next destination. A trip to Kerala is incomplete without a visit to this enchanting backwaters of Kerala.
Places to visit in Alleppey
Alleppey Beach

Vembanad Lake

Marari Beach

Krishnapuram Palace

Kuttanad
3) Thekkady
Thekkady is the true abode of the exotic wildlife in Kerala. Boasting of unspoiled forests and a rich flora and fauna, Thekkady is a paradise for nature enthusiasts. It is home to the largest tiger reserve in India, the Periyar tiger reserve. It is one of the oldest tiger reserves in the country and the forests of Periyar is embellished by the presence of endangered species including Tigers. 
To explore the wilderness of Periyar Tiger Reserve tourists has many options like from boating to jungle safari. Thekkady is home to various wildlife species here including elephants, tigers, deer, bisons and many more. Elephant safari and trekking is available here to take you inside the forest. Plantations and hill stations offer a picturesque setting to the place.
Thekkady boasts of a pleasant and cool climate throughout the year, making it suitable for a visit whenever you want to. Visit this scenic destination, situated amidst the rolling hills, green meadows and dense forests, and discover how beautiful and enchanting our Mother Nature could be.
Places to visit in Thekkady
Periyar National Park and Wildlife Sanctuary

Periyar river

Murikkady

Pandikuzhi

Kumily

Kurisumala

Chellarkovil
4) Varkala
Varkala is one of the best beach destinations in Kerala. It is the only beach in Kerala where elevated cliffs are located adjacent to the Arabian Sea. It is widely known for its hippie culture, the seaside shacks serving delicious seafood with energetic music and the samadhi of Sree Narayana Guru. Varkala has some of the best beaches, hills, lakes, forts, lighthouses, natural springs, religious sites-all this together makes this town a little paradise.
Varkala is popular for the Ayurvedic massage, and you would not want to miss the sunset view here. The beach is clean and offers plenty of relaxation. You could sit back and observe the calm atmosphere or go swimming and have a great physical exercise. One of the most crucial aspects of the beach is that it is less populated and therefore you can have complete solitude without being disturbed. Let the sheer beauty of the beach and the ambience sink in as you spend a peaceful evening here.
Places to visit in Varkala
Papanasam beach

Edava Beach

Varkala Tunnel

Sivagiri

Shree Janardhana Swamy temple
5) Kovalam
Kovalam is the most beautiful beach destination in Kerala. It is located 16 km from Trivandrum, the capital city of Kerala. It is a stunning beach embraced by steeply mounting headlands and surrounded by fertile coconut palms . Comfortably located in the southern part of Kerala, Kovalam has established its presence in the worldwide tourist map owing to its clean and surreal beaches lined with glittering sand and tall lighthouses. The private coves, the sun-kissed beaches, seaside luxury resorts and the thriving coastal towns of Kovalam revitalise the freshness of nature and the pristine atmosphere. Kovalam Beach is a combination of three lovely beaches-Lighthouse Beach, Hawah Beach and Samudra Beach.
The culture and history of this place are deeply embedded in the countryside, which attracts a large number of tourists to relish and revel in its surreal charm. The stunning blue waters of the Arabian Sea and the rocky headlands make this place a beautiful beach paradise in the state. Honeymoon couples as well as beach lovers greatly admire this beach as it offers romantic moments along with a lot of adventure and fun activities.
Lighthouse beach

Hawah beach

Samudra beach

Vellayani lake

Vizhinjam village
Wayanad, Vagamon, Kumarakom, Fort Kochi, and Athirappally are among the main tourist destinations in Kerala. Kerala has plenty of natural beauty to offer, and there is no dearth of amazing destinations. It is the perfect place to spend your vacation as Kerala raises your spirits. Book your Kerala tour package with Seasonz India Holidays at affordable rates. We offer exciting Kerala tour packages and Kerala honeymoon packages that can be customized according to your preference.