Top 6 Exquisite Honeymoon Destinations in Kerala
kerala

|
sooraj

|
20-06-2020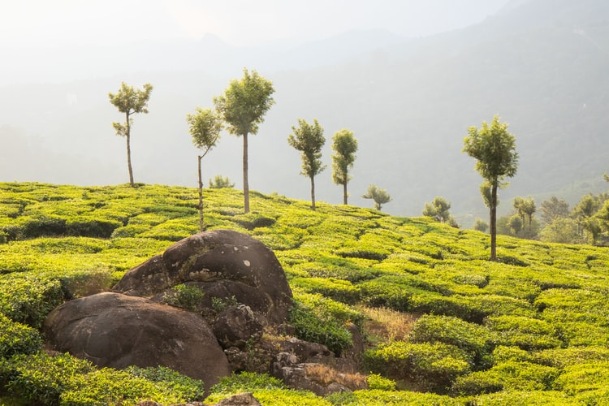 Kerala is widely recognized as God's own country, and for valid reason-it is home to some of India's finest honeymoon destinations. The place is covered by blissful greenery and gently flowing backwaters. This beautiful scenery and perfect setting rank Kerala high up on the list of India's leading honeymoon destinations. Newlyweds always fantasize of spending the first few months of their marriage in pure excitement. Coastal paradise of Kerala has always been one of India 's favorite honeymoon destinations for couples stepping into a whole new stage of their life.
The perfect time to visit Kerala for a honeymoon can vary significantly depending on what you're looking for as a couple. From wandering on the beaches to taking houseboat cruises, there's a lot that honeymoon couples can do here. These best honeymoon places in Kerala also offer lots of solitude where you can spend a peaceful time with your partner entirely undisturbed. Below are some of the most splendid honeymoon spots in Kerala where you can create amazing memorable moments with your loved one.
Munnar
Munnar is one of the most popular and finest honeymoon spots in India. The picturesque hill station is covered with green hills and stunning beauty. The tea plantations stretched all around add to its charm. You can take a walk along the mountain path with your partner and soak up the natural beauty that's all around you. The misty mountain ranges of Munnar are a fantastic spot to rejuvenate with your soulmate. Munnar is the most preferred location in a Munnar honeymoon package & Munnar tour packages itinerary. Since Munnar is situated at a higher altitude, the climate here is really cool, unlike other locations. The mountains that surround this town float in a gentle breeze, allowing you and your partner to enjoy beautiful moments here.
Alleppey
Backwaters of Alleppey is one of the top ten honeymoon destinations in India. One can not assume a more appropriate spot to commence the most special journey of their life. This surreal destination is a hotbed of Kerala's exotic backwaters, and it casts a magic spell on all those who visit it. You can devote a comfortable time with your life partner on the gorgeous and houseboats and enjoy looking at the splendid natural beauty that surrounds you. It is the most unique honeymoon destination in India that allows you to enjoy the romantic moments with your better half. Lush greenery, suitable climate conditions, and entrancing views could make your honeymoon an unforgettable one. The great time to visit Alleppey for honeymoon is during the winter months between November and February.
Wayanad
Picturesque, serene, and true to its original form Wayanad is a magnificent destination in Kerala that creates the perfect vibe for the newly-weds. It offers a perfect blend of adventure and romance to the honeymooners. The adventurous trekking trails and the climb up to the Chembra peak, the Banasura dam and the picnic place around it, the breathtaking the islands of Kuruva, the rolling hills, and streams moving through the resorts and private properties, the comfortable and welcoming weather, the thick forests, the tribal communities and their ways of living all make Wayanad an amazing and enjoyable place to spend an exhilarating honeymoon trip.
Thekkady
Thekkady is among the most incredible places in Kerala with its vibrant biodiversity. One looks for serenity in the most peaceful and beautiful spots during their honeymoon, and that's what Thekkady offers. You'll feel like you've entered your own private safe haven, covered by elegant flora and fauna. Here, the spectacular forests make a daring and romantic getaway. Couples can engage in sightseeing or stare back at the blissful scenery and admire the beautiful sunset by the brims. Thekkady is more of a picturesque landscape that allures and draws honeymooners from all around the world. There's a plethora of activities and things to do that offer a romantic getaway to treasure with your loved ones.
Kumarakom
Kumarakom is regarded as one of the perfect holiday destinations in Kerala. This elegant place is encircled by enticing water bodies. It is also the resting place of a large number of migratory birds and perhaps the perfect location to admire a gentle and romantic moment. You and your partner can really enjoy a comfortable honeymoon here. The customizable Kerala honeymoon packages allow couples to enjoy popular attractions and enjoy delectable Kerala cuisine. A romantic backwater ride in Kumarakom can be experienced along with an interconnected network of lagoons, lakes, and rivers on a fully equipped private houseboat.
Kovalam
Fine weather and captivating surroundings are the reasons why Kovalam is one of the best honeymoon destinations in India. The dreamy beaches, serene backwaters, lush greenery, and the fog-covered hills make for a perfect getaway for all couples. When the summer season begins with all its fury, Kovalam can be suggested for the best honeymoon spots in India in May. Enjoy every moment and every bit of the sun, the salty breezes, the turquoise water, the authentic delicacies, and the luxury of your accommodation while your stay in Kovalam. And to plan all of this smoothly, keep this handy guide with you. Kovalam Beach is one of the finest beaches in India. You can admire the breathtaking view of the sunset while listening to the relaxing music of the beach waves.
Kerala is indeed an excellent place for a romantic getaway. If you are looking for the perfect honeymoon packages, check out www.seasonzindia.com for amazing deals and discounts. Seasonz India Holidays offers luxurious yet affordable Kerala honeymoon packages.