Fun |
Thailand

|
Siji C V

|
29-02-2020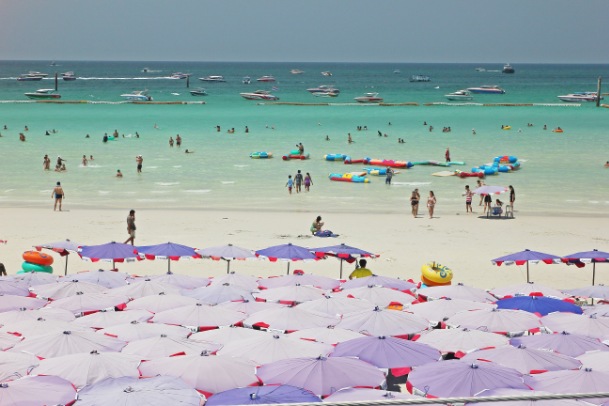 Get immersed in the beauty of Ko Hey coral reefs and visualize the vibrant marine life! Coral island or Ko Hey is a popular tourist destination in Thailand. It's located in the Rawai of Southeast Phuket, comparatively small than other islands in Thailand. The beach space of coral island is spectacular for a family vacation or honeymoon getaway. Get some quality time to spend your loved one or indulge in activities that engage your family trip. Enjoy a mesmerizing overnight stay to capture beauty of nightlife at coral islands. 
      Coral island offers a bustling day with plenty of activities for a fun vacation, 
Long beach in coral island
        Long beach is a pretty good place to unwind your adventurous side, get on a honeymoon phase enjoying the beautiful beach shores or indulge in plenty of adrenaline-rush water sports. The beach and its premises stay calm at night, but quiet busy during the day time. Enjoy a peaceful day at the long beach, rent deck chairs and sun loungers for extra comfort. Speed boat on long beach takes you through the most-exciting parasail outing. Eastern end of the long beach has an open-air pavilion used for massages. 
Banana beach
         Banana beach is one of the untouched beaches of Phuket. It's not much exploited by the development of tourism. Banana beach is situated to the south of coral islands with crystal clear blue waters and white talcum beach shores. Banana beach comes under the marine preservation area of national park and has limited buildings. The proflific aquatic life makes it a right choice for diving and snorkelling. Get engaged for the whole day with immense water sports and other fun activities.  
Water sports at coral islands
Snorkelling 
      Since the island is untouched by tourism, the aquatic life is splendid and one of the sought after activity at Banana beach. Go deep into the sea with your instructor and get instantly surrounded by the coral reefs and colourful fishes on either side. It's not advisable to feed the fish. 
Kayaking 
      Kayaking is a mesmerizing water sport to enjoy your honeymoon phase. Travel with your soul mate and explore the islands whole heartedly. Get kayaks on rent at affordable price or get it from your tour operators. 
Scuba diving 
      Scuba diving is a real adventure among diving experts. Wear your diving suits and get ready to explore the underwater treasure. Get indulged in the sight of exotic coral reefs and stunning fish species. 
Parasailing 
       Parasailing in coral island is extremely popular among tourists. It's the unique way to experience the crystal clear blue waters. Fly high and explore the surrounding greenery with your loved one. It's a great honeymoon water sport where you can indulge in the sport as couples and move on to discover your dreams. 
Banana boat rides
       Banana boat ride is something spectacular for your family activity. Get ready for a fun and thrilling activity with your family and friends. Avail exciting packages from your tour operators and relish your vacation on coral islands. 
       The island has moderate weather conditions and open all year long. Set your travel during the low season for great fun and entertainment.