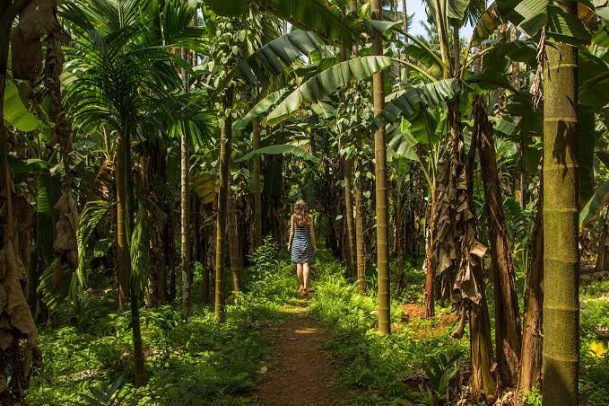 Spice Plantation in Kerala
              Kerala is an amazing destination for never-ending attractions among tourists. It's a perfect haven for holiday makers and business travelers. God's own country is popular for its Spice plantation tour. Spice plantation tour Kerala is an informative guide through the tropical paradise of varying plantations. 
              Kerala has some unique and captivating spice plantations that assure some alluring farms to roam around, learn about the spice cultivation, nature walks, bird watching trek, breathe in the fresh air, and taste the exotic spices. There are plenty of best spice plantations in Kerala, where you can see the cultivation of pepper, ginger, cardamom, vanilla, cinnamaon, and nutmeg. Few spice plantations in Kerala provide excellent accommodation within the farm for a mind-blowing experience. 
Spice Plantation in Kumily
              Spice Plantation Kumily Kerala is a renowned area where you could feel the aroma of fresh spices. The winding pathways through the plantation attract visitors all over the world. Tourists get a striking experience to visualize the growth of spices like cloves, nutmeg, cinnamon, cardamom, pepper. Kumily has a very comfortable climate and geographical setting for the growth of spices. Cardamom is one of the mostly-grown spices in Kumily. This accounts around 70% of the national production of cardamom. 
Spice Plantation in Munnar
              Munnar has one of the best spice plantations in Kerala.  The city has captivating farms that allow visitors to wander and enjoy the world's best spice plantations. Spice plantation is a prime attraction in Munnar that offer some picturesque scene and great information. Munnar is covered with a green carpet of plantations, creating an impressive place itself. The British established spice plantation in Kerala at Munnar cultivates over 12 different spices also get a chance to taste the exotic spices. Relish on the beautiful lush-green vegetation and wander around the different farm sections. 
Spice plantation in Wayanad
              Wayanad is a dream destination for most of the holiday makers and business travelers. Wayanad has one of the best spice plantations in Kerala. The district is a lovely mist-clad hill station with lush-green forests. The major spices grown here are coffee, tea, pepper, cardamom, and rubber. The tea packets and other spices cultivated in Wayanad is the mainstay for increased economy. Coffee-based farming is popular in wayanad, where coffee is a pure crop and black pepper is a mixed crop.
               Spice plantation tour in Kerala is an exciting journey and best visited during the months of September and March. It's the harvest time of spices and visitors can spot colorful birds during these seasons. Winters are quite comfortable for travelling and sight-seeing.