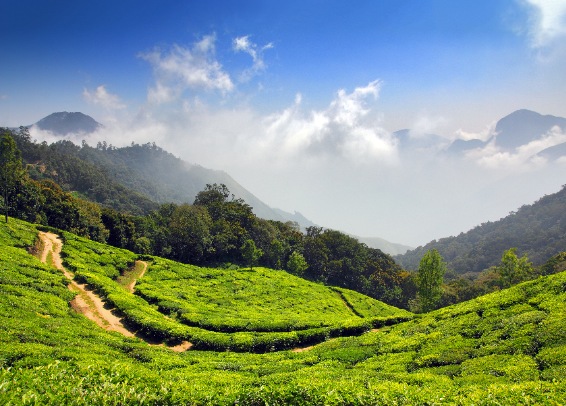 Munnar Tea Gardens
              Munnar tea gardens is a real haven for visitors, the slice of greenery looks stunning from the skies above. Tea gardens in Munnar perched at different levels give a beautiful helicam shot. Walking around the misty skies and falling into the green carpet fields make tea gardens a must-visit place for every traveler. Munnar has plenty of tea plantations sprawling across vast hectares of land providing great charm and beauty to the surrounding. 
Check out the popular Tea gardens of Munnar,    
Tata Tea or KDHP Museum
               Tata Tea is a popular tea plantation located around 2km from the Munnar city. Tata tea is considered as one of the best tea gardens in Munnar Kerala. The tea garden has a unique museum that showcases different antiquities. The burial urn obtained from the vicinity of Periakanal Estate is one of the famous antiquities. This dates back to the 2nd century and finally, visitors enjoy a short 30 minutes documentary that features the historical sojourn of tea museum. 
Sevenmallay Tea Estate
               Sevenmallay tea garden is a picturesque space to explore the beauty of leveling up tea plantations. The Sevenmallay tea estate was established in the year 1990 and owned by the popular Tata tea company. Walk through the mist-filled tea gardens of Munnar and realize the natural paradise on earth. The tea garden has a quaint bungalow situated right in the middle of the estate adding extra charm among visitors. 
Pallivasal Tea Gardens
                Pallivasal tea garden is mystic and popular tea garden in Munnar. It's located around few kilometers away from the Munnar city. Pallivasal tea garden is renowned for its charing beauty and ravishing meadows of tea plantations. Enjoy the beautiful backdrop of Sahya mountain range surrounding the green haven. Munnar tea gardens exhibit a comfortable and chill climate with easy access to all the neighboring sight-seeing options. 
Kolukkumalai Tea Estate
                The faraway haven from Munnar, Kolukkumalai tea estate is located around 35kms away from the Munnar city. Kolukkumalai is one of the best tea gardens of Munnar perched at a height of 8000feet. This orthodox tea factory claims to be the world's highest tea factory producing flavorsome tea. Go through the tea making process where tea leaves are handpicked, rolled, cooled, fermented and manually packed for worldwide distribution. Have some refreshing and flavoursome tea at the Kolukkumalai tea estate!!
                 Munnar tea garden is a great attraction and must-visit place for its international fame. This colonial hill station is splendid with great hospitality and pleasant weather. Enjoy a day trip amidst the gorgeous tea plantations and relish on a steaming cup of tea.