Have a wonderful weekend in the coastal town of Canggu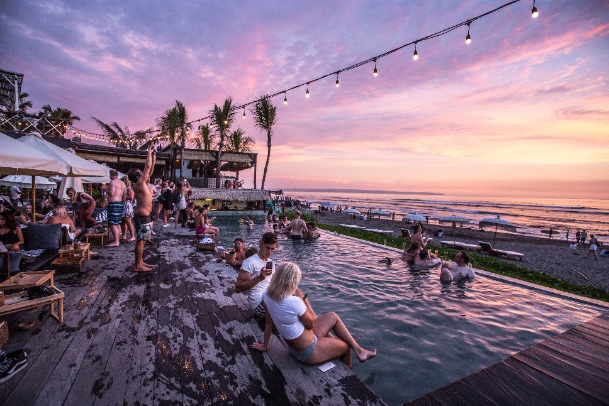 Canggu 
Canggu is a coastal town in the south-west part of Bali. Thousands of tourists visit Canggu throughout the year due to its vibrant ambiance, scenic views, and never-ending entertainment. The place extends between Kerobokan and Echo Beach, packed with one of the most delightful and vibrant beach bars. Enjoy a horse ride along the quaint Black-Sand coast of Canggu, spend a great time in a water park, enjoy surfing or take part in a cooking class with a famous local chef.
Bali's upcoming swankiest hotspot, Canggu, is extremely popular with tourists and digital nomads, as there are many contemporary villas between green rice fields and many of the new foreign-owned cafes. Canggu is also the ideal spot to shop for perfect souvenirs, handicrafts, and traditional Balinese clothes.
Main attractions of Canggu
Exotic Beaches
Canggu is a paradise for surfers for decades. The Echo beach is one of the most popular beaches in Bali. The waves in the beaches are best suited to surfing for both beginners and professionals. You can rent a surfboard and try to learn surfing.
Bali's sunsets are popular for a reason, and Canggu Beach is the ideal place to witness the beautiful sunset view and surfers riding in the golden sunset waves while sipping a cocktail or Bintang. It is filled with an ever more attractive collection of businesses, especially casual cafes, and restaurants. Other than Echo Beach, Nelayan Beach, Berawa Beach and Batu Balong Beach are the popular beaches in Canggu.
Berawa Beach is directly bordered by the nearby coast of Seminyak. The beach has a combination of dark black and grey sand and is home to one of Canggu's largest lagoons along the coastline. Nelayan Beach is an isolated beach located between Canggu's Pantai Batu Bolong and Berawa Beach.
Finns Beach Club
You should visit the Finns Beach Club, one of the favorite beach clubs in Canggu for an energetic party vibe where you can have fun and dance all night long. They offer a lovely open-air bamboo balcony offering traditional Balinese cuisine and a variety of other international dishes as well as a pool bar. There are a number of sports facilities and entertainment centers, along with a multi-speciality fitness center, bowling alley, a tennis court, and a spa center.
Splash Waterpark
Enjoy quality time with your family at Splash waterpark. With plenty of top-quality swimming pools and slides that offer fun and entertainment and is completely safe for anyone. Splash waterpark is an enjoyable place for children as well as adults.
Rice Fields
Enjoy a scenic drive through the main roads of the seaside villages of Canggu, where you could see the rice paddies of Pererena and Seseh. Many tourists come to these villages to enjoy the pleasant atmosphere of swirling green rice fields and the vicinity of the Indian Ocean. Rent a bike or a motorbike to enjoy a comfortable ride through the fields and adore the stunning views.
How to reach
Canggu is only 19 km away from Denpasar Airport. You can hire a taxi to get around the town of Canggu.
Best time to visit
The tourist season in Canggu is generally during July and August. The Bali surf season begins from May to September, even though surfing is possible all year round.