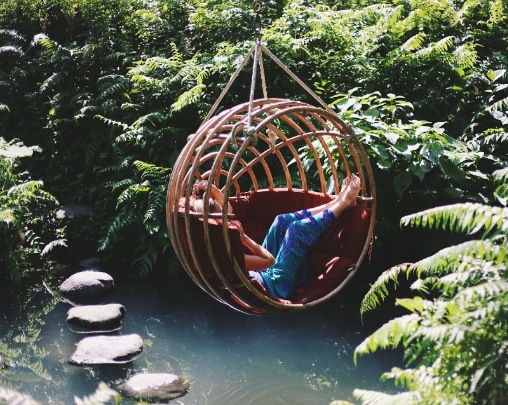 Rays of sunlight filtered through the tree leaves, idyllic beaches with turquoise hues, sun-kissed meadows, intricately carved temples, warm breeze caressing everything on its way, - this is Bali. It's easy to see why people get enthusiastic about Bali Tour Packages and keep craving for Bali delights even after their vacation. 

Rather than a tropical paradise, Bali is more of a magical mood that assures everything around you can only go right. Hailed as the 'land of Gods', prayers and rituals are paramount in consideration with the looming volcanoes, which adventure junkies find irresistible.
If you need a little more convincing on choosing Bali Packages over other destinations, read about the amazing scenic spots it boasts. Soak in the salty air, get the sunkissed hair, by availing a Bali Tour Package from India. The destinations we have compiled below will tell you why Bali is always a good idea! 
Ubud: Ubud is the cultural heartland of Bali. Surrounded by tropical forests and ancient monuments, Ubud stands as a land from the lost age. As of lately, Ubud has transformed into a favorite place for yoga and spiritual practitioners. Ubud monkey forest and the sights of rampant rice paddies are the most celebrated attractions in the town of Ubud. Make sure you sign up for this visual feast by booking a Bali Tour Package right away!
Best time to Visit: From July to September.
Kuta: Kuta is a mecca for surfing enthusiasts and adventure junkies alike. The Kuta beaches are world-famous for its ever inviting waves and ambiance. What makes Kuta even more special is the glorious high-octane nightlife. Simply put Kuta is the party land of Bali. Another factor that attracts thousands of people to Kuta is the friendly locals. Snatch the incredible nightlife of Kuta by giving the Bali tour packages we have made for you, a go.
Best time to visit: From April to September.
Denpasar: Denpasar is the capital town of Bali and is located outside the tourist-driven stretch of Bali.  Denpasar offers a chance for you to explore the culture, local delicacies, the lively markets, majestic temples and shrines of the Island. Denpasar is definitely the destination for shopping to your heart's content, since the prices are stunningly cheaper than your typical tourist destinations.
Best time to visit: From May to October
Canggu: With a little bit of bohemian lifestyle and hipster café culture sprinkled over, Canggu welcomes visitors from all around the world. Famous for La Laguna Gypsy market and Pura Tanah Lot Temple, this pristine beach town invites you to a laid-back tropical experience. Canggu is the perfect choice for the newlyweds who are on Bali tour packages for couple.
Best time to visit: Canggu enjoys warm weather year-round and April–September is considered as the best time to visit Canggu.
Celuk Village: This small traditional Ubud village, also known as Silver Village, is renowned for its excellent gold and silver craftsmanship. Celuk is the source of the production of various jewelry items and gemstones in Bali. Along with the nearest attractions like Puseh Batuan Temple and Pura Dalem Bentuyung Temple, Celuk has been playing a key role in Bali tourism. Avail India to Bali tour packages and savor the quaint charm of this exquisite village!
Best time to visit: The months of April to August are the best time to visit the village.
Kintamani: Trekking Mount Batur is one of the most amazing things travelers can do in Bali. And that's exactly what makes Kintamani iconic. The mesmerizing Ulun Danu Batur Temple, Trunyan Village, Penulisan Temple, Toya Bungkah Hot Spring, Tampak siring or the Holy Spring Water Temple, etc are some of the most sought after attractions in Kintamani. 
Best time to visit: May to October is the best time to explore this piece of land.
 Bedugul: Bedugul is a photographer's paradise. The lush green forests and ancient Hindu temples are a sight to behold. The GitGit Waterfall, Banyumala waterfall, the stupefying beauty of the lake temple Pura Ulun Danu and cliff side floating Uluwatu Temple give Bedugal a mythical charm. Explore the postcard-perfect spots of this amazing destination by booking Cheapest Bali Tour Packages right away!
Best time to visit: The months of May to October is deemed as the perfect time to visit this gem of a place.
 Kuta Selatan: Kuta Selatan also known as South Kuta is home to some of the most bewitching sceneries and marvels in the whole of Bali. Kuta Selatan leaves visitors with an enchanted tantalizing view of the ethereal Bali. Explore the charm of abandoned planes and temples by choosing from our many Bali Tour Packages for family.
Best time to visit: The Garuda Wisnu Kencana Statue, Luhur Uluwatu Temple, the abandoned Boeing 737 aircraft and gorgeous beaches like Jimbaran Beach and Suluban Beach are best visited during the months of May to October.
MAS: MAS is a traditional artistic countryside located close to Ubud and is famous for its local artisans. The world-renowned Balinese wood carvings are what attract travelers to this little village. The heavenly scenery, blissful landscapes and the lack of tourists easily make MAS a perfect holiday destination. Dissolve into the quaint village charms by booking your Bali Tour Package right away.
Best time to visit: The village is a year-round active location and has been attracting a lot of visitors lately.
Danau Batur: The myriad hues of colors that reflect in the picturesque crescent lake will make any globetrotter orgasmic. Danau Batur or Lake Batur is situated at the foot of the infamous Mount Batur Volcano. Trekking, climbing, taking a dip in hot springs and visiting the rice terraces are some of the most revered activities to do in Danau Batur. Embrace this riot of charms by availing tour packages to Bali
Best time to visit: From May to September.
 Mengwi: The temples in Mengwi are fine examples of the architectural achievements of Bali. Take a break from the serene beach environments and shopping markets and stroll through the Taman Ayun temple complex. Although it is a year-round destination, the place turns into paradise during the rainy season. Bali Bird and Reptile Park and Badung Market are the two other attractions near Mengwi. 
Best time to visit: From May to September. 
 Nusa Island: Nusa islands are a physical representation of how Bali would've looked like in the past. Nusa Islands is an island trinity comprised of Nusa Lembongan, Nusa Ceningan, and Nusa Penida. Destinations like Devil's Tear, Mahana point cliff, Banaha Cliff viewpoint, Angel's Billabong and Broken Beach are few of the many drop-dead gorgeous places that exist in this trio of wonderland.
Best time to visit: Just like Kuta, the months from April to September are the best time to visit Nusa Island.
 Temple: Aesthetically and traditionally, temples in Bali are nothing like what we see in India. The majestic cliff-side temple of Uluwatu is a fine example of that. Blue lagoons, beaches to surf your heart's content, cliff jumping and learning Balinese cultures are some of the diverse attractions here. 
Best time to visit: The months from June to August is reckoned as the perfect time to explore this region.
 Ulun Danu Bratan: Ulun Danu Bratan might be the most photographed temple in Bali. Surrounded by water and encircled by mountains, the Floating Temple seems like a giant creature slumbering in its palace above the water. Clasp on to the stillness and serenity this beautiful ancient Hindu shrine provides. Just take a break from your hectic lifestyle and enjoy life for a change.
Best time to visit: Can be visited all year round from 09.00 AM to 02.00 PM.
 Pura Tanah Lot: Pura Tanah Lot is another iconic temple complex in Beraban village.  This ancient coastal Hindu temple with its spectacular landmark withstanding the battering waves       is a photographer's dream. This enthralling rock formation is one of the most popular tourist destinations in the entire Bali. 
Best time to visit: The best time to visit this beauty is from January to April or September to November. 
 Ubud Palace: Ubud Palace or Puri Saren Ubud is an iconic cultural landmark of Bali and pulls visitors from all around the world. Some of the visitors come to the palace just to witness the evening cultural performances, especially the barong dance. Ubud Palace is a perfect example of pure authentic Balinese architectural brilliance. This is one of the few reasons why Ubud is famous for.
Best time to visit: The best time to visit Ubud palace is from July to September.
 Rock Bar Bali: If you are searching for the most stunning sunset location in Bali, just stop right there. After all the trekking, surfing, snorkeling and temple visits, you might want to sit down and have a drink. Rock bar of Ayana resort is a world-class open bar and the package included for those who stay in the resort is an advantage to enter the Rock Bar without waiting in line. A Bali trip without a Rock bar is a pretty lame vacation.
Best time to visit: It is open all year-round and the best time to visit the bar is during the sunset.
Gunung Kawi (Temple): Walls covered with ancient stone carvings and majestic monuments all around, this astounding 11th-century temple structure is a hidden gem in Bali. Often cited as an offbeat Bali location, Gunung Kawi or Pura Gunung Kawi is more than just a mere tourist attraction. The temple is enveloped in a mystical aura that reels every traveler closer and flabbergasted.
Best time to visit: From April to September.
 Tirta Gangga: Once a palace, Tirta Gangga has transformed into a water palace/garden. This sumptuous palace built-in 1948 by the last king of Karangasem is a pretty famous attraction. The name Tirta Gangga literally translates to "Blessed Water of the Ganges". 
Best time to visit: Even though it is a year-round destination to visit in Bali, it is highly recommended to visit the palace during the festival days in the months of April, May, August, and September.
 Jimbaran: Jimbaran is one of the most famous honeymoon destinations in Bali. The white lustrous sands and pristine beaches make it a perfect destination for a romantic getaway. Jimbaran predominantly consists of luxury resorts and since its proximity to the airport; Jimbaran is discerned as an ideal spot in Bali. During sunset, the entire beach turns into an ornate golden color and the famous seafood on the beach comes later.
Best time to visit: From June to September.
Lovina Beach: Known for water sports, diving, snorkeling and dolphins, the black sand beaches of Lovina is a prime example for the grandeur of northern shores in the island. Great beaches, delightful cuisines and value for money activities make Lovino a must visit in Bali. 
Best time to visit: Unlike the southern counterpart, the northern region of Bali is less crowded and is mostly visited during the months of April, May, and June to September.
 Candi Dasa: Candi Dasa is a crown jewel of Bali and a must in everyone's Bali itinerary. Goa Lawah Temple, Lotus Lagoon, Jemeluk Viewpoint, and the crystal beach are some of the tourist hotspots in Candi Dasa. Candi Dasa offers a much-needed change of pace and a ferocious breath of fresh air. 
Best time to visit: Just like the rest of Bali, the best time to visit is from April to September.
 Singaraja: Singaraja is one of the least popular towns in Bali. The bucolic landscapes, the secret beaches, the active markets, and enrapturing waterfalls are reasons for travelers to visit Singaraja. And the fact that this place is so notoriously underrated is a thing of discomfiture. Indulge in the isolated delights of Bali by availing the best Bali Tour Packages from India.
This small port town in Northern Bali is yet to be explored.
Best time to visit: July to September is the most pleasant time to travel to Singaraja.
Besakih Temple: Besakih Temple is the most iconic landmark in the whole of the Bali and the most important Hindu temple of worship among the Balinese people. Besakih Temple is also the biggest temple structure on the island and has been celebrated as Bali's Mother Temple. The whole temple complex is comprised of 23 structures which are nothing short of architectural achievements.  Located at the slopes of Mount Agung, it surely is a top tier bucket-list-worthy destination.
Best time to visit:
The holiest temple festival, Odalan is celebrated during the month of April. The temple and the locals will be more festive during the month of April. 
The Sidemen Valley: Known for its agriculture and rich fertile soil, the sidemen valley stands as the reminiscences of a rich bygone era of Bali. The Sidemen valley is a paradigmatic Bali experience one should look forward to. Swaths of emerald green rice terraces, quaint villages and picturesque grasslands nestled in the rustic rural side make Sidemen a one of a kind destination in the entirety of Indonesia. Go through the top-selling Bali Tour Packages and avail all of these delights right away!
Best time to visit: The best time to visit this paradise is from late May to October.
For a hassle-free tour experience, we highly recommend booking Bali Tour Packages from the best tour operators near you. Be it a Bali tour packages from India, or if you are specific about the departure points like Bali tour packages from Mumbai or Bali tour packages from Kerala, we have got you covered. Check out amazing deals on tour packages to Bali on our website.