Athirapally

|
Aruna Nixon

|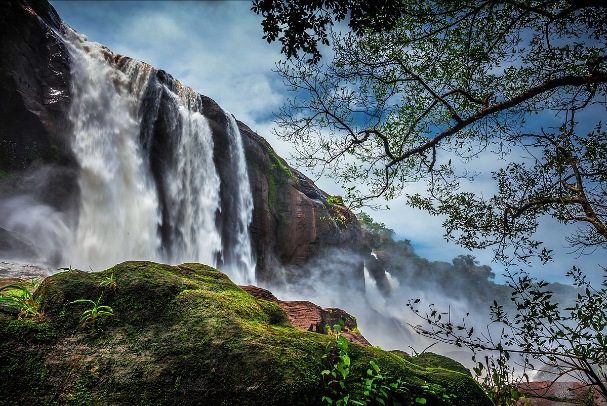 Breathtaking waterfalls in Kerala
              Get mesmerized in the beauty of huge cascading waterfalls. Enjoy the sight of this mighty waterfalls, travel to the cultural abode of Kerala. Thrissur is an exciting destination housing the largest waterfalls in Kerala. Athirapilly waterfall is situated around 60km from the Thrissur city. This marvelous cascade of frothy waters starts from the Anamudi Mountains of Western Ghats. . Athirapilly waterfall in Kerala is one of the most-visited places and often referred as the 'Niagara falls of India'. This natural creation flows through the verdant greenery of Vazhachal forest range, moving towards the Arabian Sea creating a spectacular view of gushing water source, thick jungles and azure sky. 
Athirapally waterfalls trekking
               Trekking through the giant pathways is a thrilling and mind-blowing experience for adventure junkies. The trek routes are well-maintained to visualize the stunning view of this mighty waterfall. Get accompanied by the colorful birds and lot of monkeys. Athirapilly waterfalls Kerala trek path is simply amazing and designed for a quick adventure. 
Jungle Safari in Athirapally waterfalls 
               Jungle safari is a lovely journey from Chalakudy to Malakkappara. It's a huge 90km tour across the Sholayar ranges and rainforests of Kerala. There are plenty of sight-seeing options in this jungle safari like Thumboormuzhy dam, butterfly gardens, Kauthuka Park, athirapilly falls, valleys, rainforest of residents, some unique wildlife and tea gardens. Relish on the best sight of jungle safari with the help of tourist promotion council and administrative body of Athirapilly. 
Recreate Striking movie sequences
               Athirapilly waterfalls in Kerala is an alluring location for shooting and photo shoots. The scenic beauty of Athirapilly and surrounding village attract film makers all over India. Several astonishing song sequences were captured in the beautiful views of Athirapilly waterfalls. Few scenes of the English movies 'before the rains' and 'Pirate's blood' were shot here. The beauty of Athirapilly is breath-taking in movies and real life. 
Stay and relax 
                Athirapilly waterfall resorts attract tourists across the globe. Stay amidst of the lush-green forests and get synchronized with the nature's bliss. There are few exciting resorts that assure excellent vacation with great accommodation and mouth-watering Kerala cuisine. Melt in the marvelous back drop of rustling jungle foliage and scintillating waters. Enjoy pure hangout with your family and friends. Also, have a day out at the nearby water theme parks Silver storm and Dream world. 
Best time to visit  : September to January is the best time to visit Athirapilly waterfalls, where you can enjoy the beauty of cascading water and indulge in the adventurous trekking. Athirapilly waterfalls timings start from 8am to 6pm. The entrance fee is around INR 50 for Indian citizen adults.