Fun |
Alappuzha

|
Aruna Nixon

|
03-02-2020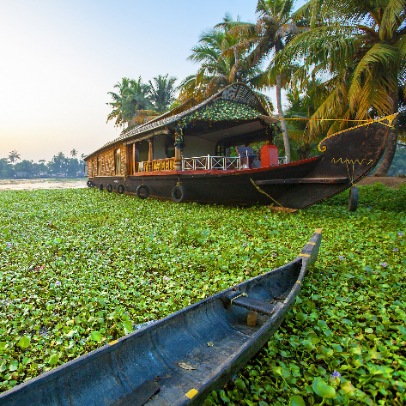 ​
            Have a relaxed day at the Venice of East!! Get indulged in the sight of brackish lagoons, interconnected lakes that resemble the famous European city. Alleppy or Alappuzha is a haven for nature lovers who love soul-soothing greenery and enchanting backwaters.
 Alleppey Backwater highlights
         The backwaters were used as a mode of transportation, agriculture, and fishing. Later the district evolved as a tourism hotspot. The main attraction of Alleppey backwater tour is the overnight journey in houseboats. Alleppey is famous for its houseboats, renowned for its comfortable rooms and other attractions. Visitors can select from plenty of houseboats, luxurious houseboats with an open deck, or budget-friendly houseboats according to your requirements.
         Enjoy a mesmerizing ride through the lush-green surroundings and witness the daily routine of fishermen or farmers who involve in the manufacturing of toddy, choir and other handicrafts. Relish on the sunset view, involve in bird watching, stargazing and village visits.
         Visitors interested in exploring the Alleppey backwaters, go for Kayaking or Canoeing. Get around the beautiful backwaters and explore the quaint villages. It's essential to keep your control or else, you will be quiet motionless in the middle of the waters.
  Romantic houseboat cruise in Alleppey backwaters
          Houseboat cruise is the latest addition to the list of entertainments in Alappuzha. It's a simple romantic getaway with your partner. There are plenty of honeymoon packages that attract several newly married couples. Travel through the alluring and unique crisscrossing network of canals and explore the entire area while relaxing in your comfortable house boats.
          The houseboats are usually managed by at least three people, a cook, guide and an oarsman. Get mouth-watering food recipes from the in-house cook. Listen to the guide while locating the important landmarks. Oarsmen make sure visitors have a smooth ride while relaxing in the calm waters.
          Stay overnight in the houseboat and relish on the beautiful starlit night scene before the cruise drops you at your destination. Punnamada Lake is the boarding point, renowned for its Nehru Boat race. Alleppey backwater houseboats start from Budget friendly boats, luxury boats, and super-deluxe boat. Visitors can choose from the package options provided by the tour operator.
   Alleppey Backwater-Travel tips
           Nehru boat race is a traditional snake boat race that marks the celebration of Onam festival. Alleppey backwater resorts assure excellent stay and excellent water front view. Stay relaxed and enjoy the natural beauty of this backwater city.
            Visit during the Onam days to witness the majestic Nehru boat race or else choose between October to April for a pleasant temperature to enjoy the houseboat rides.