Fun |
Ooty

|
Limi Tresa

|
01-03-2020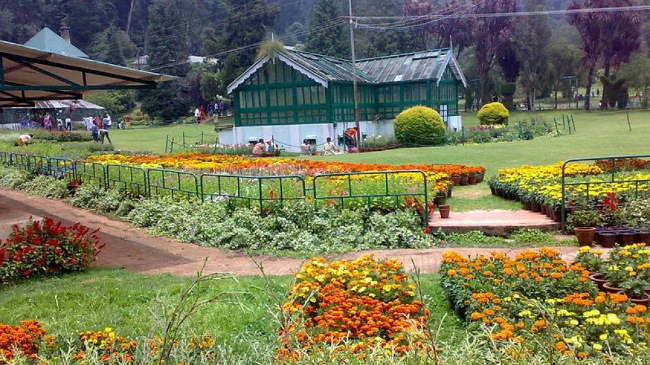 Ooty botanical gardens is a splendid sight for the visitors, it's a government organized botanical garden in Udhagamandalam, near Coimbatore. The garden is sprawled across 22 hectares of land and divided into several sections according to the comfort of visitors. Get an endearing sight of colorful flowers from the moment you get into the garden. More than 160 years, foreigners and locals have visited this spectacular lush-green garden, which comprises a variety of flowers, ferns, and orchids. 
Have a look at the layout of Ooty botanical gardens, 

                  Lower garden – the lower garden has a lush spread of Kikiyu grass embellished with over 125 fern species along the road leading to Raj Bhavan. A carpet-bed design of Indian Union is laid out with assorted plants and fossil trunk; it's a 20 million old creation, erected on a platform. The plant-filled map is a special attraction among tourists. Some of the tree varieties in lower garden include Cedrus deodara, Hymnosporum flavum, Araucaria bidwillii, Eucalyptus maculate, Quercus grilffithi, Cordylline australlis, Cupressus funebrils, and Cupressus macrocarpa.
                   New garden
– new garden is a recent addition with a beautiful rose garden as any as hybrid. There are special flower beds and carpet beds that represent the emblems of Government of Tamil Nadu and Government of India. There are plenty of tree shades to spend out your romantic evenings, if you're on a honeymoon trip. There is a quaint pond with aquatic plant varieties. Tree varieties in new garden include Taxodium mucronatum, Juniperus virginiana, Pinus wallichiana, Pinus canaariensils, Araucaria cunninghammi, Eucalyptus eugenoides, and Cupressus lawsoniana. 
Italian Garden
– Italian garden was laid out by the Italian prisoners after the World War I. There are plenty of trees typically laid out in Italian Fashion, where the flower beds surround the central octagonal bystand. The Italian garden has a crescent shaped lake that gives way to lotus and other aquatic plants. Cosmos, Pansy, Phlox, Zinnia, and few perennial flowers are the latest attraction. 
                    Nurseries
– Nurseries are lying about 300 feet above the lower lawns with the motive of breeding exotic plants.
Ooty botanical garden plants
like ferns, succulents, orchids, cacti, and begonias are the main focus of nurseries. They also grow plants for cut flowers for trial purpose. 
Ooty botanical garden flower show
                    Flower is an alluring event that takes place every year in the month of May. The flower show exhibits a variety of plants species and flowers. It's a great sight to behold for tourists from all over the world. It's a two days celebration where the entire garden is decorated with special floral arrangements, Japanese decorations, Indian flowers, vegetable carvings and flower rangolis. 
Ooty botanical garden
timings 
                   Ooty botanical garden is open from 7am in the morning till 6.30pm in the evening.
Ooty botanical garden entry fee
is around INR 30 for adults and INR 15 for kids. They charge an extra amount of INR 50 for still photography and INR 100 for camera video. Ooty botanical garden is around 2.5kms away from the railway station and easily accessed by walking or hiring auto rickshaw. Have a pleasant walk through the ravishing and colorful flower gardens.