Sign up for Nilgiri Mountain Toy Train
Adventure |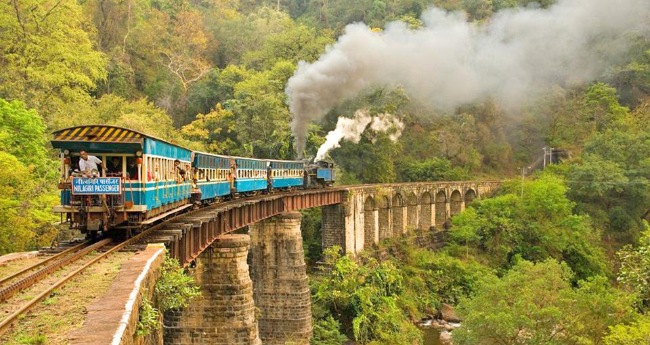 Enjoy a scenic ride through the misty rolling mountains and ravishing hill slides! Nilgiri mountain toy train is a key attraction among world-wide tourists. The train's popularity and history, makes it one of the world-heritage sites by UNESCO in 2005. The train services started early in the year 1899, it continues to surprise visitors over the past many years winding through the best of nature. 
Nilgiri Toy Train
                   The toy train covers a total distance of 46kms and assures a spectacular journey of 5 hours. The travelling is a beautiful journey filled with picturesque routes and fascinating feature is that, youngest X class locomotive is over 50 years old and oldest locomotive is over 80 years old.
History of Nilgiri Toy Train
               The idea of toy train emerged in the year 1854 and finally executed after forty years. It was built by a Swiss inventor Riggenbach and created a line up to Coonoor by 1899, later it was extended up to Fernhill and then OOty in 1908. Ooty was the recreational spot for colonial officers after running the prestigious East India Company. 
Toy train route map
                The ride actually starts from Mettupalayam, moves on a small pace on river Bhavani. Initially, the train travels 5 miles in a plain region, but the next 12 miles engine pushes the coaches upward at a height of 4,363 feet. The track crosses over 250 bridges and 16 tunnels. Covering all the areas like Mettupalayam, Coonoor, Kellar, Wellington, Ootacamund, and Lovedale on its way! Ooty toy train is one of the best options to explore the pristine treasures of Nilgiris. The train moves in a slow pace weaving amidst the dark forests, snaking tunnels, plunging ravines, sharp bends, fragrant tea plantations, and long trail filled with fog! Enjoy a beautiful journey up and down through the green lush and verdant slopes. It's a lifetime experience to travel in this toy train and experience the dancing sunlight on drizzling waters. The train offers a unique and steepest trip in Asia and must-try activity while heading to the queen of hills. 
Starting point of Nilgiri Toy Train
                  Mettupalayam railway station is the junction between toy train and broad gauge. The platform is specially crossed by the passengers to board Toy Train. Nilgiri Express arrives in Mettupalayam at 6.15 am from Chennai and connects with the toy train departure time. Visitors can also board in Nilgiri Express train from Coimbatore at 5.00 am. 
Pre-book for a comfortable journey
                 The train seats are classified between first class, second sitting, and special unreserved category. First-class is limited to just 16 seats and hard to get while booking. Other classes are expanded to 160 seats. It's highly recommended to choose the first-class seats for a priceless amazing experience. 
Nilgiri Mountain toy train timing and schedule
Mettupalayam – Ooty MG Passenger / Train No – 56136 departs at 7.10 am from Mettupalayam and arrives at 12.00 pm in Ooty. 
Ooty – Mettupalayam MG Passenger / Train No – 56137 departs at 14.00 pm from Ooty and arrives at 17.35 in Mettupalayam. 
Pre-book your tickets through IRCTC website or avail tickets at the time of departure!