Places to visit in Bangkok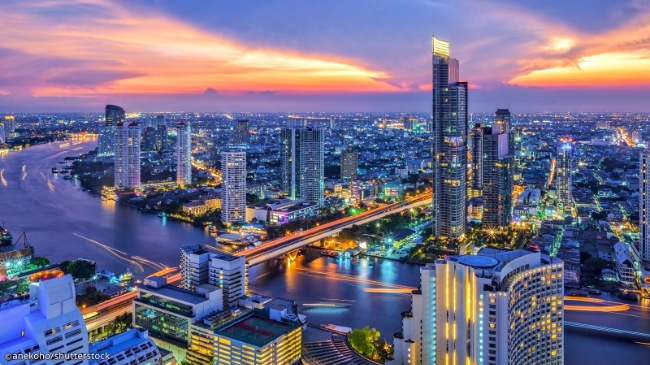 The city capital of Thailand - he scintillating Bangkok is dotted with many Historical, Manmade and Natural attractions. Bound with innumerable night markets, shopping malls, and local markets, Bangkok has also become a hotspot for shopping. Apart from the buzzing and happening streets, Bangkok also has tranquil villages with Buddhist temples and traditional spots with a quaint charm. Check out the must-visit places in Bangkok if you are on a Thailand Tour Package:

Khao San Road
Fondly referred to as the 'center of the backpacking universe', by famous author Alex Garland, Khao San Road has an unparalleled charm to it. Ranging from majestic palaces, forts, and National Galleries to tattoo shops, massage parlors, eat-outs, dress and souvenir stalls. You can blend into the street buzz, exchange your tales with other travelers and buy keepsakes for everyone back home. Budget travelers can definitely head to this spot for the cheapest accommodation, dining and clothes option it offers. 
This former Bangkok rice-market has become the backpacker's 'best place to disappear' by essayist Susan Orlean. From happening bars, handicraft products, and homemade delicacies to strange products like fake ids and of Harvard degrees, Khao San has something for every traveler coming it's way. You can watch the monks on this religious road, savor the street food, shop all you want and return home with vibrant memories it gave you. This 200-year-old road is situated right in the heart of Bangkok city.
Best time to visit: 10 am to 2 pm
Chao Phraya River
Hailed as the  'river of the Kings' this beautiful river connects Bangkok and the Gulf of Thailand. So many picturesque sights are offered by this old river located in Bangkok. You can find vendors on floating boats selling food on this river. The bank of the river is dotted with so many historical sites and age-old temples. So many fishes, including the endangered ones like red-tailed black sharks and the giant barb which lives in freshwater, are found in abundance in this river. The breeze from the sea is fondly savored by the tourists on a laid back Thailand tour package.
Private long trial boats are available for exhilarating boating experiences. You can find a calm corner and watch the barges and boats floating all evening. Don't forget to sign up for a dinner cruise through the beautiful Chao Phraya river if you are on a tour package to Thailand. 
 Chao Phraya river cruise Price: THB 700 - 1500
Wal Pho Temple
Referred to as Temple of the Reclining Buddha Wat Pho remains extremely evocative for the charm and serenity it possesses. This famous temple which has a giant premise around it is located near the Grand Palace in Bangkok. The first time visitors should really go see the 46 meters long giant reclining Buddha covered in gold leaf. 
Wal Pho Temple is one of the most olden temples in Thailand. It is ranked as the highest grade of the first-class royal temples. The temple has much historical significance as it was one of the earliest public education centers in this ancient city. Being one of the most sought after school of massage in Thailand, you can also get a rejuvenating massage from this destination. Feast to eyes, mind, and body, Wal Pho remains as one of the favorite picks of every traveler.
Best time to visit Wat Pho Temple: 8.30 am to 5.30 pm
Chatuchak Market
This weekend market is diverse and lively in every way. Once a prominent point for the traders and sellers, Chatuchak has become one of the must-visit places in Thailand. With 15,000 stalls and 11,505 vendors, Chatuchak and its chaotic vibrancy may seem a bit overwhelming for the first-timers. But an infinite number of diverse products ranging from pets, antiques, clothes, food, ceramics, and jewels to accessories and furniture for the home is available here. This largest market in Thailand is located in Kamphaeng Phet 2 Road of Bangkok.
Spanned in 35 acres, this Jatujak market is also known as the 'JJ' market among the natives. Chatuchak is also one of the oldest weekend markets in Bangkok, which has been open since 1942. It is also the World's largest outdoor market. The timing of Chatuchak runs from 6 am to 6 pm.
Wat Arun
This elegant temple which boasts ravishing architecture is situated on the banks of river Chao Phraya. It is one of the popular landmarks in Thailand. This temple is said to be built in the17th century, during the reign of King Rama. The central tower encrusted with colorful porcelain and many other beautiful architectural details unite in this temple. The temple is locally known as Wat Chaeng and is famous for the processions.
The temple is named after Aruna, the Hindu God of dawn.  The Khmer style architecture of the Wat Arun Temple should be witnessed with real eyes if you are traveling to Thailand. Tiniest sea shells, Chinese Porcelain, stunning murals, ceramics, etc. have all contributed to the charm of this picturesque temple. You can take a ferry to cross the Chao Phraya river and access this exquisite temple. Opening Hours of this temple are from 8 am to 5.30 pm.
China Town
Founded in 1782, China Town is one of the largest Chinatowns. This vibrant commercial hub is dotted with market stalls and restaurants. An extravaganza of lights, colors, and smell unites to entice every traveler who is making to this spot. The infinite number of shops with a colorful and captivating display of food clothes and accessories are found all over in ChinaTown. Located in Yaowarat Road, this Chinese galore keep the travelers coming back to its heart with its irresistible buzz. 
 This famous gastronomic destination serves sumptuous Chinese and Thai cuisine which makes the tourists craving for more. Stroll through the never-ending narrow lanes of the market and shop for some electronics, silks, food, fruits, etc. The neon lights and nightlife of Chinatown is one of the most sought after attractions in Thailand. Stroll around the most happening town and savor the culinary delights it has to offer you as you shop for keepsakes.
The Grand palace
This magnificent resident of the Royals is another must-visit place in Bangkok. The palace complex is made up of many reception halls, royal courtyards, pavilion sets, museums, miniature models of Mountain Kailasa and an Emerald Buddha temple. The Royal ceremonies are still carried out on this palace. One among them is adorning the Emerald Budha statue with winter, monsoon, and summer winter dresses. This statue with 26 inches height is carved out from a single Jade stone.
Witness the splendor of this palace and get utterly starstruck by the intricate details of its architecture. You can swoon into the amazing craftsmanship and architecture of this Palace all day long. Without a second thought add this marvelous palace to your Thailand Tour package. The palace is open from 8.30 am to 3.30 pm. Do not miss this grandeur for the World if you are traveling to Thailand.
Terminal 21
This airport themed mall caters to the dream of shopping from famous cities across the World. All famous brands come to this mall and give the tourists an unparalleled experience. Both the local brands and international products are available here. If you are a shopping enthusiast, you should definitely make it to this mall during your Thailand Tour.
Galore pot of sumptuous food is also available in this mall. Terminal 21 is open from 10 am to 10 pm. Quench that thirst to buy but at lowest prices when in Bangkok. Bag in the one-of-a-kind designer wears and mid-quality products from this mall. Add this spot to your Thailand Tour package, without a single thought. Shop all you want, blend into the extravaganza and stroll around the mall till your feet hurt. Do not miss out to visit Terminal 21 if you are heading to Thailand this winter. 
 Soi Cowboy
This vibrant short street located in the Sukhumvit Road has made it to many pop album visuals. The street is named after that African-American Cowboy who opened the first bar in this street. With around 40 foreign-oriented go-go bars, this street is one of the most sought after tourist destination with all the flamboyance.
You can pop into the vibrant street with loud music from each point and just blend into the waves of people. There are also lots of good street food joints around. Watch dancers and other artists frolicking around. 7 pm to 3 am are the usually preferred visiting time of Soi Cowboy Street. Stroll through the dreamy neon-lit pavements and savor the flashiest delights in Bangkok while you are in this street. If you want to enjoy the nightlife of Bangkok to the fullest, make sure you are adding this quirky spot to your Thailand Tour package.
 Safari World and Sea Life Bangkok Ocean World and Safari
One of the prime attractions of every Thailand package-Safari World is the perfect blend of marine and terrestrial lives living in harmony. It has Marine Park and Safari Park.   Unlike other parks, visitors are allowed to roam around and interact closely with the inmates here. You can feed a giraffe, spot lion, flamingo, ostriches, zebras, and many more animals. Operated by Safari World Public Limited, the Safari world was opened in 1988. You can spot the best of the two Worlds- Marine and Terrestrial animals in this spot located in Bangkok.
Sea Life Bangkok Ocean World is the largest aquarium in Southeast Asia. The rare species of aquatic inhabitants like Giant spider crabs, Giant Pacific Octopus, Stingray sharks, Jackass Penguins, Starfishes, etc can be spotted here. To provide World-class entertainment and education to the tourists, they present the Natural Aquatic Environments and information on the display boards along with facilitating so many feeding programs.
Damnoen Saduak Floating Market
Damnoen Saduak - one of the most popular floating markets in Bangkok is easily a foodie's paradise, shopaholic's heaven and a photographer's dream. Situated in Ratchaburi Province, this floating market is said to have been here since 1866. Therefore, visiting this quaint market is a perfect experience similar to the return to its glorious past. The hat-wearing vendors with flowers in full bloom on their floating boats are truly a postcard-perfect sight to behold. It has something for everyone who is visiting this place. The shopping in Damnoen Saduak is an exhilarating experience.
You can either choose to whizz around and imbibe the beautiful sights of vendors selling their products in floating boats. Explore the beautiful stalls and shop for some amazing homemade goods. Or you can go for boating through the picturesque river in a long-tailed boat and capture amazing pictures to cherish. Sign up for this morning market visit without a second thought, if you are on a Thailand Tour package. 
Dusit Zoo
Boasting an incredible number of exotic species, including camels, white Bengal tiger, and penguins, this oldest zoo is easily one of the favorite picks in every Thailand Tour package. Located in Khao Din Park, this park was built by King Rama V near to his Royal Palace. In this fully functioning zoo, you can find giraffes, alligators, zebras, kangaroos, camels, hippopotamus, elephants and monkeys living in harmony. Other attractions of this spot include Nocturnal House, Reptile House, Pheasants Aviary and Play Land.
If you are a Thailand Tour Package with family, make time to visit this zoo. The children are going to enjoy this destination to the fullest as they can have the closest glimpse of animals they have only seen in big screens and books. In order to engage the kids, zoo management has also arranged boat paddling and sightseeing train. 
Muang Boran
This Museum park in the shape of Thailand is recognized as the World's largest outdoor museum. Featuring the ancient city with all its charm, this spot is undoubtedly one of the must-visit spots in Thailand. Make it to this quaint spot if you are a history buff. Many field-trips, activities, and campaigns are carried out by the management for engaging the guests who would love a few historical facts on city ruins.
You can find old temples, remnants of the ancient city which is frozen in time in Muang Borang. Get yourself transported into another time by visiting Muang Boran if you are heading to Thailand. The prime landmarks around the ancient city are The Erawan Museum, The Great Vajiradhama Temple, Rimkhobfa city and the Sanctuary of truth. Most of the replicas of old Kingdom monuments are of life-size. 
Asiatique Riverfront
Many tourists flock to this spot to enjoy the sparkly skyline view and the picturesque river. This large open-air market facing the Chao Priya River of Bangkok offers the delights of shopping in a mall and bustling market simultaneously. The complex also has former docks of East Asiatic Company. The mall is thematic to King Chukalonkom's reign. Other attractions of this space are the parking lot tram and bronze statues. The thematic sections of the mall are named as 'districts'. Calypso Cabaret show, Waterfront Promenade, riverside restaurants, etc. are all part of these sections. 
You can shop for souvenirs and handmade goods from here. Fashionable clothes, handicraft products, home furnishing, and electronic gadgets are also sold here. There are many dine out options available. Experience the night market like never before in the Asiatique Riverfront as you savor the beauty of its neon light. 
 Wat Suthat
The famous Wat Suthat Thepwararam Buddha Temple sure is a feast for our eyes. You can visit this marvelous temple with spellbinding murals and hand-carved pillars along with other shrines when in Thailand. The sculptures inside boast glorious tales of King Rama 3rds reign. the hexagonal pagodas add to the charm of this temple.
This old temple is located in Bamrung Muang Road of Bangkok. It covers around 10 acres and is filled with majestic structures all around. Among which the most popular one is the 8 meters high Budhha image which is nearly 800 years old. The giant red swing 'Sao Ching Cha'  from the 18th century is another favorite attraction for tourists here. Buddhist learning centers, monk quarters and ordination halls can also be spotted here. The Wat Suthat Thepwararam temple is open from 8.30 am to 9 pm.
Bangkok Art and Culture Centre
The ultimate hub of everything artistic is what Bangkok Art and Culture Centre (BACC) is. You can enjoy fine slices of contemporary music, theatre, craft, and art. Undoubtedly, BACC is one of the finest galleries in Thailand. This center features Thai as well as international artists. The center comprises aesthetic cafes, bookshops, craft corners, and a giant library. The cultural blend and exchange is the very intention of this endeavor. 
The spiral walkways and elegant architecture of this building attract a flock of people every year. So many artistic installations can be found all around the premise. If you are an art lover, you should not this spot for heaven. This art hub also hosts many debates, concerts, art exhibitions and talks annually. Dedicate a slot of your Thailand Tour package to explore this space - you won't regret it, we promise.
 Lumpini Park
Away from the overwhelming speed and chaos of the city, if you need a little break, head to Lumpini Park - the green space amidst the city.  Spanned in 142 acres, this beautiful stretch of the meadow is open to the public for a laid back time. It also has an artificial lake that allows boating.  Formerly a museum, this park was built in the 1920s by King Rama 5th. Take a break from the busy schedule and relax in this lush green meadow for some time.
The park is named after the birthplace of Budhha, Lumbini in Nepal. The favorite activities of tourists in Lumbini park are Bird watching, cycling, boating and reading in Lumbini Park Library. Sri Thai Derm Food Center, Lumpini Youth Center, Smiling Sun Ground and Elder citizens club are the other major attractions in this spot. Park is open to the public between 4:30 am and 9 pm.
National Museum
Every history buffs should visit this Museum without a miss. this National Museum is home to some of the greatest exhibits and artifacts which best exemplifies the Thai history and culture. Established by King Rama 5th, to exhibit the gifts his father had gifted him, it has now emerged as well-organized Museum with artifacts from even the Dvaravati, Srivijaya, to Sukhothai and Ayutthaya era. 
With three exhibit sections namely Siwamokhaphiman Hall, Buddhaisawan Chapel, and Red House, Thai culture and history can be deeply explored and studied here. You will be highly impressed by the well-organized relics and in scripts from Neolithic times if you are a history lover. Make sure you make time to visit this museum with extensive collections from the past during your Bangkok city tour. The museum is open to the public between 9 am and 4.30 pm.
Royal Barges Madame Tussauds, Bangkok
Famous for the Royal Barges exhibited inside, the National Museum of Royal Barges is one among those spots every tourist should stop by if they are on a Thailand Tour package. Many unique vessels from the past are perfectly featured here. The oarsmen are specially trained to row the boat during those royal occasions. The real-time installation of these beautiful boats is really awe-inspiring.
These boats made from Teak wood are still in use during the royal ceremonies. The mythical beings carved in gold are indeed a feast to watch with naked eyes and had been attraction flocks of tourists to this National Museum. Formerly a dry dock of Royal Thai it was severely damaged in the World War 2 bombing. The charm was restored by the Fine Arts Department of Thailand. In the process of restoration, the repaired dock became the National Museum of Royal Barges.
Wat Traimit
Home to the famous 5.5 tonnes Budhha statues, Wat Traimit located in ChinaTown is an exquisite temple that dates back to the 13th century. It is located at the end of ChinaTown. The statue features Budhha is Maravijaya attitude where he is in a relaxing posture with one hand in the knee and the other in his lap. 
Statue was discovered in the twenty-fifth Buddhist era. Another significant detail about the gold statue of Budhha is the egg-shaped head. This strongly indicates that it originated in the Sukhothai period. It was covered in plaster which was accidentally flaked while moving the statue. This veiling of the gold statue is believed to be done to prevent thieves from looting. This statue is 3 meters tall and is the World's largest Buddha statue in gold. you can visit the temple anytime between 8 am and 4.30 pm.
Dream World
This fabulous Thai Theme Park is located in Pathum Thani Province. Ranging from rollercoasters to tiny rides for kids, this amusement park is a perfect place for families and tourists to hang out. Spanned in 25 hectares, the major themes of this park are Fantasy Garden, The Giant House, Sightseeing Train, Sleeping Beauty's Castle, Hurricane the ride, The Spider, Uncle Tom's farm, and 4D Adventure zone. The most sought after rides of the park are cable car, Seven Wonders of the World, Speedy Mouse, Bicycle Boat, etc.
Make sure you take your little ones to this dreamy park if you are on a Thailand tour package with family. The management has brilliantly installed rides from many countries, especially the Magic Carpet from Italy, Super Splash and Snow Town from the United States, Hurricane from Germany and many more.
Sathorn Unique Tower
This incomplete Skyscraper which was built in 1997 is a mystic spot to visit during your Bangkok city tour. If you would like some spooky delights, some also call this space as haunted for the paranormal activities they have observed. 20 percent of this 47 storied luxury building is yet to be built and the interiors as we go up to the top look dilapidated. This spectacular building must be already familiar to you if you have watched a horror movie - 'The promise'.
The panoramic views of the city from above the buildings are really magnificent and tourists head to this spot for beholding this sight. If you are an adventure junkie, make sure you add this spot to your wishlist. It is believed that the Asian Financial crisis in the year 1997 is the reason why they could not complete the Skyscraper.
 Central world
Central World is the 11th largest shopping complex in the entire World if you are looking for a reason to visit this place. You must be done and dusted with the shopping but imagine the wide catalogs from which you can choose items from a complex as big as this! This majestic mall is spanned in 430000 square meters.
You can shop for books, groceries, furniture, fashion accessories, clothes, electronic gadgets,  and whatnot. It pretty much has everything and can never disappoint the tourists. If you are a shopping enthusiast, do not miss this place for the world during your Bangkok tour. The view of the Central Dome of this mall is extremely delightful to watch. Couples, solo backpackers and families can all enjoy the mall and bag in the products. You can visit Central World anytime between 10 am and 10 pm.
 Giant Swing
The iconic giant swing is installed in the religious center- Sao Chingcha Subdistrict, Phra Nakhon District, Bangkok, Thailand. Formerly used for the Brahmin ceremonies, this Giant swing was constructed in 1784. You can also visit the 'Tiger Shrine' adjacent to the Giant Swing during your visit to this spot. The Giant Swing is wedged between Wat Suthat and Bangkok City Hall. This is one of the most sought after photo points in the Bangkok city.
Thai citizens used to observe the annual swinging ceremony which is referred to as  Thiruvempavai-Tiruppavai until 1935. This swinging ceremony represents a chapter from the ancient mythology involving Brahma and Shiva. The Giant Swing was first commissioned by King Rama 1st in 1784. As a particularly pious monarch, King Rama wanted to build something that could help him and his subjects 'touch the heavens'. However, the lightning has damaged the swing and the ceremony is now abandoned to avoid accidents.
 Madame Tussauds, Bangkok
Imagine a place where you can spot real-time wax statues of Albert Einstein, Tom Cruise, Narendra Modi, Vin Diesel, Gandhiji, Barack Obama, and many other eminent personalities! Madame Tussauds located in Bangkok city has over 70 exhibits to blow your mind. Eminent personalities from Art, TV, Politics, Sports, Spirituality and Social Media platforms are brilliantly featured here in an incredible setting.
It has 8 different theme zones along with a 4D screen.  You can see your favorite celebrities strike a pose with them as you stroll around this large Wax Museum. In the History zone, they have wax statues of Buddhadasa Bhikkhu, Princess Diana and Gandhiji. The Super movie characters and sports stars like David Beckham, Cristiano Ronaldo, Serena Williams, etc. Statue of Mark Zuckerberg, Pablo Picasso, and Beethoven also attracts so many tourists to this spot. The museum celebrates 250 years in 2011.