Mysore Biryani of the RRR Restaurant
mysore

|
sooraj

|
04-05-2020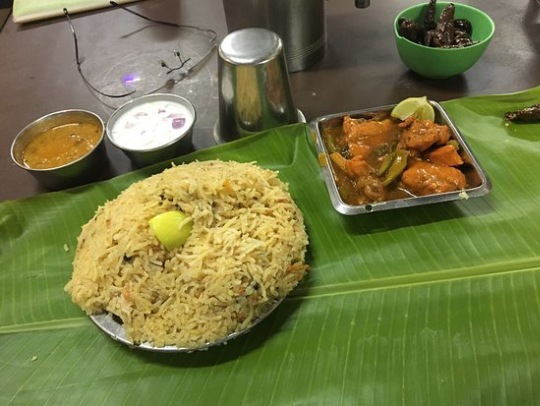 RRR Restaurant is an Andhra-style restaurant in Mysore, Karnataka that serves lip-smacking vegetarian and non-vegetarian food. This place is perfectly compatible with delicious food that can satisfy all the food cravings. It is home to some of the most popular dishes and is able to cater to a significant number of diners. The main specialty of the RRR restaurant is that it serves the most delicious biryani in the city. 
After a tour around the main sightseeing spots in Mysore, head to this restaurant and savor a gorge of classical Indian food. This restaurant can be easily accessed from the local bus stand. People visit this place predominantly to taste delicious Mysore biryani. Food is served on a banana leaf, in the true South Indian style.
The old province of Mysore has some alluring non-vegetarian cuisine that has been refined by Tippu Sultan's chefs. The Mughalai touch with delicious biryanis, kebabs, curries, dhal, and sherwa make sure that the taste lasts for hours.
Mysore Biriyanis is often made with the tender broiler Chicken or with the tantalizing Chickmangalur Lamb. Sometimes Bannur mutton, which is high in fat, is also used. When the meat is cooked together with the ingredients, the thick broth comprises all the deliciousness of the meat, the marrow, and the fat that comes with it.
Calculated quantity of meat is marinated and then freshly cooked along with spices and Jeerak Samba or Sannakki rice for a flavourful biryani in which each grain of rice consumes the masala fairly and becomes delectable. The slices of meat are delicate and juicy, and they are consumed along with the rice for the sublime feeling. A gracious squeeze of lemon and an accompaniment of spiced dhal, sherwa, and kachumber is the perfect match for this sumptuous meal.
The restaurant welcomes guests from 7:30 a.m. to 11:00 p.m, allowing guests to enjoy a delicious meal between working hours. There are approximately 50 seats for dining in the restaurant. Although you have to wait for some time for your biryani, the wait is totally worth it.
Do your best to grab a seat and study the small but powerful menu that brings these large crowds together. Whichever item you order will be served on a banana leaf in a traditional South Indian style. Their menu has continued to remain almost exactly the same for years, and the standard of their food is of the same high quality as when it was first opened.
Consistent taste and great quality of the food offered here, make this place a favorite destination for foodies. Also, this restaurant offers a wide variety of non-veg cuisines. So this is one of the excellent places to dine with your loved ones.
Courtesy of this key location, foodies in and around the area can walk into this restaurant easily without having to face any difficulties related to traveling to this part of the city. This is among the most prominent restaurants in Mysore. This restaurant never fails to surprise with its delicious food and polite employees. It provides wonderous food with an attractive flavor at a reasonable price.