Explore the scenic beauty of Ubud
bali

|
sooraj

|
09-04-2020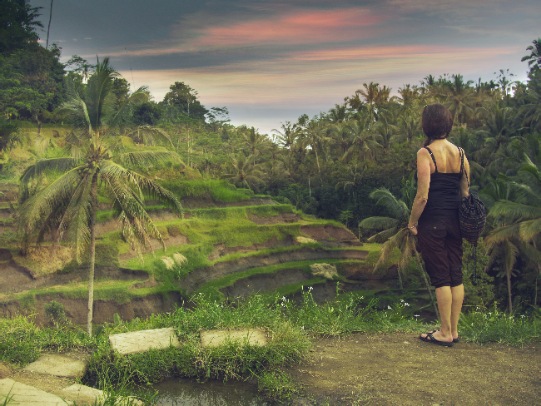 Ubud
Ubud is among the most popular tourist destinations in the Bali Province of Indonesia. It is located in the mountainous region of the island of Bali and is a paradise for nature lovers and photographers.
Witness the Balinese culture and tradition since Ubud is renowned as the center of art and crafts of Bali. Lush green rice paddies, gorgeous mountains and colorful Balinese festivals, majestic historical monuments, aesthetically pleasing temples, an elite artistic colony, art centers attract tourists from all over the world.
Tourism has now become the primary source of income for the area. More and more travelers are coming to Ubud to discover the cultural center of Bali. Located in a high range region, Ubud has a cooler temperature than that of the coast.
Ubud has hundreds of vendors selling antiques, woodwork crafts, fabrics, artworks and jewelry, dozens of art studios and some of the finest art museums in Indonesia.
Must-visit places in Ubud
Beautiful Rice Terraces
If you've checked any of Bali's photos on the internet, you're most likely to see a picture of beautiful green terraced rice fields. Tegallang rice terrace is the most beautiful rice field in Bali, famous for its picturesque landscape, where travelers to Ubud often stop by to see the iconic Balinese view.
This is the most visited tourist attraction in Ubud. The verdant rice fields are surrounded by wild trees and there is a small path that leads to the Ayung River.
While Tegalalang is home to the most beautiful terraced landscapes, the ones in the nearby villages of Pejeng and Campuhan are also spectacular and much less crowded with tourists.
Ubud Monkey Forest
The monkey forest renowned as the sacred monkey forest of Padangtegal is a popular wildlife sanctuary and natural habitat in Bali. It is home to macaques or Balinese Long-tailed monkeys. Huge trees with gigantic roots bending around like bridges, huge stone sculptures of Komodo Dragons sticking out from the banks of the river are some of the wide range of views you can witness in the forest.
The forest also has many ancient temples with moss-covered guardian sculptures. Pura Dalem Agung Padangtegal and Pura Prajapati, which is dedicated to village funeral services, are some of the major sites in the forest.
Tegenungan and Kanto Lampo waterfalls
Tegenungan Waterfall is one of the great waterfalls which is near to Ubud. It is located in between Ubud and Denpasar. Lies hidden in the deep jungles of the Gianyar region, the Kanto Lampo Waterfall might be a wonderful sight to explore. It's a great place for photographers to click on some amazing pictures.
How to reach Ubud
Ubud is located 40 km from Denpasar Airport. One of the most common ways to get to Ubud is by using public transport, such as a taxi. You can also hire a motorcycle, which is a cheaper and more comfortable way to get around Ubud.
If you sign up for a trip to Bali, do not really forget to visit this magical place, which has all the beauty of Bali.