Fun |
Kumarakom

|
Aruna Nixon

|
03-02-2020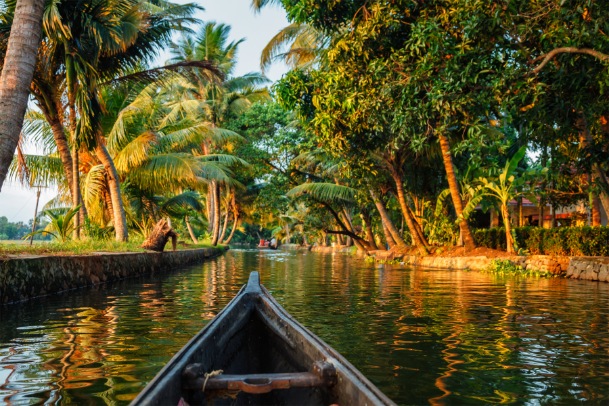 Backwaters of Kumarakom formed by the Vembanad Lake, magnificent sight to behold for any visitor!! It's located around 17 kms from the Kottayam district. Vembanad Lake is renowned for its backwater tourism and it's the largest freshwater lake in Kerala. The Kumarkom backwater offers some spectacular scenes that depict the beauty of real nature and gives a unique experience for people who love nature's serenity. The lush-green paddy fields, ducks swimming in the lake, chirping of tiny birds, and clear blue sky, get the perfect glimpse of God's own country.
              Kumarakom Backwaters starts at the Vembanad Lake along with Alleppey. The place was initially called as Baker estate and now, developed as a Rubber estate. Kumarakom has plenty of flora and fauna, creating a green background to all your camera clicks. The swaying and countless coconut trees that line up the horizon of pristine lake is a visual treat.
 Kuarakom Backwater houseboats
             Houseboat ride is essential to enjoy the beauty of tranquil waters and scenic lush-green paradise. There are plenty of honeymoon packages that attract several newly married couples. Travel through the alluring Vembanad Lake and explore the entire area while relaxing in your comfortable house boats.
            The houseboats are usually managed by at least three people, a cook, guide and an oarsman. Get mouth-watering food recipes from the in-house cook. Listen to the guide while locating the important landmarks. Oarsmen make sure visitors have a smooth ride while relaxing in the calm waters.
            Stay overnight in the houseboat and relish on the beautiful starlit night scene before the cruise drops you at your destination. Kumarakom backwater houseboats start from Budget friendly boats, luxury boats, and super-deluxe boat. Visitors can choose from various options like solo trip, romantic honeymoon trip or family vacation provided by the tour operators.
Kumarakom Night boat tours
             Night tour is one of the best things to do in Kumarakom.  The travel starts around midday with fresh meals, snacks and beverages on demand. The boat cruise stops at the backwater market for fresh produce and moves on until the post dinner lights are dimmed. The boats gradually sail across the Kumarakom bakwaters till early morning.  
Kumarakom Travel tips
             Kumarakom backwater is easily accessed via taxis from the Kumarakom junction,. There are plenty of bus services from Kottayam to Kumarakom.
             Kuarako backwater resorts are splendid with attractive facilities and excellent accommodation with lake front view.
            September to March is the best time to visit Kumarakom backwaters; the weather remains pleasant to explore the serene location.